All Posts Tagged With: "Add new tag"
Emily Deschanel was seen at last night's ARCONA launch party for Eco-Beautiful, a guide to natural beauty & wellness authored by celebrity makeup artist Lina Hanson. The event took place at Vie Eco Boutique in West Hollywood and featured ARCONA mini facials, as well as eco-friendly makeovers.
Emily Deschanel is an actress, best known for playing Dr. Temperance "Bones" Brennan in the crime drama Bones.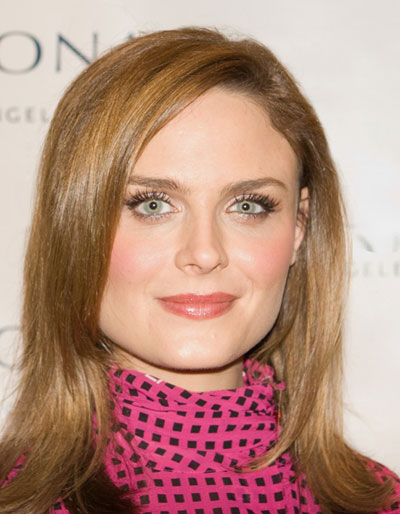 Here is how to get Emily Deschanel's makeup look as seen at last night's ARCONA launch party for Eco-Beautiful:
Emily Deschanel's makeup look was created by Celebrity Makeup Artist Spencer Barnes:
Spencer played up Emily's beautiful sea green eyes with a subtly smoky, yet luminous look. He kept the rest of her face neutral and fresh, with a hint of a raspberry cheek and sheer raspberry shimmer on her lips. The overall look was inspired by Emily's vibrant vintage dress and her beautiful glowing skin.
SKIN: Spencer prepped Emily's skin by first cleansing it with ARCONA's triad pads. He then spritzed ARCONA's Mineral Magic and applied ARCONA's Magic White Ice to hydrate her skin thoroughly.
MAC Naked Honey will be available in North America June 11, 2009 at all MAC locations, 1.800.588.0070 and www.maccosmetics.com and International July 2009.
Bees do it… now MAC does it! Honey that is! As ancient and exotic as Kohl, great beauties have long revered the natural restorative powers of the Golden Elixir.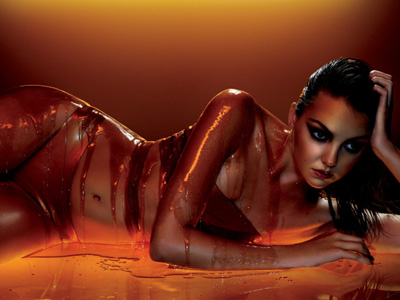 Following the example of their fabled Queen, Cleopatra, Egyptians bathed in honey and milk. Queen Anne of England used it to silken her hair; from the Ancient Greeks to the Roman Empire, honey has never lost its regal, ever-amber lustre. We love the luxury of its sensual essence…but we also know that it's a highly efficient and wholesome humectant and healer.
Introducing our limited edition Naked Honey collection – three aspects of golden warmth and sun-made sweetness for the body, layered with two decidedly different honeycomb-derived fragrances – celebrating the secret lives of Queen Bees. Complementary shades of High-Light Powder, Eye Shadow and Lipglass are all the buzz for summer.
LIPGLASS
She's a Star Light neutral gold

I'm so excited: Neutrogena Cosmetics is LIVE on FACEBOOK! And, you can even get to watch lovely Hayden Panettiere talking about Neutrogena's MICROCLEAR SkinClearing oil-free makeup.
What's in it for you: you can browse the page and watch videos featuring your favorite Neutrogena Cosmetics brand ambassadors and learn how to find their perfect foundation shade. Additionally, you can enter the Neutrogena's Fresh Faces Online Zine' Contest by clicking on the "Contest" tab!
Neutrogena's Fresh Faces Online Zine' Contest Details:
Watch Marta's video blog for today talking about her favorite products for this season and how to get the look.
Products mentioned in Marta's video blog:
Hair: L'Oreal Ever Pure Sulfate Free Shampoo & Conditioner for Color Treated Hair is the best thing that happened to affordable haircare! Shampoo lathers very well yet gentle and never weights your hair down. Finish with matching L'Oreal Ever Pure conditioner. And did I mention it smells amazing!
Make sure to check out the entire L'Oreal Paris Ever Pure Sulfate Free Haircare line (see image below). I've recently purchased L'Oreal Paris Ever Pure Sulfate Free Smooth Deep Control Masque and it left my hair super smooth.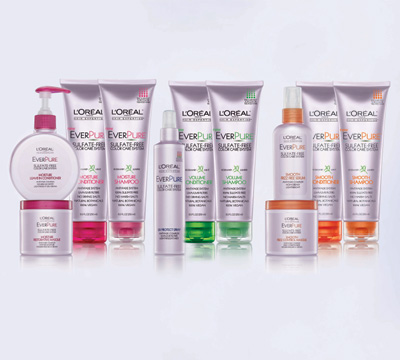 Philip B Drop Dead Straightening Baume. Use just a little bit of this super straightening serum. It's light and it gives you sleek hair!
America Ferrera wears Lancôme at 2009 Kids' Choice Awards: Celebrity makeup artist Vanessa Scali created the look for America Ferrera at the Kids' Choice Awards on Saturday night. Talking Makeup got the scoop, straight from Lancôme & Vanessa, on how to re-create America's glamorous look.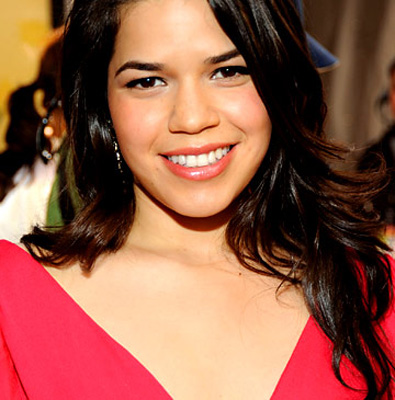 How to get America Ferrera's Makeup Look at 2009 Kids' Choice Awards:
First, before applying any makeup, Vanessa prepped the skin with Lancôme Genifique, a youth activating concentrate that improves tone, texture and luminosity giving the skin a natural glow.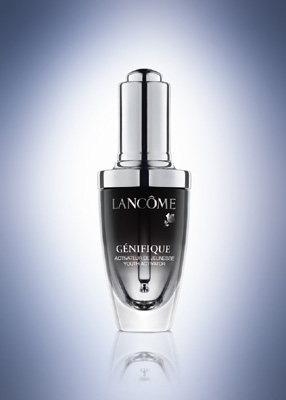 To create a flawless complexion, Vanessa used both Lancôme Effacernes concealer and Armani Lasting Silk UV SPF 20 Foundation.
Vanessa used Armani Fluid Sheer #2 as a highlighter and applied it with her finger to the cheekbone and brow bone. This gave the complexion a bit of added shimmer.
The COVER FX line was born out of founder Lee Graff's frustration at finding a suitable product to conceal and correct a variety of skin problems she encountered as a corrective foundation artist at the CosMedic Clinic at Toronto's Sunnybrook & Women's College Health Sciences Centre. 
If your skin is sensitive or you have a skin condition such as acne, rosacea, or eczema, makeup can often be the enemy (hello, irritation). Cover FX, a comprehensive line of complexion-correcting and -perfecting products, is your friend. From foundations to powders to primers, Cover FX offers comfortable, natural-looking coverage for every skin type, most notably sensitive. And with its extensive shade range, every skintone is covered. The number one choice for people with sensitive and intolerant skin-and a top pick by leading dermatologists-this gentle, soothing, skin-loving line is the one that won't let you down.
CoverFX has just recently launched some beauty must-haves products which are all available at available at Sephora and select Nordstrom):
CLEARPREPFX, $39: COVER FX, The Foundation Authority, launches the ultimate solution for oily, acne-prone skin: CLEARPREP FX, a matte foundation primer that doubles as an acne treatment. This potent cocktail of oil absorbers, exfoliators and skin strengtheners, leaves skin clearer, shine-free and more youthful looking as it perfectly primes the skin for makeup application.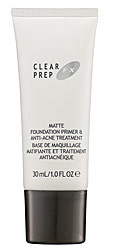 Watch Marta's video blog for today introducing the new Venus Embrace by Gillette.
To read more reviews about Venus Embrace go to TotalBeauty.com!
My gorgeous friend Laurie from Beauty's Spot and myself, Marta, were featured in Sephora's Beauty & The Blog today. 
Well really, Laurie was a guest blogger for Sephora's blog and was kind enough to post our photo together from the LA Mercedes-Benz Fashion Week taken at the Smashbox studios in March 2008.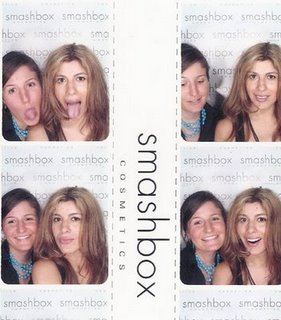 Laurie is one of the most talented writers I know on the net and we love her!
Maybelline Dream Matte Mousse Foundation is an inexpensive yet effective foundation.  Adriana Lima looks just so beautiful wearing Maybelline Dream Matte Foundation in Maybelline's ad campaign. 
Maybelline Dream Matte Mousse Foundation is whipped to provide an air-soft, perfect matte finish coverage, with a weightless feel.  All is this is possible thanks to Maybelline's breakthrough technology using flexible, silicone polymers to help prevent caking, and settling into creases and lines in the skin.  Color pigments give superior coverage that blends effortlessly, imparting a soft, natural-looking, even-toned result.  It is also long-wearing formula will not clog pores.  Comes in 12 perfect skin tone shades.
Try Smashbox Conversion Cream To Powder Foundation if you are looking for a quick yet effective coverage.  This smooth, oil-free, light-as-air compact foundation glides on effortlessly, leaving the skin with a sheer, perfectly natural appearance. More complete coverage can be achieved by simply layering.  For best results use a foundation brush.  Using a foundation brush glide on your skin few lines flip and blend.  Cost:  $32.