All Posts Tagged With: "Shu Uemura"
It's game time this holiday season as Shu Uemura collaborates with the legendary video game: Super Mario Bros!
The Japanese duo take beauty enthusiasts on a pixelated adventure to help Princess Peach and bring peace back to Mushroom Kingdom with the Super Mario cast of characters – along with a variety of colorful makeup and haircare.
WATCH: Hair Play. In collaboration with Shu Uemura Art of Hair, V Magazine explores the natural beauty of rising starlet Coco Young. In a Vmagazine.com exclusive, famed hair stylist Conrad Dornan toys with the tresses of Young, a student and part time model whose love for Helmut Newton resonates in her ever changing hair styles. 
HAIR PLAY from V Magazine on Vimeo.
A Starworks Artist Production. Directed by Crystal Moselle.
The ever beautiful and recently slimmed down Jennifer Hudson recently got together with Sam Fine, celebrity makeup artist and creator of The Basics of Beauty, for a shoot showing off her gorgeous new look. Here, Sam shares with us his insider advice on how you can achieve this flawless and glowing face at home with just a few easy steps.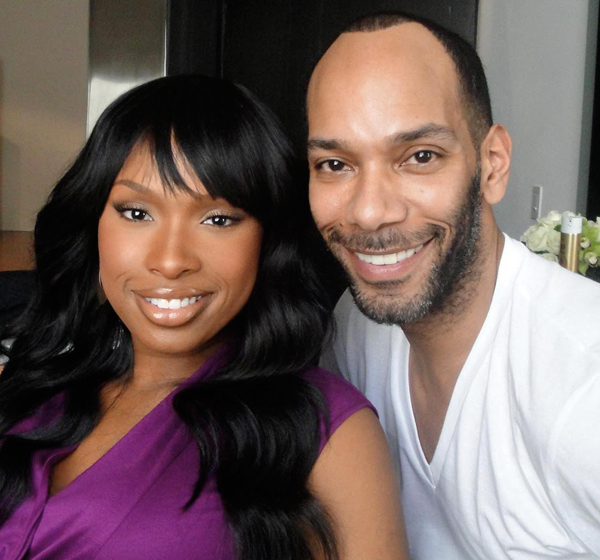 L To R: Jennifer Hudson and Sam Fine
Makeup Tutorial
Coverage: Every great look begins great coverage. Jennifer has beautiful skin, but like many women of color, she has varied tones. I use foundation to unify those varying tones. One of my favorites is the Queen Collection Natural Hue Compact Foundation because it's cream- to- powder, so it dries down to a powdery finish and looks really natural.
Kim Kardashian attended the 2010 Cosmetic Executive Women Beauty Awards at New York's Waldorf-Astoria hotel, May 21st, 2010. Kim wore a beautiful one shoulder coral dress and her hair was pulled up off her shoulders. Her makeup artist Mario Dedivanovic created an absolutely gorgeous, soft and feminine look fit for the occasion, and now he is sharing his secrets on how to recreate this beautiful, refreshing look.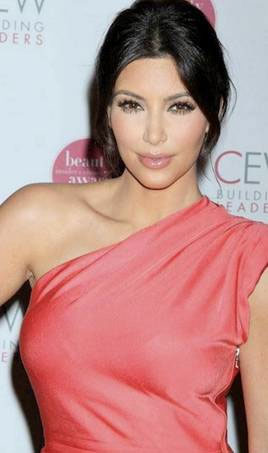 How to makeup tutorial:
FACE
On her skin I applied Giorgio Armani Luminous Silk Foundation blended with a bit of moisturizer, and used LaMer concealer under her eyes. I then set her face with Shu Uemura loose powder.
For a subtle glow, I sweep EYE M GLAM highlighter by Giella Cosmetics onto the cheekbones, bridge of nose and cupids bow, and applied Hot Mama blush by The Balm.
shu uemura changes: According to L'Oreal Corporate Communications there are some changes occurring at shu uemura. Here are the details:
You will still be able to purchase products at www.shuuemura.com, and ONLY this site. You won't be able to make purchases at department stores or at one of shu uemura boutiques as these locations will begin to phase out in the coming months. shu uemura will continue to introduce new products on their Web site.
shu uemura Art of Hair is NOT affected by these changes. They will continue to remain in top-tier salons across the country as well as online at www.shuuemuraartofhair-usa.com.
Maggie Gyllenhaal's 2010 Oscars makeup look by COVERGIRL celebrity makeup artist Molly R. Stern.
"The finished product was perfection. She looked like herself. Authentic, cool and beautiful. Being a part of Oscar day with a nominee is such an honor. It's like an actress' wedding day with Hollywood. I love being here. I feel so blessed."-Molly R. Stern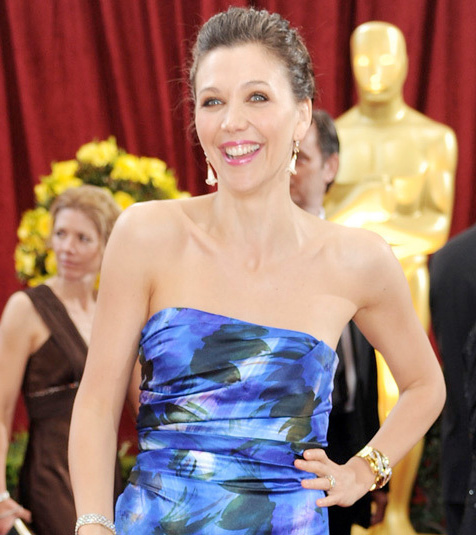 How to get Maggie Gyllenhaal's Oscars 2010 makeup look by Molly R. Stern: Maggie is the muse of spring. Her Dries Van Noten gown is a swirl of bright colors that fades into white. For her makeup I wanted to bring out the color of her eyes with some depth while keeping with the brightness of her overall style.
We started off the look by refreshing the skin with Jurlique Rose Water spray. Then I prepped the skin with Shu Uemura red:juvenus vitalizing concentrate and lightly moisturized with La Mer moisturizing lotion.
For a flawless complexion I primed Maggie's skin with COVERGIRL & Olay Simply Ageless Serum Primer (out in July 2010!!).
Kate Bekinsale at the 2010 Vanity Fair party: The Makeup
Makeup artist Vasilios Tanis created Kate Bekinsale's stunning makeup look for the 2010 Vanity Fair party: "Kate went to the Vanity Fair party, and was a smash! We went for a easy 70's chic.. She wore a stunning silver Kaufman Franco dress so I wanted to keep her makeup warm and tawny… Emphasizing her features in an complementary manor, the dress was such a statement , I want her to look like the best version of herself without competing or matching the garment."
Foundation: Giorgio Armani Luminous Silk
Blush: shu uemura Glow On in Amber 82, and P Wine 25
Eyes: shu uemura pressed eye shadow in ME860 on the lid, Nars Fez on the lash line and bottom of the eye blended softly for a warm smoky effect. I also line the top lid with a shu uemura shiny black eyeshadow, ME 990, and lined the inner eyelid with the shu uemura drawing pencil eye liner in ME Khaki 09. I finished with lots of Diorshow mascara.
Lancôme abassador Kate Winslet looked resplendent at the Academy Awards yesterday, clad in an Yves Saint Laurent gown and bold jewelry from Tiffany & Co. Kate's long-time makeup artist, Jillian Dempsey, topped off the look with soft, ethereal makeup. Both the eyes and the lips got equal attention on this Oscar winner. Shimmering, champagne-pewter shades highlighted the eyes, while very saturated mascara delivered that extra definition. A pop of pink blush on her cheeks gave Kate just a hint of a natural flush. Jillian topped off the look with nude-pink lips.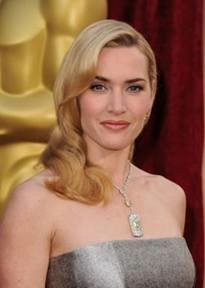 How to get Kate Winslet's Oscars 2010 makeup look:
EYES
Jillian Dempsey for Avon Professional Kohl Eyeliner in Black
Lancôme Hypnôse Drama Mascara in Excessive Black
Emily Blunt looked gorgeous with her 1920's inspired look at the Wolfman Premiere in LA. Create her look from home with these DIY tips from her stylist, Laini Reeves!
Laini Reeves, Owner and Creative Director of Essensuals London (www.essensualslondon.com), took inspiration from Emily's vintage style to create a new take on the 1920's up-do.
Hair Tutorial:
To set the mood, Laini made a custom flapper style accessory – a peacock feather fashioned to an elastic headband. Laini took the hair and twisted it up, over and into the band, keeping in tight to the head. The messy texture of the hair helped to modernize the look.
New York Fashion Week Fall Winter 2010: Seattle native and downtown New York denizen Chris Benz saw all of his influences collide in a spectacular way on Monday, Febuary 15, 2010, for his Fall 2010 presentation. The collection mixes the patterns, textures and utility of clothes made for the Great Outdoors as worn by the renegade, Outward Bound Debutante.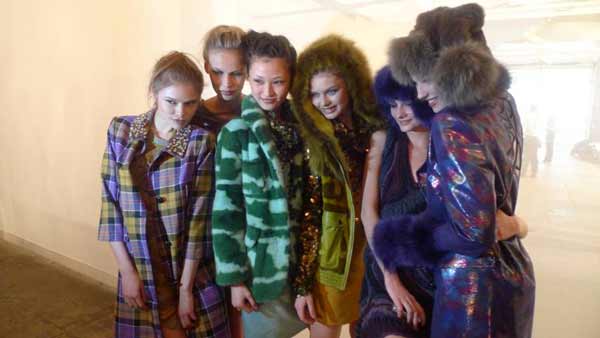 Makeup Tutorial: Lead makeup artist Daniel Martin (who helped create the Chris & Tell shade with the designer for Spring 2010) wanted a "makeup" makeup look, so he and Chris settled on what they're calling Gothic Chic. The eyes and the lips were given equal attention. The eyes were smoky in gradations of shimmery charcoal and chocolate. Daniel used the new Ombre Magnétique, a mousse-like cream shadow, in black, layered with Color Design Eye Shadow in Guest List, an opaque espresso shade. For the lashes, several coats of Hypnôse Drama Mascara in Excessive Black, and for the eyeliner, Le Stylo Waterproof EyeLiner in Noir along the waterline, completed the look.