New York Fashion Week Fall Winter 2010: Seattle native and downtown New York denizen Chris Benz saw all of his influences collide in a spectacular way on Monday, Febuary 15, 2010, for his Fall 2010 presentation. The collection mixes the patterns, textures and utility of clothes made for the Great Outdoors as worn by the renegade, Outward Bound Debutante.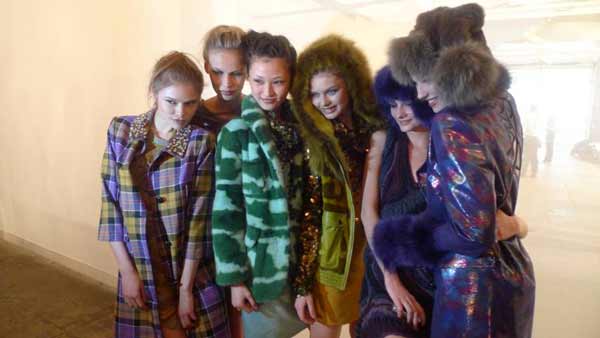 Makeup Tutorial: Lead makeup artist Daniel Martin (who helped create the Chris & Tell shade with the designer for Spring 2010) wanted a "makeup" makeup look, so he and Chris settled on what they're calling Gothic Chic. The eyes and the lips were given equal attention. The eyes were smoky in gradations of shimmery charcoal and chocolate. Daniel used the new Ombre Magnétique, a mousse-like cream shadow, in black, layered with Color Design Eye Shadow in Guest List, an opaque espresso shade. For the lashes, several coats of Hypnôse Drama Mascara in Excessive Black, and for the eyeliner, Le Stylo Waterproof EyeLiner in Noir along the waterline, completed the look.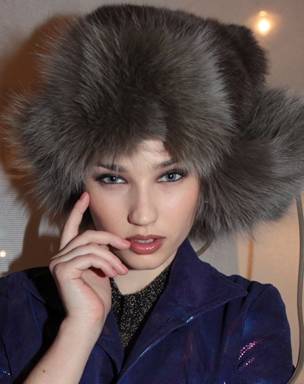 The lips were just as prominent. In a surprise twist, Daniel used Le Crayon Poudre brow pencil in Sable as lip liner, to get a specific gradated gothy lip look inspired by a photograph of Kate Moss from the 90's. Over it, Daniel debuted the new Color Design matte lipstick in Bronze Show. (Available in mid-March 2010, exclusively at Macy's.) He topped it all with Juicy Tubes in Hallucination just on the center of the bottom lip for dimension.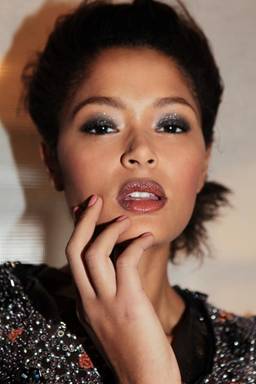 For the complexion, Photôgenic Lumessence foundation enhanced the entire face (even the models' ears!), Shu Uemura's Sheer loose powder delivered a high-def finish that withstood the bright lights of the studio where the presentation was held. Finally, the cheeks were treated with two Blush Subtil shades: Cappucine for definition and Mauve Coquette for a pop of color.
Editorial manicurist Ana Maria gave each model pretty hands and feet using Lancôme's new polish in Sweet Nude (part of a mini trio, new for fall). As for the hair, Redken stylist John Ruidant wove intricately braided updos that matched the mood of the collection.
THE LOOK
Play on textures
Updated 90's brown lip
Layers of charcoal and chocolate on the eyes
Defined cheeks
PRODUCTS USED
Lancôme Ombre Magnétique in Black (NEW for Fall 2010)
Lancôme Color Design Eye Shadow in Guest List
Lancôme Le Stylo Waterproof EyeLiner in Noir
Lancôme Hypnôse Drama Mascara in Excessive Black
Lancôme Le Crayon Poudre brow pencil in Sable (used as lip liner)
Lancôme Color Design Matte lipstick in Bronze Show (available in mid-March 2010, exclusively at Macy's)
Lancôme Juicy Tubes in Hallucination
Lancôme Photôgenic Lumessence foundation
Shu Uemura Sheer loose powder
Lancôme Blush Subtil in Mauve Coquette
Lancôme Blush Subtil in Cappuccine (for the contour)
Lancôme nail polish in Sweet Nude (part of a mini trio, new for fall)