All Posts Tagged With: "Daniel Martin"
New York City's loveliest ladies were made up in Lancôme this week. Here's a round-up: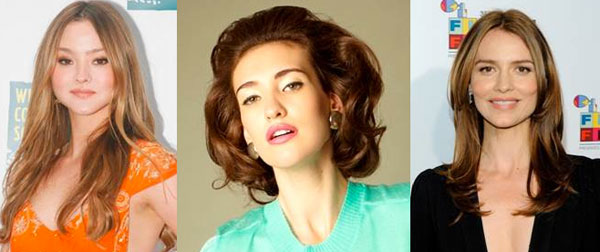 L to R:
Supermodel Devon Aoki looked resplendent at last Thursday night's, June 10th, 2010, Wildlife Conservation Society Gala 2010: Flights of Fancy at the Central Park Zoo. Makeup artist Jordy Poon gave Devon soft, smoky eyes with Lancôme's Color Design Eye Shadow Quad in ShowStopper Style, along with a pairing of Le Crayon Khôl EyeLiner in Black Coffee and Artliner in Noir. As for Devon's sculpted cheeks, Jordy reached for his favorite Blush Subtil in Cappucine and Star Bronzer in Bronze Solaire.
Going backstage at Chris Benz fashion show during New York Fashion Week is always exciting to me because I know I'm going to get to see and chat with Lancome's fabulous lead makeup artist Daniel Martin. Just a reminder, Daniel and fashion designer Chris Benz were the brilliant minds behind one of Lancom'e best selling lipstick (and Marta's all time favorite) Chris & Tell. If you're into makeup like myself, Daniel is the best guy to pick his brains about it. Needless to say, he is always so sweet to me! Thanks Daniel. xo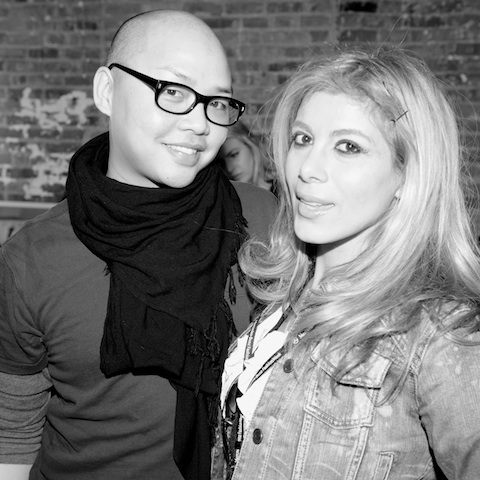 Daniel Martin and Marta Walsh backstage at Chris Benz Fall 2010 with Lancome
Photo Credit: © amber rima mclinn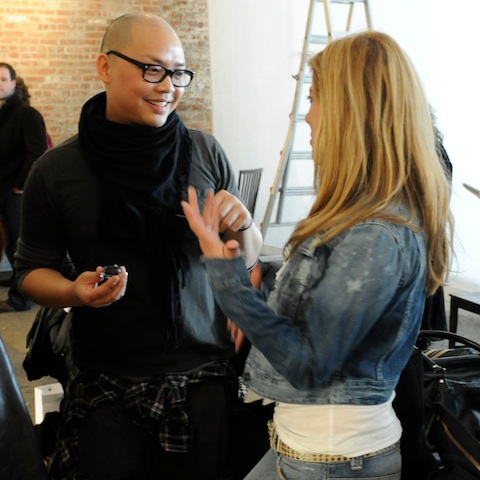 Photo Credit: © amber rima mclinn

Me, Marta Walsh, backstage at Chris Benz Fall 2010, also in the background Redken
team busy creating the hairstyle for the show. Photo Credit: © amber rima mclinn
New York Fashion Week Fall Winter 2010: Seattle native and downtown New York denizen Chris Benz saw all of his influences collide in a spectacular way on Monday, Febuary 15, 2010, for his Fall 2010 presentation. The collection mixes the patterns, textures and utility of clothes made for the Great Outdoors as worn by the renegade, Outward Bound Debutante.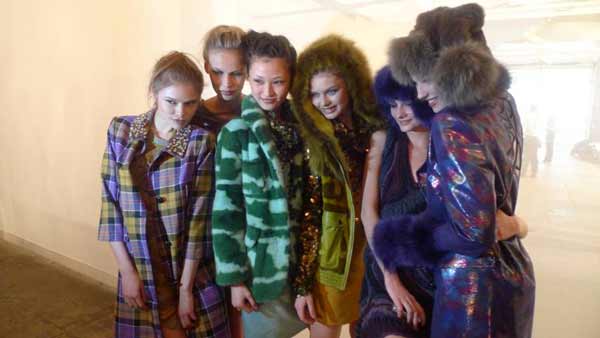 Makeup Tutorial: Lead makeup artist Daniel Martin (who helped create the Chris & Tell shade with the designer for Spring 2010) wanted a "makeup" makeup look, so he and Chris settled on what they're calling Gothic Chic. The eyes and the lips were given equal attention. The eyes were smoky in gradations of shimmery charcoal and chocolate. Daniel used the new Ombre Magnétique, a mousse-like cream shadow, in black, layered with Color Design Eye Shadow in Guest List, an opaque espresso shade. For the lashes, several coats of Hypnôse Drama Mascara in Excessive Black, and for the eyeliner, Le Stylo Waterproof EyeLiner in Noir along the waterline, completed the look.
Chris Benz Signing Lancôme's Chris & Tell lipsticks tomorrow at Saks NYC! Are you looking for the Chris Benz Chris & Tell lipstick, here's one of their last chances to get it. Chris is doing a personal appearance at the Saks Fifth Avenue Lancôme counter in Manhattan tomorrow 2/18/2010. Chris will be signing lipsticks and sharing the inspiration for his Spring 2010 collection. Saks is the official retailer for Chris & Tell and this is one of the only counters that has any lipsticks left (and only because a special batch was reserved for Chris's P.A.!).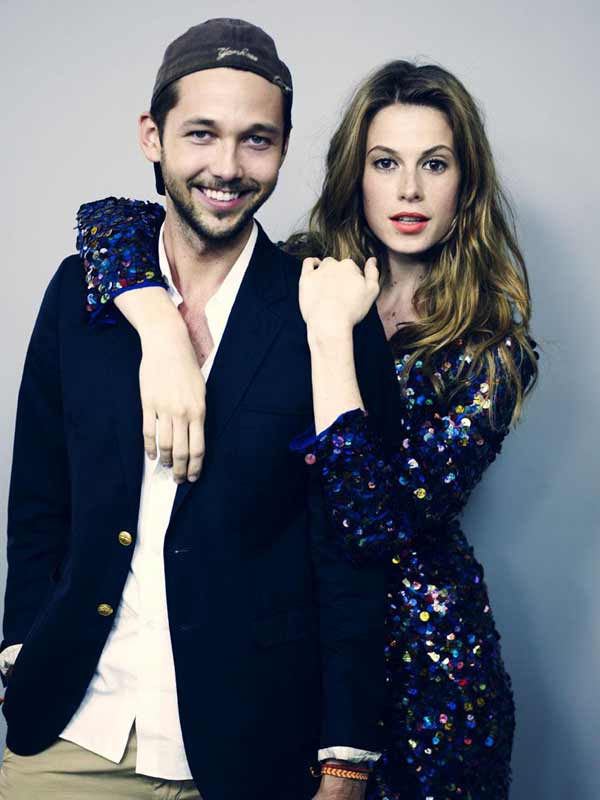 Chris & Tell, as you may know, was created specifically for the Chris Benz Spring 2010 presentation held in September 2009. Since its debut earlier this month, it's become one of the fastest-selling lipsticks in the Lancôme Pout-à-Porter designer lipstick series. Six hundred of the lipsticks sold on lancome-usa.com in just 48 hours. Beauty aficionados have already snatched up most of the supply and some have already popped up on eBay.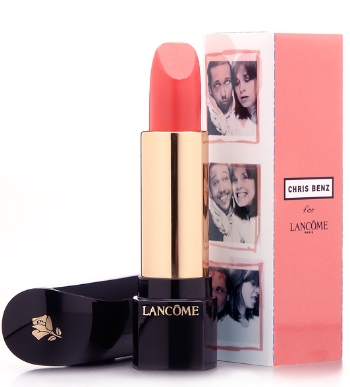 Lancôme is thrilled to announce that they're bringing back the Pout- à-Porter Lipstick series! The previous four lipsticks in this collection were collaborations with celebrated designers Behnaz Sarafpour, Proenza Schouler, Peter Som and Thakoon. All four of the lipsticks sold out and one Proenza Pink lipstick even sold for $122.50 on eBay.
For Spring 2010 Lancôme is collaborating with emerging designer Chris Benz and they need your help!
Lancôme is doing a lipstick naming contest that was announced on Chris Benz's Facebook fan page today (While you're there don't forget to become a fan). The new shade will be inspired by Chris' Spring 2010 collection and will be worn by the models at his show in September.
Celebrities, supermodels and fashion designers flocked to The Metropolitan Museum of Art on Monday for Vogue's annual, star-studded Costume Institute gala. Hosted by Marc Jacobs, Kate Moss and Justin Timberlake, this was New York's party of the year!
There was no shortage of glamour on Monday and Lancôme provided the makeup for a bevy of beauties including Lancôme ambassador Anne Hathaway, Lancôme spokesmodel Daria Werbowy and Arlenis Sosa, Alek Wek, Du Juan, Michelle Alves and Vanessa Traina. Thanks to Lancôme, Talking Makeup has the scoop straight from the makeup artists who created the looks for these gorgeous ladies.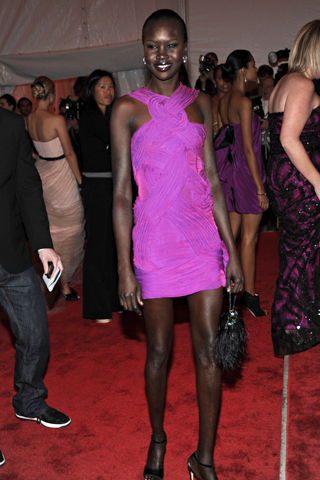 Alek Wek a supermodel.
Guests at the Chris Benz show Monday night got a sneak peek at Lancome's Fall 2009 color collection, Declaring Indigo. It was the perfect place for the debut, as Chris unveiled a palette even livelier than that giant box of crayons you lusted after as a child. Dresses, jackets, pants, skirts and more in shades of tangerine, royal blue, lime green, electric yellow and fire engine red were the ideal foil for Daniel Martin's gorgeous makeup. Not to mention Lancome's three limited-edition fall nail polishes-Indigo Paris (bright blue), Golden Audacity (opaque gold) and Rouge Liberty (the perfect red). This lively Le Vernis trio is destined to be a fall must-have.