All Posts Tagged With: "Eyeliner"
TM is excited to share with you that jane iredale is kicking off 2017 with the unveiling of its new Mystikol® eyeliners. Available in four, richly pigmented and water-resistant shades, these perfectly saturated, creamy-liners make it super easy to create the looks you love.
I'm a girl all about the eye makeup. This is why I'm super excited about the latest launch from Make Up For Ever.  I got to try the NEW Smoky Lash Couleur in # 3 deep brown and NEW Khol Pencil #9k a matte mocha brown. The mascara makes my lashes instantly bold, long, and volume-full. The eye pencil is soft and makes it easy to draw a line thin or more smoky without pulling on the skin. It's easy to blend. The shade is blackened-brown a nice break from black with a little bit of a softer effect.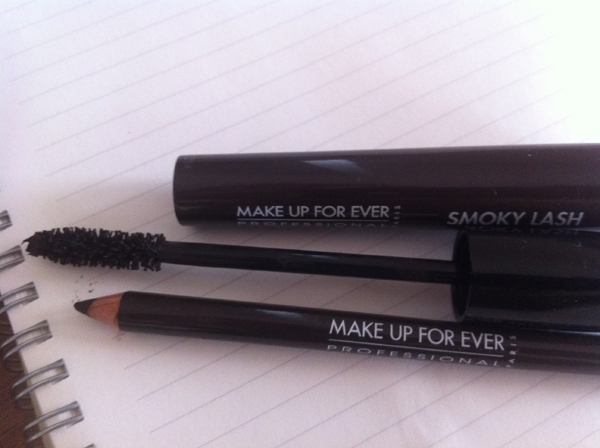 T to B: NEW Smoky Lash Couleur in # 3 deep brown and NEW Khol Pencil #9k a matte mocha brown
To celebrate the launch of the new Larger Than Life Long-Wear Eyeliner, NARS introduces a film created and directed by Fabien Baron, longtime partner and friend of the brand. To convey the product's precision application and striking impact, the modern film shows two mechanical arms (tools commonly used in surgical and engineering practices) applying the shade Via Veneto to model Emily Baker, in an elegant, lifelike movement. The film is currently available on the NARS YouTube Channel. Watch.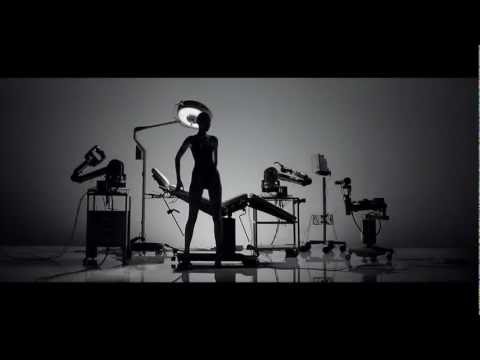 Marta Walsh is impressed with the NEW Aqua Liner by MAKE UP FOR EVER. Perfect for hot summer days when you need your eyeliner outstand humidity and if you're into a precise liquid eyeliner application.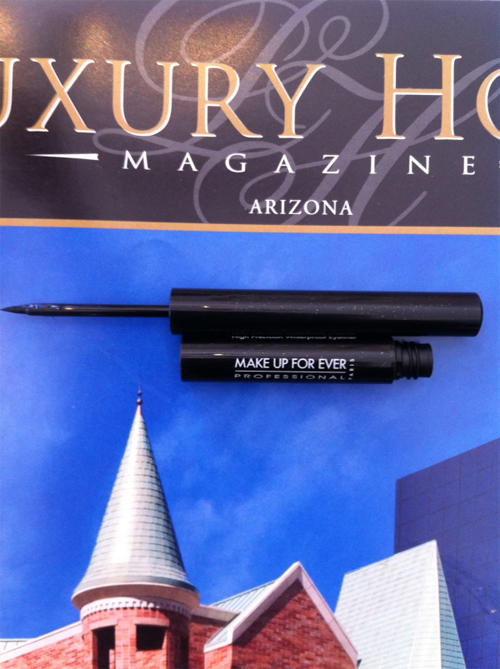 According to Make Up For Ever: " Aqua Liner is formulated with acrylic copolymer…that forms a flexible film to lock water out. It contains 50% more polymers than traditional eyeliner formulations to ensure a long-lasting, waterproof result, as well as essential amino acids derived from apple juice for high-color intensity and bold pay-off." $23.
Available at Sephora.com, Make Up For ever Boutique & Studio at Sephora from May 2011.
Jennifer Aniston's Makeup: CHANEL Celebrity Makeup Artist Angela Levin worked with Jennifer Aniston at the Los Angeles premiere of The Switch on Monday, August 16th, 2010. Talking Makeup has the scoop on how to get miss Aniston's fresh, radiant red carpet makeup look.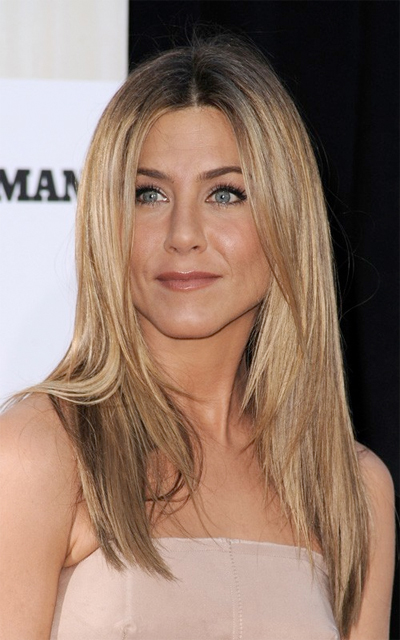 Jennifer Aniston's makeup at the Los Angeles premiere of The Switch by Celebrity Makeup Artist Angela Levin:
"I first prepped Jen's face with the new CHANEL Sublimage Concentrate, to enhance her already radiant skin. Her base was La Mer Foundation in 06, and on her cheeks I dusted a bit of CHANEL Powder Blush in Rose Pétale. On her eyes I used CHANEL Quadra Eyeshadow in Tentation Cuivré, a rich brown and copper shadow palette new for Holiday. The warm shades compliment Jen's gorgeous eye colour.
Watch: NARS for Marc Jacobs Autumn/Winter 2010 Fashion Week. Key Products Used: Enchanted Cream Blush, NARS D. Gorgeous Eyeshadow, NARS Nuits Blanches Eyeliner Stylo, NARS Black Moon Eyeliner Pencil, NARS Barbarella Lipstick.
The Makeup Look & Inspiration: "This look is what you would see on a girl from the East Village or St. Germain des Pres-an existentialist with a modern twist," said François Nars (Founder and Creative Director of NARS Cosmetics) whose application technique included using his fingers to achieve the faded effect. "These girls are sexy and cool. Their makeup looks dirty and worn out as if it has been on all night but still translates beautifully on the runway."
Get The Look: Lucy Hales' makeup from the 2010 Teen Choice Awards! Hales stars in the new ABC Family series Pretty Little Liars.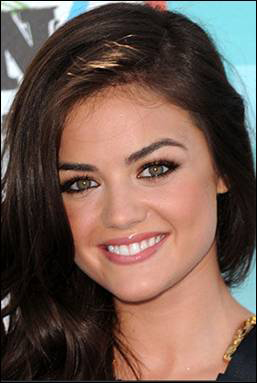 "Pretty Little Liars" actress Lucy Hale made her mark on the red carpet at the 2010 Teen Choice Awards. mark Celebrity Makeup Artist Mai Quynh shares with Talking Makeup her expert makeup tips for recreating Lucy's gorgeous makeup look!
How To Makeup Tutorial
CHANEL Celebrity Makeup Artist Kate Lee worked with Rose Byrne at the Los Angeles premiere of Get Him To The Greek on Tuesday, May 25th, 2010. The Look & Inspiration: Sultry, 1960's inspired makeup look.
How to makeup tutorial by CHANEL Celebrity Makeup Artist Kate Lee:
"Rose's look was part Penelope Tree, part Belle du Jour. She has incredible eyebrows, and I wanted to push that 1960's shape but keep it modern. " "I worked along the lash line with CHANEL Long Lasting Eyeliner in Ebénè. I blended it out and into the socket line.
Talking Makeup is pleased to present a Smokey Eyes makeup tutorial by the lovely Lois Price who is a student at Staffordshire University in England. I love my UK friends, you know:)
WATCH: Lois giving you tips on how to create a smokey eye look without breaking the bank! "Have fun with it and create similar looks!!" says Lois.
1. Firstly moisture your face and allow it to soak in, then apply a thin layer of foundation onto your face including eye lids- this will help the eye shadow stick and stay on longer
2. Apply a line of eyeliner to the bottom of your eyes to create definition.
3. Next apply the grey shadow to your eyelids- apply as much as you want.
For a night out, a smoky eye is the perfect accessory. With products from Rimmel London, it is easy to achieve and affordable!
Rimmel London Soft Kohl Kajal Eyeliner at Jet Black: Delivers a soft, smudgeable line and fade-resistant color that's easy to apply and great for creating smoky eye looks. This pencil gives dense color application, which can be blended into the lid for a softly smudged look.