All Posts Tagged With: "La Mer"
La Mer Fashion's Night Out 2010 The Eye Balm Intense. La Mer is excited to be unveiling its big fall 2010 addition to skincare, The Eye Balm Intense, and will be offering appointments for fun, signature treatments in-store. Join La Mer for an evening celebration and unveiling of its latest innovation!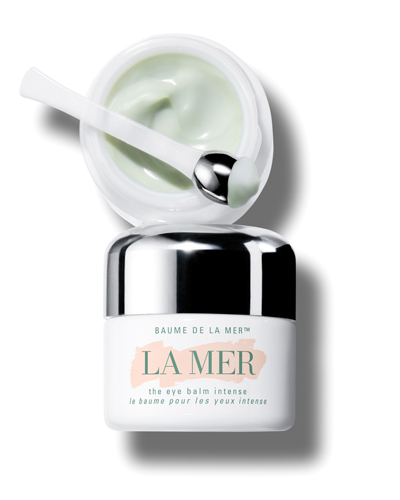 Book an appointment with a La Mer expert to be one of the first to experience the eye opening benefits of The Eye Balm Intense. Enjoy an exclusive treatment and learn signature acupressure massage techniques for application designed to renew and revitalize the eye area – perfect after a long night of festivities!
Jennifer Aniston's Makeup: CHANEL Celebrity Makeup Artist Angela Levin worked with Jennifer Aniston at the Los Angeles premiere of The Switch on Monday, August 16th, 2010. Talking Makeup has the scoop on how to get miss Aniston's fresh, radiant red carpet makeup look.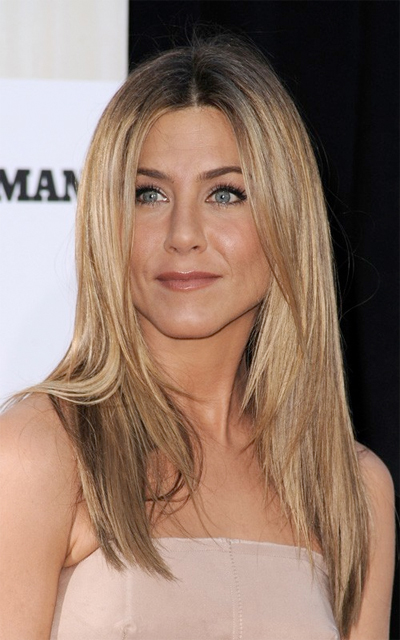 Jennifer Aniston's makeup at the Los Angeles premiere of The Switch by Celebrity Makeup Artist Angela Levin:
"I first prepped Jen's face with the new CHANEL Sublimage Concentrate, to enhance her already radiant skin. Her base was La Mer Foundation in 06, and on her cheeks I dusted a bit of CHANEL Powder Blush in Rose Pétale. On her eyes I used CHANEL Quadra Eyeshadow in Tentation Cuivré, a rich brown and copper shadow palette new for Holiday. The warm shades compliment Jen's gorgeous eye colour.
As promised, Talking Makeup has the World Oceans Day dive video with Oceana Spokeswoman January Jones sponsored by La Mer. Today, June 8th, 2010, marks the second official (UN) World Oceans Day.
La Mer and Oceana's World Oceans Day 2010 campaign. This year, La Mer is proud to announce the fifth anniversary of its partnership with Oceana, the world's leading international ocean advocacy organization.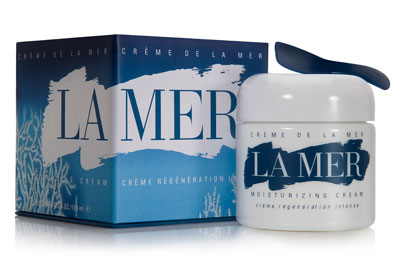 To celebrate, La Mer has created a limited-edition 100 ml World Oceans Day "blue" Crème de la Mer jar and will make a $200,000 donation to Oceana. This is the first time the look of La Mer's signature Crème de la Mer jar has been changed; "going blue" signifies the brand's continued commitment to the oceans.
Maggie Gyllenhaal's 2010 Oscars makeup look by COVERGIRL celebrity makeup artist Molly R. Stern.
"The finished product was perfection. She looked like herself. Authentic, cool and beautiful. Being a part of Oscar day with a nominee is such an honor. It's like an actress' wedding day with Hollywood. I love being here. I feel so blessed."-Molly R. Stern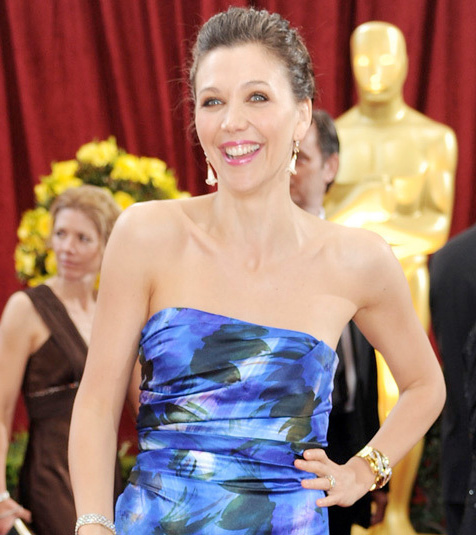 How to get Maggie Gyllenhaal's Oscars 2010 makeup look by Molly R. Stern: Maggie is the muse of spring. Her Dries Van Noten gown is a swirl of bright colors that fades into white. For her makeup I wanted to bring out the color of her eyes with some depth while keeping with the brightness of her overall style.
We started off the look by refreshing the skin with Jurlique Rose Water spray. Then I prepped the skin with Shu Uemura red:juvenus vitalizing concentrate and lightly moisturized with La Mer moisturizing lotion.
For a flawless complexion I primed Maggie's skin with COVERGIRL & Olay Simply Ageless Serum Primer (out in July 2010!!).
Carey Mulligan Oscars 2010: The Makeup
Makeup artist Georgie Eisdell prepped Oscar nominee Carey Mulligan for the big Oscar night.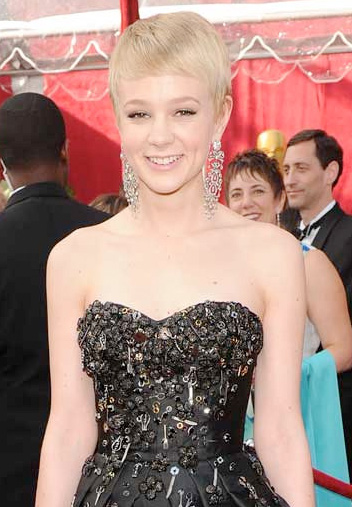 How to get Carey Mulligan's Oscars 2010 makeup look by makeup artist Georgie Eisdell:
"This was Carey's first Oscars so I wanted to make sure she looked age appropriate but still embrace the glamour of the night. Carey's dress was edgy and elegant so I wanted to keep her makeup looking fresh and youthful. I wanted to enhance the natural beauty of her skin so I used La Mer foundation lightly powdered with La Mer's translucent powder over that. For her eyes, I used Chanel soft beige and pink shadows from their spice palette. I used MAC's black track eye liner followed by YSL's Faux Cils mascara in black. To finish off her eyes I sharpened up her eyebrows with Laura Mercier's soft blonde brow powder duo. For her cheeks, I wanted to give them a pinched cheek look with Dior's glowing color powder blush in fruit de la passion. For the finishing touch on her skin, I used Bobbi Brown bronzing powder in medium. And finally on her lips I used Dior addict lip polish 004. I used La Mer body creme on the way out the door to give her body the same glow."
La Mer Introduces The Regenerating Serum . Available: March 2010.

The new La Mer Regenerating Serum combines powerful anti-aging ingredients including The Miracle Broth, The Regenerating Ferment, The Marine Peptide Ferment, Colloidal Gold, and Lime Tea to renew the appearance and rejuvenate skin. Four years and hundreds of hours of lab work in the making, this ultra-luxe elixir is the result of the combined effort of physicists, marine botanists and biologists around the world and holds over 50 patents.
The Regenerating Serum 1 oz. Suggested Retail $250. Available in March 2010 at select Saks Fifth Avenue, Neiman Marcus, Bergdorf Goodman and www.lamer.com
Sexy Valentine's Day Skin: The perfect body care duo, The Body Refiner ($110) and The Body Crème ($195) by La Mer work in tandem to polish and soften the skin.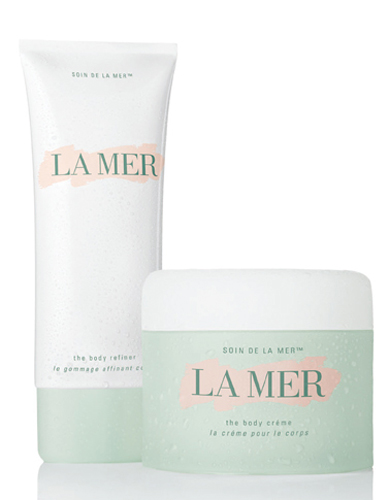 Since The Max Huber Research Labs began engineering their first body treatments, they have incorporated the most luxurious ingredients. A multi-faceted treatment which utilizes precious ingredients—including 1.75 carats of pure diamond dust— the Body Refiner delivers a cushiony resurfacing treatment the instantly lifts away dull cells, gently retexturizing skin to reveal a smooth and supple new surface. Follow with La Mer's "seaweed-wrap in a jar," The Body Crème, to saturate skin with a wave of long-lasting hydration. A true treat and lavish skincare experience.
La Mer products are available at select Saks Fifth Avenue, Neiman Marcus, and Bergdorf Goodman stores.
GET THE LOOK: Thanks to Celebrity Makeup Artist Gita Bass Talking Makeup has the scoop on how to get Toni Collette's radiant look at the 67th Golden Globe Awards last night.
"For Toni Collette I combined warm healthy skin with a bronze metallic smoky eye and nude glossy lip" according to Gita. She prepped her eyes with AMOREPACIFIC Moisture Bound Intensive Vitalizing Eye Complex (available at Sephora.com)  to reduce any puffiness and to ensure the concealer and shadow stay in place all night. To create the perfect canvas for a flawless radiant complexion, Gita prepped Toni's skin with AMOREPACIFIC Moisture Bound Refreshing Hydra Gel. The whole look was set with AMOREPACIFIC Moisture Bound Skin Energy Spray for a final touch of hydration and staying power. 
 "I added a layer of La Mer's The Body Crème to keep her skin looking glowing and radiant. To keep her face looking flawless I used The Radiant Concealer SPF 25 under her eyes and on any redness. I prepped her lips with the amazing La Mer Lip Balm to keep them full and hydrated all night long." added Gita.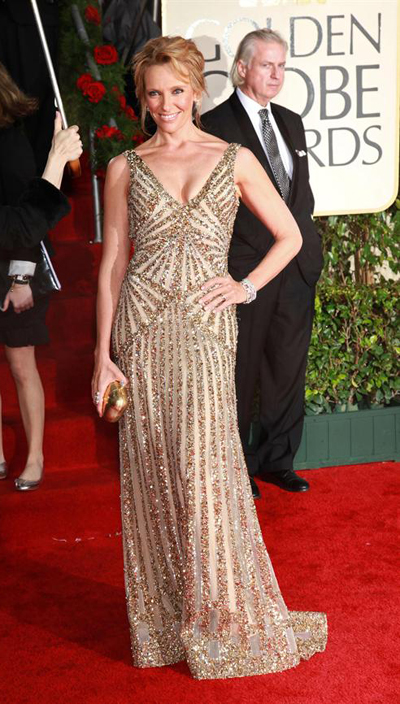 Holiday Gift Guide: La Mer's new holiday gifts of beauty for the season!
The Connoisseur Collection SRP $395: The Connoisseur Collection brings together three essential skincare treatments perfect for any time of year: Crème de la Mer (2 oz.), The Lifting Face Serum (9 ml) and The Eye Concentrate (.5 oz.). Presented in a festive keepsake box, this offering is a beautiful way to both gift and experience La Mer.