All Posts Tagged With: "NARS Irresistiblement Bronzing Powder"
Carey Mulligan Oscars 2010: The Makeup
Makeup artist Georgie Eisdell prepped Oscar nominee Carey Mulligan for the big Oscar night.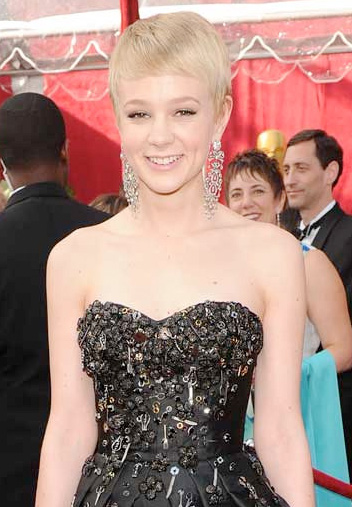 How to get Carey Mulligan's Oscars 2010 makeup look by makeup artist Georgie Eisdell:
"This was Carey's first Oscars so I wanted to make sure she looked age appropriate but still embrace the glamour of the night. Carey's dress was edgy and elegant so I wanted to keep her makeup looking fresh and youthful. I wanted to enhance the natural beauty of her skin so I used La Mer foundation lightly powdered with La Mer's translucent powder over that. For her eyes, I used Chanel soft beige and pink shadows from their spice palette. I used MAC's black track eye liner followed by YSL's Faux Cils mascara in black. To finish off her eyes I sharpened up her eyebrows with Laura Mercier's soft blonde brow powder duo. For her cheeks, I wanted to give them a pinched cheek look with Dior's glowing color powder blush in fruit de la passion. For the finishing touch on her skin, I used Bobbi Brown bronzing powder in medium. And finally on her lips I used Dior addict lip polish 004. I used La Mer body creme on the way out the door to give her body the same glow."
As NARS turns fifteen this year, the brand's commitment to creating products that defy convention remains unwavering. The NARS woman has never been content to fade into the background, and this summer is no exception.
"The look for the Summer 2009 collection is sophisticated, but colorful," says François Nars, Founder and Creative Director of NARS Cosmetics.
Whether your vision of perfect summer conjures up images of Morocco's kaleidoscopic bazaars, the pristine Art Deco structures of Ocean Drive or the endless white sand beaches and cerulean waters of a Caribbean island, this season's vivid yet versatile color palette is the perfect complement.
GET THE LOOK: For the Summer 2009 campaign, Ayako, International Makeup Director for NARS, wanted to fashion a look for model Guinevere van Seenus that was arresting yet approachable. To create a seamless foundation on which she could build her beauty vision-a harmony of muted tones punctuated by a shot of
vivid blue-Ayako first prepped Guinevere's face with NARS Makeup Primer, followed by Firming Foundation in Siberia and a sprinkle of Loose Powder in Snow for a high-definition finish.