All Posts Tagged With: "Carey Mulligan"
Carey Mulligan stepped out in style on Monday night, October 24th, 2011, for the Hollywood Film Awards. Jenny Cho, Suave Professionals Celebrity Stylist created her polished & graceful look to compliment her LBD. Follow Cho's simple steps to recreate this feminine look.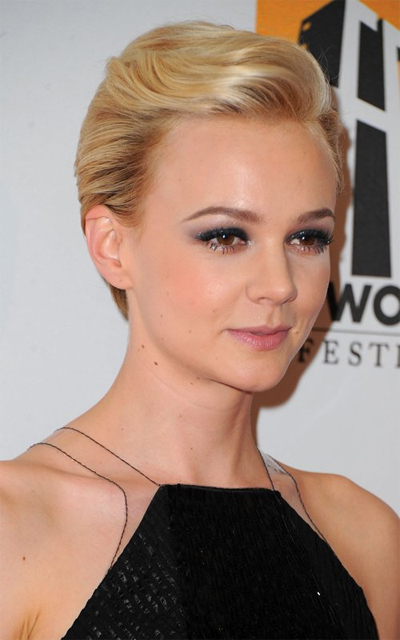 Jenny Cho, Suave Professionals Celebrity Stylist creates a polished & graceful look for Carey Mulligan
Celebrity Hairstyle: "Short hair can be styled in many different ways. I have so much fun working with Carey because we get to play, be adventurous and do something slightly different each time. I was inspired by the 50's pompadour for this event. I wanted her hair to be feminine, polished and gracefully pulled away from the face" says Jenny Cho, Suave Professionals Celebrity Stylist.
How to get Carey Mulligan's hairstyle:
Carey Mulligan was spotted wearing Essie on the red carpet at the Drive Comic Con Panel. Mani: ESSIE's Blushing Bride was used to get Carey's light-pink, earthy nails. Pedi: ESSIE's Capri was used to get Carey's complexion-warming fire coral summer pedicure.

Carey Mulligan's Nail Polish: Get the Look with Essie
L to R: Essie nail polish in Blushing Bride and in Capri. See the nail polishes in real life…
The stars hit the red carpet at The Costume Institute Gala Benefit. This year, the MET Ball celebrated the opening of the "American Women: Fashioning a National Identity" exhibition and Hollywood's hottest actresses showed up with equal parts glam and daring. Sebastian stylist Thomas Dunkin tended to the locks of An Education actress Carey Mulligan before the gala. Looking to counter Carey's very feminine dress with a tomboy flair, Thomas styled the actress' short 'do with a full fringe crop that's approaching a very short bob.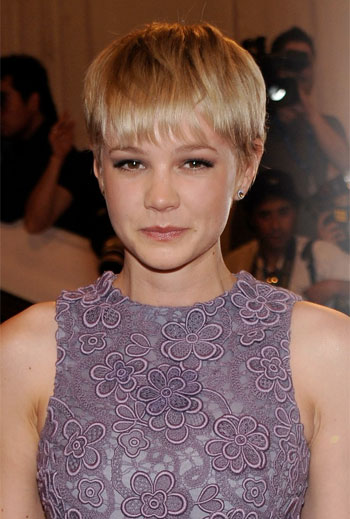 Here, Thomas shares tips for recreating Carey's understated style.
1. Dampen hair and apply a liberal amount of Sebastian Professional Potion 9.
Carey Mulligan Oscars 2010: The Makeup
Makeup artist Georgie Eisdell prepped Oscar nominee Carey Mulligan for the big Oscar night.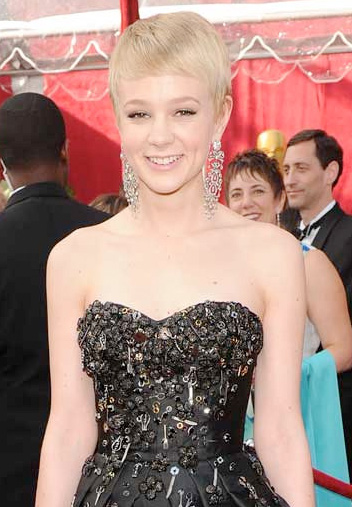 How to get Carey Mulligan's Oscars 2010 makeup look by makeup artist Georgie Eisdell:
"This was Carey's first Oscars so I wanted to make sure she looked age appropriate but still embrace the glamour of the night. Carey's dress was edgy and elegant so I wanted to keep her makeup looking fresh and youthful. I wanted to enhance the natural beauty of her skin so I used La Mer foundation lightly powdered with La Mer's translucent powder over that. For her eyes, I used Chanel soft beige and pink shadows from their spice palette. I used MAC's black track eye liner followed by YSL's Faux Cils mascara in black. To finish off her eyes I sharpened up her eyebrows with Laura Mercier's soft blonde brow powder duo. For her cheeks, I wanted to give them a pinched cheek look with Dior's glowing color powder blush in fruit de la passion. For the finishing touch on her skin, I used Bobbi Brown bronzing powder in medium. And finally on her lips I used Dior addict lip polish 004. I used La Mer body creme on the way out the door to give her body the same glow."
Looks like the race for Oscars gold has gone to Carey Mulligan's head, or rather, her hairstyle. The young star, who's nominated for Best Actress, took her pre-Oscar beauty prep to the extreme when she debuted a new platinum blonde hairstyle… Read Full Article in dailymakeover.com

Before Photo: © Michael Buckner/Getty Images
After Photo: © Gareth Cattermole/Getty Images
Related Articles:
The Best Red Lips For Fall 2010
L'Oréal Paris and Carelle have once again collaborated to create gorgeous compacts to celebrate and honor Hollywood's leading ladies. This year, L'Oréal Paris received a prestigious star on the Friends of Hollywood Walk of Fame. To celebrate this achievement, each of the three different compacts showcases shooting stars encrusted with diamonds. The three compacts are made in sterling silver and plated in a different color 18kt gold, which enhances the beauty of the stones and embodies the spirit of the award show for which it is exclusively made.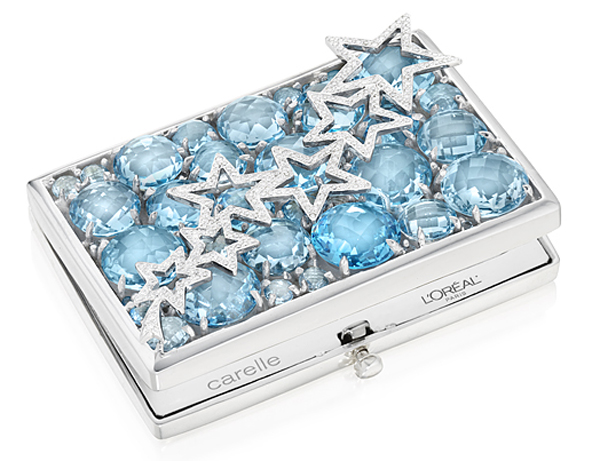 To celebrate their "Best Actress in a Feature Film" nominations, L'Oreal Paris and Carelle are thrilled to congratulate Sandra Bullock, Helen Mirren, Carey Mulligan, Gabourey Sidibe and Meryl Streep with these exclusive compact mirrors.