All Posts Tagged With: "Essie"
Sneak peek to New York Fashion Week Wes Gordon S/S '16 nail look with essie.
ombre nail
To pair with the feminine, yet edgy and dark undertone of Wes Gordon's Spring/Summer 2016 collection, Rita Remark for essie created a gothic ombre nail look that perfectly captured the enviable style of '90s "good girl gone bad." The nail design juxtaposes light and dark with wet and dry.
How To Get The Obmre Nail Look
Sneak Peek To New York Fashion Week…Julie Kandalec for essie created a luxe, red-carpet ready gold nail by layering good as gold and shifting power.
When I'm trying to decide what makeup or beauty products to buy, one of the most important things I'm looking for is how long-wearing the product is. For many products, within seconds of application they rub off on my hands, clothes, and sometimes even on other people. I don't like to look "washed-out," so with some trial and error I work to find the perfect makeup for me!
Best Foundation
Revlon ColorStay Whipped Creme Makeup in 320 Warm Golden and Jane Iredale Glow Time Full Coverage Mineral BB Cream SPF 25 in BB7. I've tried many foundations, but these just stay put all day and both have a matte dry finish and non-greasy shiny finish. If you're looking for a BB Cream don't look anywhere else, this BB Cream by Jane Iredale is by far the best on the market. Most other BB Creams I've tried are too greasy and watery and they feel like a moisturizer as oppose to a foundation. The Jane Iredale one has the perfect balance of both.
Best Lipstick and Lipgloss
Bare Minerals Marvelous Moxie Lipstick in Light It Up (light coral shade) and Bare Minerals Marvelous Moxie Lip Gloss in Hot Shot (light bubble gum Pink shade). The lip-gloss by itself has great staying power, but when paired it with the lipstick – oh boy, you get nonstop color! These smells and feel cinnamon mint and very soothing. They are not greasy like so many lipsticks and lipgloss. These imo the best lipstick and lipgloss on the market today!
Best Eye Makeup
Bare Minerals Ready Eye Shadow in The Top Shelf (these are very clean eye shadows that have the perfect amount of shimmer without looking messy and glittery) and Anastasia Beverly Hills Covet Waterproof Eye Liner in Noir (black shade – this one just does not smudge for hours!).
Best Face Powder
Jane Iredale Pure Pressed Base Powder Foundation SPF 20 in Light Beige helps keep my foundation shine-free and in place all day.
Best Nail Polish
Essie First Base – a base coat that prolongs the staying power of any Essie nail polish – and then Essie Good To Go Top Coat, which provides a nice glossy finish to nail color, making it last longer.
Best Hair Shampoo and Conditioner
Pantene advanced keratin repair shampoo and Conditioner make my hair super smooth and frizz free that lasts for days. I also love Pantene Touchable Volume Hairspray that I spray after styling (please spray lightly and on ends), it smells amazing a keeps my hair style in place, it's not sticky at all. And before I use a flat iron I spay Style Sexy Hair 450 Protect which smells so nice and protects my hair from heat while keeping my hair silky soft.
And of course, to remove all that great stuff without risking skin irritation, I use my old time favorites: Simple Skincare Cleansing Facial Wipes and Simple Make-Up Remover Pads.
This post was created in connection with my appointment as an ambassador in the Simple® Skincare Program. Visit www.facebook.com/SimpleSkincare to share your story on sensitive skin. For more tips and deals from Simple, join the Simple VIP community.
Celebrity Manicurist Michelle Saunders used a mix of essie's Lady Like ($8) and Au Natural ($8) to compliment Kate Beckinsale's gorgeous cream dress.
Celebrity Manicurist Nettie Davis used essie's Very Structured ($8) to create Shailene's burnt orange, earthy manicure. Website: www.essie.com
Carey Mulligan was spotted wearing Essie on the red carpet at the Drive Comic Con Panel. Mani: ESSIE's Blushing Bride was used to get Carey's light-pink, earthy nails. Pedi: ESSIE's Capri was used to get Carey's complexion-warming fire coral summer pedicure.

Carey Mulligan's Nail Polish: Get the Look with Essie
L to R: Essie nail polish in Blushing Bride and in Capri. See the nail polishes in real life…
Summer Nail Trends: essie introduces their hot new Summer Collection and invites you to "Slip Into Something More Colorful." The keyword for summer is: fun! So indulge in seriously sensational color! Don't be shy — make it the time to play with bold, playful color combinations.

essie's Summer 2010 Collection A palette of shades created to compliment the essence of summer
From The Expert:
"This year's runways reflected the ease of the season with youthful, upbeat clothing in feminine fabrics," explains Essie Weingarten, President and Founder of Essie Cosmetics, Ltd. "I was inspired by the vivid pastels at Versace and the splashy florals at DKNY. I created this collection to reflect the youthful, fun-to-wear flirty frocks."
Essie Spring 2010 : The Art of Spring Color Collection.
Inspiration: Spring ushers in a warm, high-spirited bouquet of pretty shades and sultry silhouettes. At the Spring 2010 shows, designers expressed a super-sexy return to elegance with a pop art palette of colors. Body-clinging pieces with flurries of tulle, silk and organza flowed alongside crepe skirts, linen kimonos and shantung gowns in never-ending shades of lilac, rose and cerise.


From Left: Pop Art Pink: Sheer chiffon pink. Lilacism: Satiny smooth lilac. Neo Whimsical: Light as a feather rose-plum. Van D'go: Deliciously ripe melon. Tart Deco: Dreamy creamy coral. Red Nouveau: Fiery hot red pepper.
4pc Mini Set includes: Pop Art Pink, Lilacism, Tart Deco, Red Nouveau
Rock & Republic and Essie Limited Edition Matte Nail Collection: Rock & Republic and Essie join creative forces to bring you the season's hottest matte trend. Uniting Essie's luxury nail color and care expertise with the fashion authority of Rock & Republic, this exclusive collaboration contains three limited-edition must-have items that feature the shine-free look of the moment from tip to toe.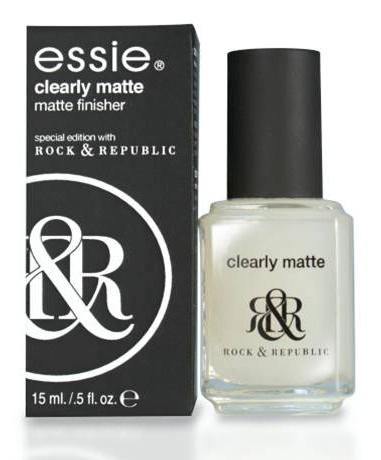 The inspiration for this innovative collaboration is Essie's Clearly Matte, an instant-mattifying finishing polish that transforms any high-shine nail lacquer into a no-luster fashion statement. This exclusive formula adds new dimension and texture, revamping your favorite shades in seconds.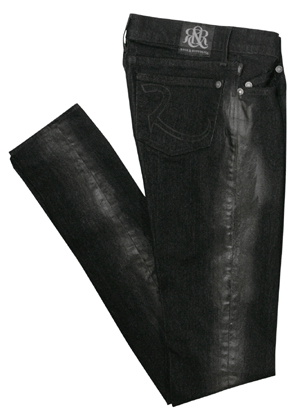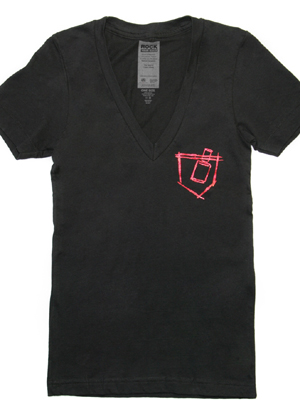 Rock the same look with Rock & Republic's All About Matte jean in Spill Black, and add the Top Matte tee in Pretend Black. All About Matte ($248), Rock & Republic's Signature Skinny Denim Fit, emblazoned with black lacquer spill detailing, pairs with the Top Matte Tee ($48), a slim-fit black jersey v-neck with red foil pocket detail, to complete the limited-edition capsule collection.
Last month during my visit to New York City for Fashion Week I stopped by at Frédéric Fekkai at The Mark Hotel to get my hair blow dried. It was a much needed blow out. The New York weather makes my hair so frizzy, and what I call" "poofy" i.e. too much volume (LOL I'm not even sure this word exist in the English dictionary). And running around town all day, whose got time to do their own hair?!!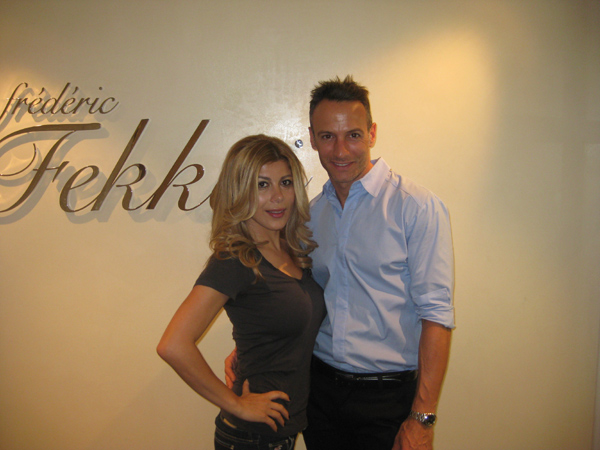 Fabulous Anthony at the NEW Fekkai Madison at The Mark Hotel just gave me Hollywood waves! Luv him:)
I crossed Central Park in a cab all the way to the East Side and arrived at the Frédéric Fekkai at The Mark Hotel. The building was so pretty and newly renovated which is kind of rare for NYC, everything is normally so ancient. My service was impeccable, and the best part was that I got to do my nails and my hair at the same time. I felt like I can totally can get used this life. Wouldn't you?:)

Marta's nails in Essie Sexy Divine gorge deep black-ish purple:Mani by Gabriela at Fekkai salon The Mark hotel NYC
Loved my hair stylist Anthony! He blew dry my hair and gave the perfect Hollywood curls without even using a curling iron. And Gabriela who did my nails with Essie Sexy Divine did a great job in making my manicure last for 4 days! I yet need to investigate which top coat she used on my nails. I assume it was Essie as well.
Introducing Essie Loves Diamonds by Judith Ripka: A Nail Color Collection Infused with Diamond Dust and Hidden Gemstones.
How do you wear diamonds? Prep nail and polish. Essie Cosmetics and Judith Ripka – two iconic luxury brands – joined forces to create the ultimate luxe accessory. Introducing Essie Loves Diamonds by Judith Ripka – a limited-edition collection of 3 nail colors infused with genuine diamond dust.
"Judith Ripka is a visionary brand with stunning jewelry pieces and they are the perfect partner for this collection," says Essie Weingarten, Founder/President of essie. "With Judith, I created this collection for every woman who loves diamonds – the colors are chic and classic."

To celebrate the launch of this collection, Essie and Judith Ripka are offering 3 lucky winners the chance to find and own a genuine precious gemstone. A sapphire, emerald and diamond will each be hidden separately inside three different polish bottles. The lucky finders will become owners of these stunning stones.
When you buy any of the three polishes, go to www.essie.com  and www.judithripka.com  and enter the UPC code on the bottom of the bottle for additional discounts and promotions.