All Posts Tagged With: "nail color"
Introducing Shellac The First Hybrid Nail Color: CND (Creative Nail Design), the leader in professional nail, hand and foot beauty, is proud to introduce the first hybrid nail color after nearly five years of development in its state-of-the-art laboratory. Now you can say good-bye to chips, smudges, and dry time and say hello to Shellac Hybrid Nail Color! This game-changing product applies like polish, wears flawlessly for 14 days of high gloss shine, and is removed in minutes.
Essie Spring 2010 : The Art of Spring Color Collection.
Inspiration: Spring ushers in a warm, high-spirited bouquet of pretty shades and sultry silhouettes. At the Spring 2010 shows, designers expressed a super-sexy return to elegance with a pop art palette of colors. Body-clinging pieces with flurries of tulle, silk and organza flowed alongside crepe skirts, linen kimonos and shantung gowns in never-ending shades of lilac, rose and cerise.


From Left: Pop Art Pink: Sheer chiffon pink. Lilacism: Satiny smooth lilac. Neo Whimsical: Light as a feather rose-plum. Van D'go: Deliciously ripe melon. Tart Deco: Dreamy creamy coral. Red Nouveau: Fiery hot red pepper.
4pc Mini Set includes: Pop Art Pink, Lilacism, Tart Deco, Red Nouveau
Sally Hansen has you covered with the Holiday Diamond Strength No-Chip Nail Color collection. These limited edition shades feature six colors that range from deep raspberry red to a tinsel-inspired sparkling glow. These limited edition shades are perfect for a deep, ruby nail or a festive and shimmery tinsel-inspired look. Each polish costs $4.75 and can be found in Drugstores nationwide.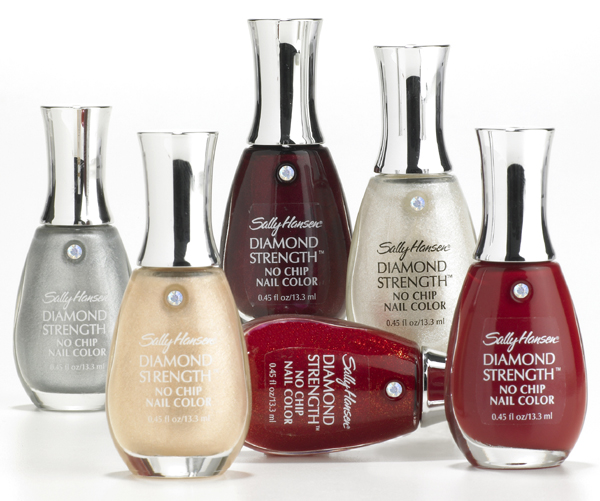 Sally Hansen Diamond Strength No Chip Nail Color, the nail enamel that helps stop nails from breaking . . . with a precedent-setting formula that contains real diamond particles to give nails diamond strength, diamond shine and diamond wear.
I love Le Vernis in Untamed Plum by Lancôme, $18! This nail polish is a gorgeous choice of color for the holiday season. I'm wearing it right now. It's a very dark purple, super glossy, and fancy.

Visit www.lancome-usa.com for more details.
Here are Talking Makeup's picks for holiday 2009 by Avon.
In Bloom Reese Witherspoon eau de parfum spray, $22.50 for 2.5 oz: I love the bottle. The cap is shaped like a flower. The bottle fits in my hand like an apple. Exquisite. The scent is fruity floral. Soft and feminine. Top notes: Georgia Peach Tea Leaves, Crisp Greens. Heart notes: Star Gardenia, Magical Magnolias, Night Blooming Jasmine. Background notes: Enveloping Cashmere Woods, Hypnotic Florals, Amber Wood Crystals.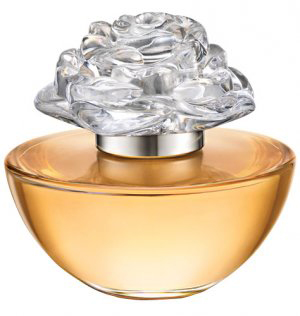 For Him: Avon Derek Jeter Driven Sport eau de toilette spray: light very daytime kind of scent.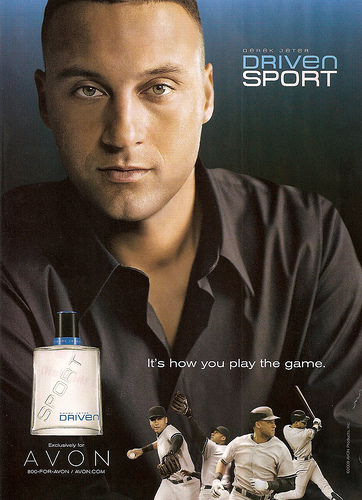 Click your Ruby Pumps and come travel with China Glaze down the yellow brick road to meet "The Wizard of Ohh Ahz"! Just in time for the holidays, China Glaze is re-releasing the ever-so popular Wizard of Ohh Ahz collection! Very similar to the original version that was released in 2001, these colors will remind you of exactly why China Glaze glitters are always in the forefront!

Colors in the 6 piece acetate include (from left to right as shown in the photo above):
· Ruby Pumps: An all time red glitter favorite!
· Cowardly Lyin': Gold frost with specks of gold micro glitter.
· The Ten Man: Silver frost with specks of micro silver glitter.
· Dorothy Who?: Blue polish with massive amounts of silver and blue glitter!
· C-C-Courage: Purple Frost with specks of purple micro glitter.
· Good Witch: Pink Frost with specks of pink micro glitter.
CND Colour & Effects is a NEW range of professional quality nail polishes with endless possibilities. I was introduced to the world of CND nail polish backstage at Baby Phat by Kimora Lee Simmons Spring 2010 Collection and since then I am SO curios to try! I will keep you posted guys. Meanwhile enjoy the news:)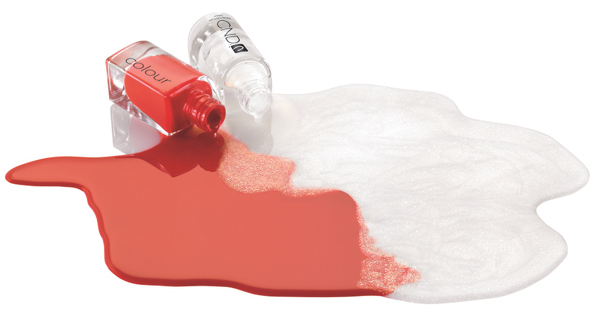 • Full spectrum palette of 50 luscious crème Colours including sheer, semi-sheer and opaque neutrals, pinks, darks and brights plus 3 pure chromes in gold, silver and copper
• 15 dazzling Effects in sheer hues of three textures – Pearl, Shimmer and Sparkle – to "accessorize" crème polish or wear alone
• 3-Free – no toluene, formaldehyde, or DBP (Dibutyl Phthalate)
• Rich and creamy two-coat, fast-drying formula
• Ergonomically designed bottle with rubberized cap for no slip-grip and easy opening
• State-of-the-art brush with clear, triangular-shaped nylon bristles for flawless application
Rock & Republic and Essie Limited Edition Matte Nail Collection: Rock & Republic and Essie join creative forces to bring you the season's hottest matte trend. Uniting Essie's luxury nail color and care expertise with the fashion authority of Rock & Republic, this exclusive collaboration contains three limited-edition must-have items that feature the shine-free look of the moment from tip to toe.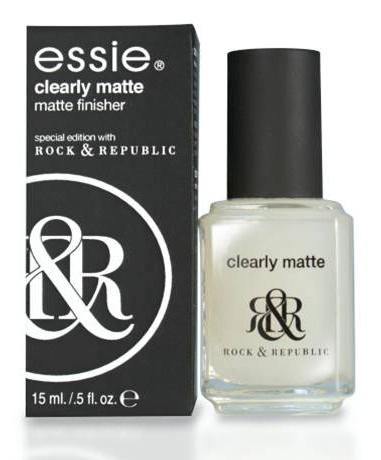 The inspiration for this innovative collaboration is Essie's Clearly Matte, an instant-mattifying finishing polish that transforms any high-shine nail lacquer into a no-luster fashion statement. This exclusive formula adds new dimension and texture, revamping your favorite shades in seconds.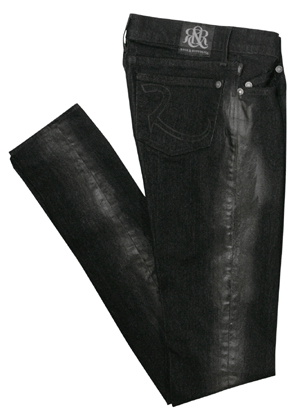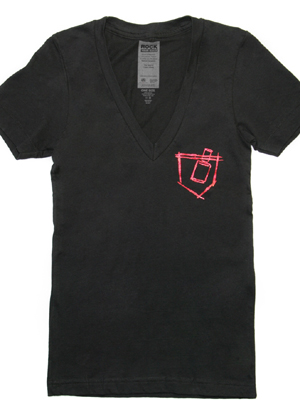 Rock the same look with Rock & Republic's All About Matte jean in Spill Black, and add the Top Matte tee in Pretend Black. All About Matte ($248), Rock & Republic's Signature Skinny Denim Fit, emblazoned with black lacquer spill detailing, pairs with the Top Matte Tee ($48), a slim-fit black jersey v-neck with red foil pocket detail, to complete the limited-edition capsule collection.
CND aka Creative Nail Design was a big hit at many of the shows during New York Fashion Week Spring 2010. Here are some of the nail trends spotted backstage. The nail looks were created using CND products.
Show: Baby Phat
Nail Trend: Gold foil on nails and Gold Chrome topped with Air Dry on toes for an exotic Moroccan-inspired look.
Show: Twinkle
Nail Trend: Brilliant White, Ivory Coast and Super Matte on fingers for a snow-white color sans shine and Ivory Coast, Desert Suede on toes.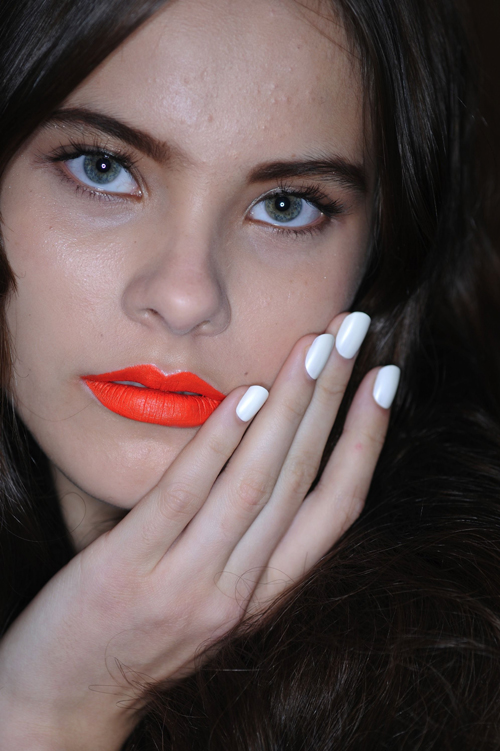 Ahead of her time as an arbiter of style and color authority, Mademoiselle Chanel recognized and revered the color black as a symbol of luxury, modernity, sophistication and seduction. Today, Peter Philips creates a tribute to black with an avant-garde collection of trend-defining eye, lip and nail shades, uncovering the many nuances and undertones of this iconic shade. While these statement-making tones are more daring than demure when worn together, they can easily achieve a quiet elegance when color is limited to either the eyes, lips or fingertips.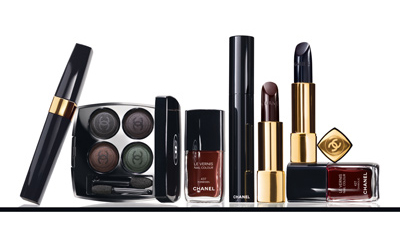 ROUGE ALLURE LUMINOUS SATIN LIP COLOUR Limited Edition: Three limited-edition shades of the iconic lipstick exemplify the seductive feel of the collection. The lip colors are an enigmatic play on noir, each with a different, nuanced undertone. $30.00 MANIAC HYSTERIA OBSCURE
QUATUOR BOUTONS DE CHANEL QUADRA EYE SHADOW Limited Edition: Nowhere is black's mystique more strikingly expressed than on the eyes. A shade quartet of deep green, mahogany, midnight blue and dark violet — embellished with the coveted CHANEL signature — creates a dramatic, yet sophisticated look. $60.00