Rock & Republic and Essie Limited Edition Matte Nail Collection: Rock & Republic and Essie join creative forces to bring you the season's hottest matte trend. Uniting Essie's luxury nail color and care expertise with the fashion authority of Rock & Republic, this exclusive collaboration contains three limited-edition must-have items that feature the shine-free look of the moment from tip to toe.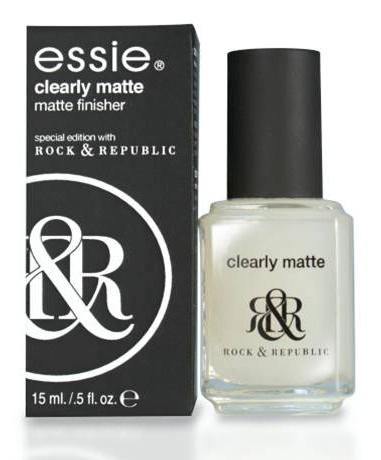 The inspiration for this innovative collaboration is Essie's Clearly Matte, an instant-mattifying finishing polish that transforms any high-shine nail lacquer into a no-luster fashion statement. This exclusive formula adds new dimension and texture, revamping your favorite shades in seconds.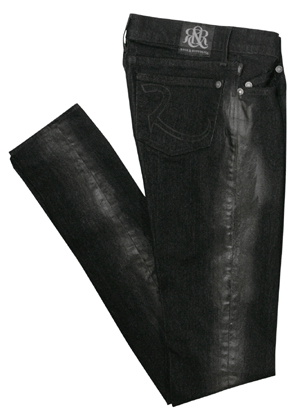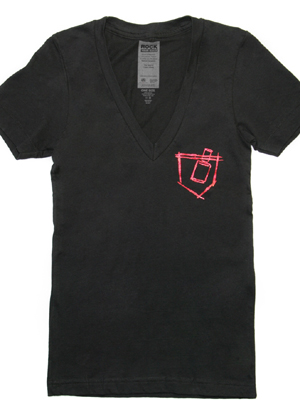 Rock the same look with Rock & Republic's All About Matte jean in Spill Black, and add the Top Matte tee in Pretend Black. All About Matte ($248), Rock & Republic's Signature Skinny Denim Fit, emblazoned with black lacquer spill detailing, pairs with the Top Matte Tee ($48), a slim-fit black jersey v-neck with red foil pocket detail, to complete the limited-edition capsule collection.
The fresh and impossibly chic collaboration – sparked by the friendship between Rock & Republic President Andréa Bernholtz and Essie Cosmetics founder and President Essie Weingarten – will launch October 15 at Rock & Republic's Signature Store on Robertson Boulevard in Los Angeles.
For a limited time, Rock & Republic will gift the Clearly Matte finishing polish with the purchase of any item in the capsule collection.
The collection will be available at Rock & Republic retail locations and online at shop.rockandrepublic.com. For up-to-the-minute details and special event updates about this launch, visit rockandrepublic.com or follow Rock & Republic on Twitter (www.twitter.com/rockandrepublic ) .