All Posts Tagged With: "Rock & Republic"
Anna Kendrick's Style: Sandals. Actress Anna Kendrick was seen wearing the Nexi cage sandal with stud detail in black ($196) by Rock & Republic. Available at www.endless.com
Style: Shoes. Loving the Celina Suede Covered Platform Pump with Spike Detail in Royal Purple by Rock & Republic ($295)! They were also seen on E! Daily 10 host Catt Sadler on August 3rd, 2010. Available at www.zappos.com.
Get Demi Lovato's rocker-chic look from her PSA with CLEAN & CLEAR and DoSomething.org. Talking Makeup has all the details on what Lovato wore on the shoot and how to get her beauty look.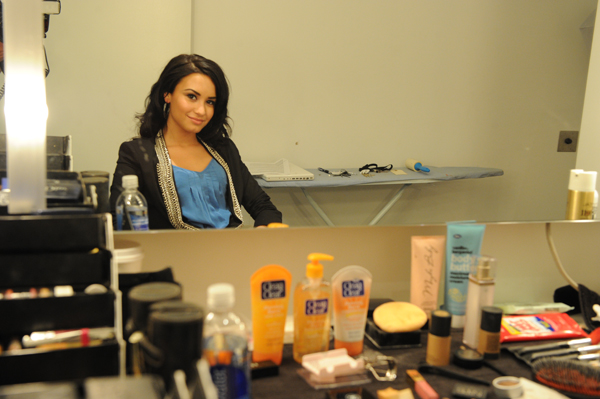 Style & Wardrobe: Shoes: Steven Madden. Jacket: Mason. Pants: Rock & Republic. Top: Urban. Earrings: Express Jewelry. Bracelet: Her own.
Skincare & Makeup: Before a shoot (and the blinding bright lights), it's important to prep the skin with products that will leave skin looking radiant and flawless. Scrub – Before a shoot, Demi starts with CLEAN & CLEAR Morning Burst Facial Scrub, it has Vitamin C and Ginseng to kickstart your morning, and gently exfoliates, leaving skin looking refreshed and radiant.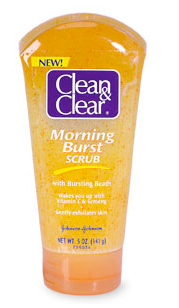 A holiday gift that makes an impact. Celebrate the season with Rock The Cure Lip Gloss by Rock & Republic—a gloss that goes beyond lip service. Created to benefit City of Hope—a biomedical research and treatment center dedicated to the prevention, treatment and cure of cancer and other life-threatening diseases—the brilliant red shade is a stylish declaration of change. When you gift this gloss to someone you love this holiday season, you also give the gift of hope to those who need it most with 100% of profits generated benefiting City of Hope and the organization's groundbreaking work in stem cell and immunotherapeutics research.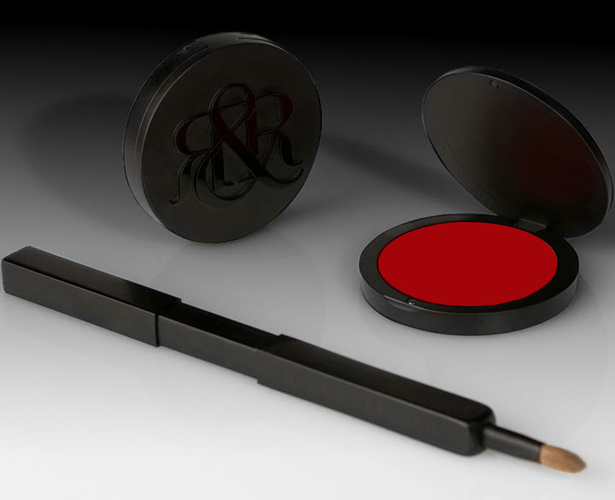 Rock the look to rock the cure with Rock & Republic Rock The Cure Lip Gloss ($45.00)
Available at: Nordstrom, Rock & Republic Signature Stores and RockandRepublicCosmetics.com.
Rock & Republic and Essie Limited Edition Matte Nail Collection: Rock & Republic and Essie join creative forces to bring you the season's hottest matte trend. Uniting Essie's luxury nail color and care expertise with the fashion authority of Rock & Republic, this exclusive collaboration contains three limited-edition must-have items that feature the shine-free look of the moment from tip to toe.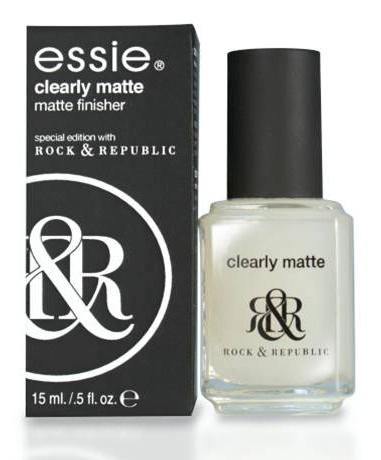 The inspiration for this innovative collaboration is Essie's Clearly Matte, an instant-mattifying finishing polish that transforms any high-shine nail lacquer into a no-luster fashion statement. This exclusive formula adds new dimension and texture, revamping your favorite shades in seconds.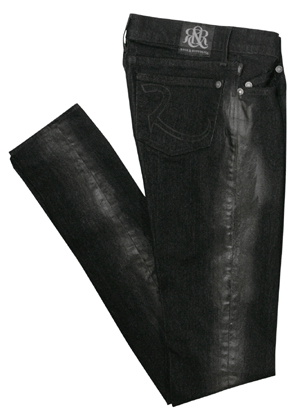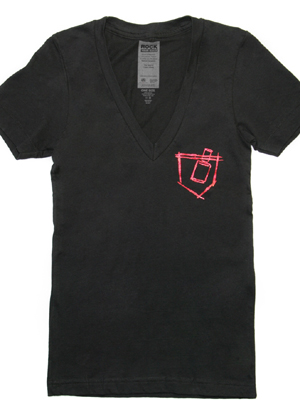 Rock the same look with Rock & Republic's All About Matte jean in Spill Black, and add the Top Matte tee in Pretend Black. All About Matte ($248), Rock & Republic's Signature Skinny Denim Fit, emblazoned with black lacquer spill detailing, pairs with the Top Matte Tee ($48), a slim-fit black jersey v-neck with red foil pocket detail, to complete the limited-edition capsule collection.
My dear friend & Celebrity Makeup Artist, Victoria Rowe, who also happened to do makeup for Twilight star Ashley Greene told me about the Rock & Republic Robertson Store Opening Party last night in LA. 
Ashley Greene looked simply elegant in a little black dress, fresh short hair cut, and clean makeup.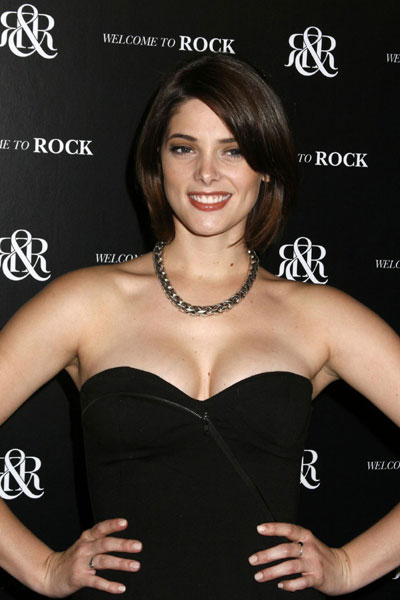 I also love Ashley Greene's nail polish which is very neutral.
Try Essie in Ballet Slippers for an Ashley Greene inspired  look!
This Friday, tune into your favorite luxe cosmetic brand, Rock & Republic Cosmetics, on QVC. Innovator, style maker, and driving force behind Rock & Republic Cosmetics; President Andrea Bernholtz will be presenting the collection as part of QVC's Beauty and Newsmakers segment from 4:00-8:00pm EST.
WHEN & WHERE:
Tune in to experience the collection that embodies a luxe lifestyle: Rock & Republic Cosmetics!
Friday April 25th
QVC
Time: 4:00-8:00pm EST
Here's a sneak peek at what you'll see: Accentuate Bronzer/Highlighter:
Rock & Republic's debut cosmetics collection accessorized the Spring 2009 runway. This fashion week, Rock & Republic is unveiling more than its latest take on luxe fashion with a sexy edge. The iconic lifestyle brand is complementing its Spring collection with its own decadent line of rich, vibrant makeup, available in stores beginning September 15th.
In trademark Rock & Republic style, the spring fashion line boldly defies fashion conventions, pairing delicate fabric like chiffon and organza with hard structures like accentuated shoulders, cinched waists, and high-volume ruffles. Rock & Republic's signature hard edge shone through the collection's strong silhouettes in stark black and white. Super short dresses, graphic print leggings and skinny jeans with rouched zippers at the ankles stomped down the runway atop sky-high heels.
In conceptualizing the collection's makeup look, Rock & Republic President Andrea Bernholtz parlayed this nonconformity into a striking take on the conventional spring aesthetic. "While most brands present spring fashion with light, bright, pastel makeup, that look just doesn't reflect the audacious, rock-inspired edge of the brand," Bernholtz explains. "Instead, we used a rock style spring smoky eye, with pale grays to lighten the eye and luminous skin to create that enviable dewiness we look for in spring."