Get Demi Lovato's rocker-chic look from her PSA with CLEAN & CLEAR and DoSomething.org. Talking Makeup has all the details on what Lovato wore on the shoot and how to get her beauty look.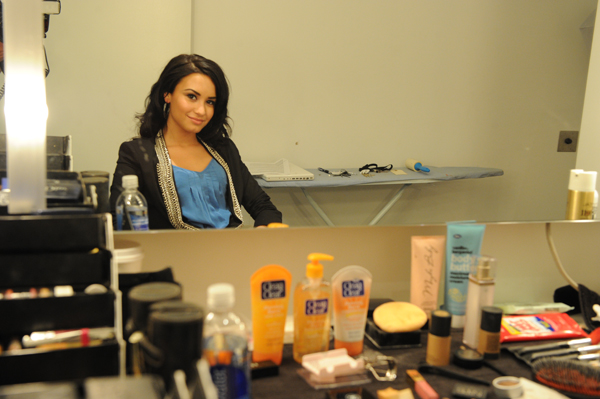 Style & Wardrobe: Shoes: Steven Madden. Jacket: Mason. Pants: Rock & Republic. Top: Urban. Earrings: Express Jewelry. Bracelet: Her own.
Skincare & Makeup: Before a shoot (and the blinding bright lights), it's important to prep the skin with products that will leave skin looking radiant and flawless. Scrub – Before a shoot, Demi starts with CLEAN & CLEAR Morning Burst Facial Scrub, it has Vitamin C and Ginseng to kickstart your morning, and gently exfoliates, leaving skin looking refreshed and radiant.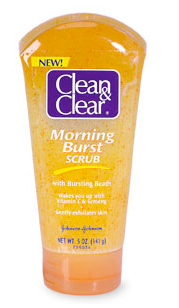 · Cleanse & Moisturize – Next, Demi keeps her pores clear with CLEAN & CLEAR Pore Perfecting Cleanser and tops off her skin with the Finishes Pore Perfecting Moisturizer, it has light-diffusing minerals that make the appearance of every pore and imperfection vanish.
Makeup:
· Demi's makeup artist Sammy applied a light layer of Armani Hydro Glow foundation mixed with a traditional moisturizer to give Demi's skin a bit of a glow. Then he contoured Demi's cheekbones with Josie Maran cream blush in light brown mixed with the same moisturizer, "The blush doubles as a contour cream and a blush, accentuating Demi's cheekbones and giving her a rosy glow" Sammy says.
· On Demi's eyebrows Sammy used Paula Dorf brow duet in brunette to accentuate Demi's brows and give her brown eyes a bit of intensity, he adds "The brows frame the face, but the skin has to be flawless to draw attention to the eyes".
· To achieve Demi's light smokey eyes, Sammy applied Dior's color palette in Tender Chic, using mostly the brown shade on the eyelid and blending the lighter shade towards the crease of the eye. Then he applied YSL mascara to the upper lashes and added extra layers towards the outside corners of the eye to add some intensity to Demi's look.
· To finish the look Demi blotted her lips with a touch of YSL Golden Gloss, just a touch added enhanced the natural pink tone of Demi's natural lip color and added a slight golden shimmer.