All Posts Tagged With: "Lip Gloss"
With summer in full swing, I've rounded up jane iredale's newest launches and classic sun staples to land the season's biggest trend: healthy glowing skin with a subtle pink pout. Get the best of both beauty worlds – knockout features by way of nourishing, natural ingredients that hydrate and protect. It's no coincidence that jane iredale is the #1 makeup choice of skincare professionals, as all products are fully tested and recommended by the Skin Cancer Foundation.
A kiss of color
NEW Pink Lady PureGloss Lip Gloss – (May 2017 launch) ($26, janeiredale.com)
Drench lips in this cocktail of hydrating moringa butter, avocado oil, lemon and pomegranate extracts for long-lasting creamy color. Plus, it's completely vegan-friendly!
With Mother's Day fast approaching, what better gift to give than Paul & Joe's limited edition summer releases? These products will give the gift of an incredibly beautiful and equally refreshing makeup look, ideal for a Mother's Day brunch or those summer days ahead.
Introducing MAC Mineralize Glass. Available in stores March 6, 2014 in the permanent line.
Your lips can be the ultimate style statement. Introducing Mineralize Glass, a sophisticated new Lipglass infused with nutrients that envelop lips in luscious color. Enhanced with a 77-Mineral Ferment Complex, Mineralize Glass keeps lips soft and silky, providing a luminous, modern shine. The comfortable formula smoothes on with a plush applicator designed to hug every curve of your lips. 12 shades in stylish new packaging keep your pout polished in a pearlescent shade perfect for every mood.
MAC MINERALIZE GLASS
Modest soft beige (frost)
Lovingly Yours pinkish nude (frost)
Tender light cool pink (cream)
Modern Romance mid-tone cool rose (frost)
Ray Of Sunshine nude (frost)
Be Nice light cool peach (cream)
Cheerful mid-tone coral (cream)
Wake Up! mid-tone red (frost)
New Love mid-tone berry (cream)
Vibrant Vibe bright fuchsia (cream)
Got Style! mid-tone cool mauve (frost)
FashIon Perk deep plum (cream)
SRP $22.00 US/$26.00 CDN
MINERALIZE RICH LIPSTICK
Good Taste fuchsia pink
Be A Lady mid-tone coral
Bold SprIng deep blue pink
Be Fabulous washed out pastel pink
Pure Pout dirty cool beige
So Good deep Magenta
SRP $22.00 US/$26.00 CDN
What's HOT in the world of nail polish these days is the British Butter London.
Super rich pigments and runway material shades. The Butter London nail polish contain NO Formaldehyde, NO Toluene, NO DBP.
The latest makeup from AVON is the Supershock Liquid Lip Shine. I find this lip gloss collection very silky to apply and super glossy. I have tried the Pumped Up Plum and Tickled Pink shades but have my eyes on the Popsicle shade which looks like watermelon red to me. The lip shine applicator is over-sized and very impressive.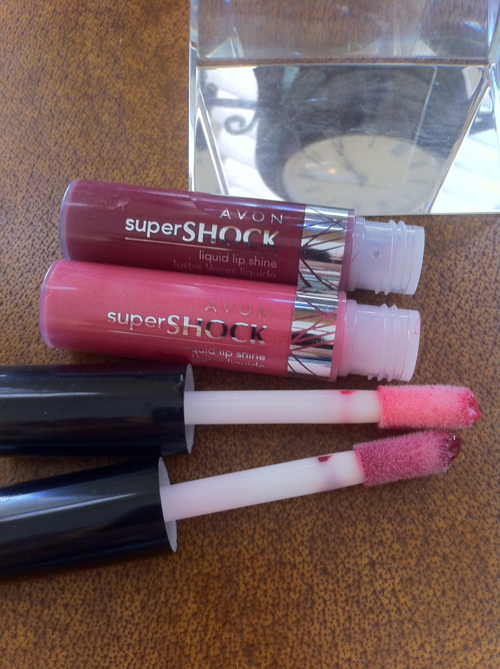 AVON Supershock Liquid Lip Shine SPF 15 in Tickled Pink (L) and Pumped Up Plum (R)
Expert Makeup Tip: "I love the versatility Supershock Lip shine offers…To create the perfect pout, use the new Supershock applicator for a bold, high impact look."-Jillian Dempsey, AVON Global Creative Director and Hollywood Makeup Artist.
Available June 2011 for $8 exclusively through AVON representative.
***Post Above Is Sponsored By AVON***
My latest great lipgloss find: Buxom Lips in Debbie a light coral pink shade. It's not greasy, it's cooling, long lasting, smooths the lips for and I love it. Buxom is a Bare Escentuals prodigy. In terms of plumping I've always been a skeptical to whether plumping lip treatments or lipgloss works or not. Also I have full natural lips already so I never see whether its the lipgloss or maybe I was just born with it LOL. All I know it feels & looks good. Isn't it what's it all about?

Buxom Lips Lipgloss in Debbie
Beauty Obsessions: Lip Gloss & Body Shimmer. I'm currently obsessed with Urban Decay Lip Love Honey-Infused Lip Therapy a lip tint infused with a honey flavor, natural oils, and collagen-boosting vitamin C. I smelled it in ULTA and I LOVE the honey smell and it also seems to have nice ingredients such as: jojoba, and apricot kernel seed oils that work together to moisturize, replenish and promote cell turnover. This is the same honey scent as Urban Decays's old classic Sparkling Lickable Body Powder in Honey which I've been using for years now.

Urban Decay Lip Love Honey-Infused Lip Therapy smells yummy!
Lip Treatment. I'm not an organic freak but every once in a while I do get conscious about all the chemicals I inhale just to get my lips glossy. My latest find for a more natural lip gloss is KORRES lip butters. Formulated without Petro-Chemicals and Sulfates. Favorite shades: Pomegranate (sheer coral) and Quince (sheer rose).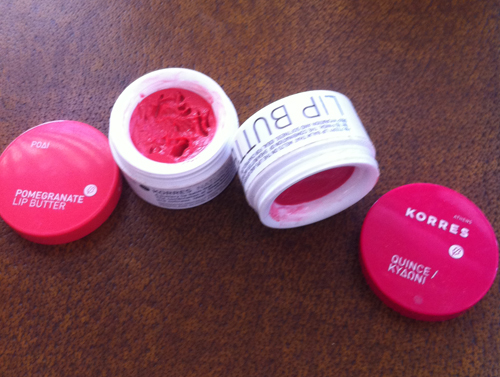 KORRES Lip Butter the more natural alternative to lip gloss
Hourglass extreme sheen kit is a limited edition set containing mini trio of the newly repackaged extreme shin lip glosses, $45 US.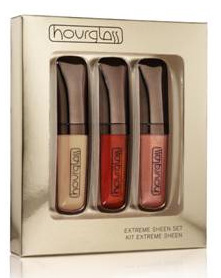 Hourglass extreme sheen kit, shades: CHILD (new), IGNITE, SIREN.
AVAILABLE AT: Sephora, www.sephora.com, Barneys New York
Introducing the new MAC Dare To Wear collection!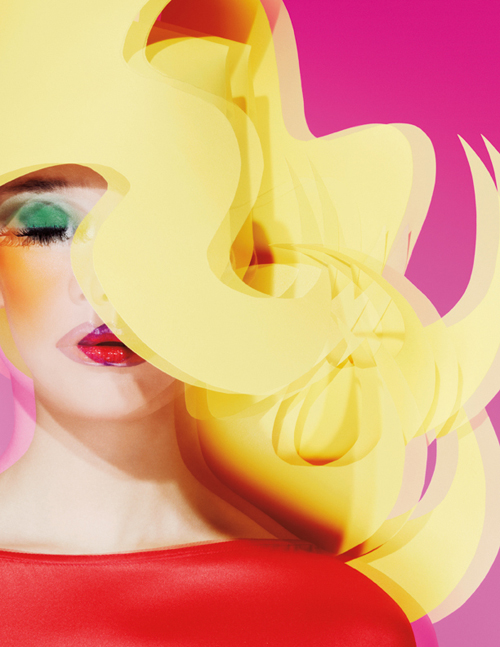 By MAC: Our own Lady Gaga mobilized legions of you to DARE TO WEAR…and it's created a wave of energy, excitement and outrageousness all around the world! Join the brigade of loud-and-proud who daily dare to declare their own individuality. High-powered pigment and holographic pearl create a crazy-intense, shine-saturated gloss, combined with Pop Eye Shadow shades, as over-the-top as Lady G Live! Inter-dimensional one-coat colour on the first stroke means there's always an encore! Creamy soft application grabs and sculpts, gel structure molds and has a bouncy feel – pure exhilaration, it's a personal high! More and more of you, every minute, every hour, every day, not afraid to DARE TO WEAR. Bravo!