All Posts Tagged With: "Korres"
Lip Treatment. I'm not an organic freak but every once in a while I do get conscious about all the chemicals I inhale just to get my lips glossy. My latest find for a more natural lip gloss is KORRES lip butters. Formulated without Petro-Chemicals and Sulfates. Favorite shades: Pomegranate (sheer coral) and Quince (sheer rose).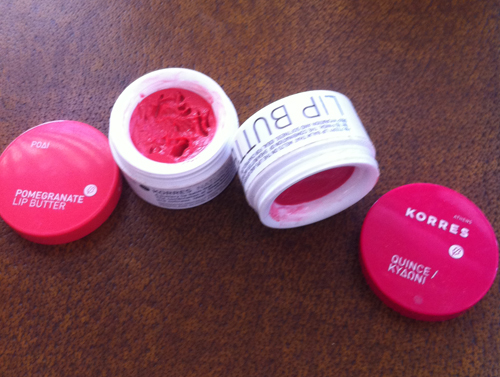 KORRES Lip Butter the more natural alternative to lip gloss
Help celebrate the new year and 1 year anniversary of The Plaza Beauty with these great products to start the year off looking and feeling fresh!
Reversital: Rejuvenate your skin in the new year with a simple twist of the Reversital MicrodermaStick ($90.00). A multi-purpose stick for your face, throat and décolleté, the MicrodermaStick cleanses, exfoliates and moisturizes to create a flawless finish.
New Year's Resolutions:  Get a fresh start this New Year with a head-to-toe detox from KORRES! This 5 step regimen will help you leave your bad skincare habits in 2009 and start 2010 with a clean slate. These products are specially formulated to undo past damage, remove build up and reveal brighter, more radiant skin.
FOR THE FACE:
Step 1: Pomegranate Cleansing Scrub ($19.50): Exfoliate your face with this gentle, invigorating scrub. Fine Olive Stone grains and Pomegranate extract exfoliate to remove dead skin cells and surface impurities without irritating or stripping the skin, revealing a healthy, glowing complexion.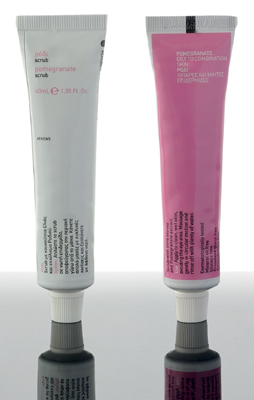 Vera Farmiga was sporting red lips at the Up in the Air LA Premier on Monday, November 30th, 2009, Westwood, Los Angeles, CA. Vera was wearing a dress by Dolce & Gabbana and her makeup look was created by Tina Turnbow, a Natural Makeup Artist.
"Vera's look was simple glamour: Her dress was ephemeral – a white, almost grecian Dolce & Gabbana, and I wanted her makeup look to shine forth her beautiful features, while keeping that simple, effortless air."-Tina Turnbow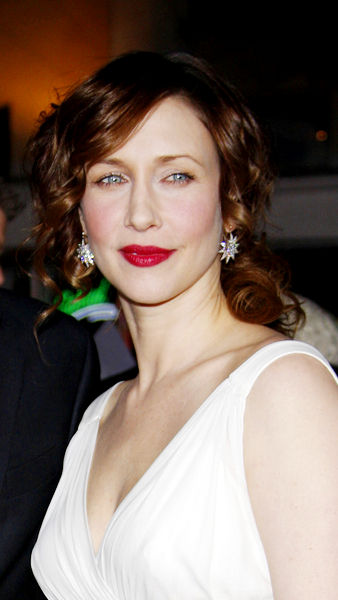 Face Products: "Vera has a beautiful, fair complexion, so I kept it simple – with a lightweight foundation and finished with a light, rosy blush.
Foundation: Almay Pure Blends Mineral Makeup in Fair – "l love that this foundation is 97.4% natural"
Blush: Revolution Organics Freedom Glow Beauty Balm in Blushed – "It's a beautiful cream stick that creates very natural-looking rosy cheeks." Mineral Fusion Blush in
Trace "a soft, baby pink to highlight cheek bones"
Powder: Tarte Provocateur SPF 8 Pressed Mineral Powder & Compact in Fair
Talking Makeup is excited to share with a special offer from Korres!
Until September 15, get 30% OFF on your online Korres purchase. Just visit their website: www.korresusa.com and use special promotion code: TALKINGMAKEUP
Happy shopping!:)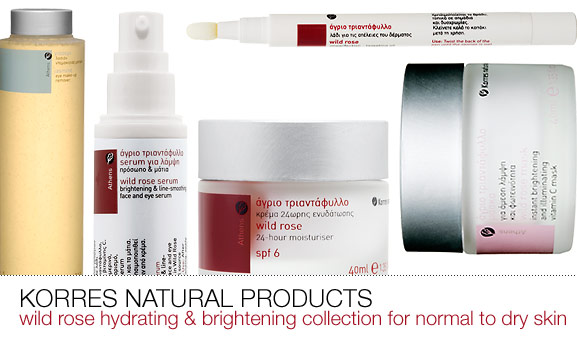 Korres Natural Products was created by George Korres and his wife, Lena in Athens Greece.  Korres's main philosophy is to develop products using the most environmentally-friendly and skin compatible ways as possible.  Replacing all these common ingredients like: mineral oil, silicone, propylene glycol, and ethanolamines with naturally occurring extracts and vitamins.
Talking Makeup added these Korres products on it's hot list: Korres Body Scrub in Watermelon a scented refrshing body scrub with natural exfoliating grains, $17.
Korres Cherry Full Color Gloss rich in cherry and jojoba oils, vitamins C and E for the softest and sexiest lips, $16.