All Posts Tagged With: "Makeup Tutorials"
Miley Cyrus wowed on the red carpet at the 2010 AMA's. Marta Walsh has the scoop on how to get her makeup look from her makeup artist, Dennika Bedrossian.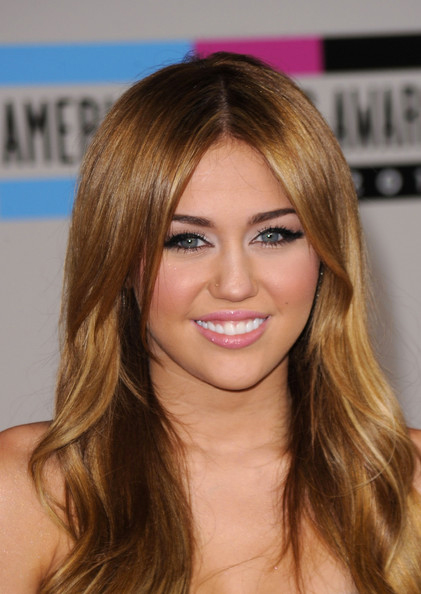 Great makeup starts with a flawless face, which was achieved using By Terry Foundation and concealer. Then add Girlactik blush in Florence on the cheeks for a natural and peachy glow. For her eyes, Dennika did a clean and feminine matte eye with a strong liner using MAC StudioFix Lash mascara and MAC BootBlack liquid liner. To seal the look, she used MAC Viva Glam Gaga Lipstick with Elizabeth Arden 8hour cream as the gloss.
"The Runaways" Head Make Up Artist, Robin Mathews, Designs the Film's Signature Smoky Eye Using MAKE UP FOR EVER.
"The Runaways," starring Kristen Stewart as Joan Jett and Dakota Fanning as Cherie Currie, is the ultimate showcase of the rock star make up that defined the 1970's. In order to design the eye-catching on-screen looks for the new motion picture, make up department head Robin Mathews chose MAKE UP FOR EVER's Eye Shadows, Aqua Eyes and Smoky Lash mascara to achieve the smoky eye, rock and roll look of the band.
ENTER TO WIN a Trip to The Runaways NYC Premiere: To celebrate the film's upcoming release, MAKE UP FOR EVER has partnered with "The Runaways" to host a sweepstakes where one lucky winner and a guest will be invited to party like a true rock star at the New York City premiere of the film on March 17th.
For official rules and more information on how to enter, visit http://www.makeupforeverusa.com/runaways/ , and fan them at www.facebook.com/MAKEUPFOREVERUSA  to see their favorite rocker looks.
GET THE LOOK: How did Katy Perry get her flawless complexion at the 52nd Annual Grammy Awards? Make up artist Jake Bailey used MAKE UP FOR EVER HD Invisible Cover Foundation as the first step to create her gorgeous Indian princess meets Bettie Page inspired look.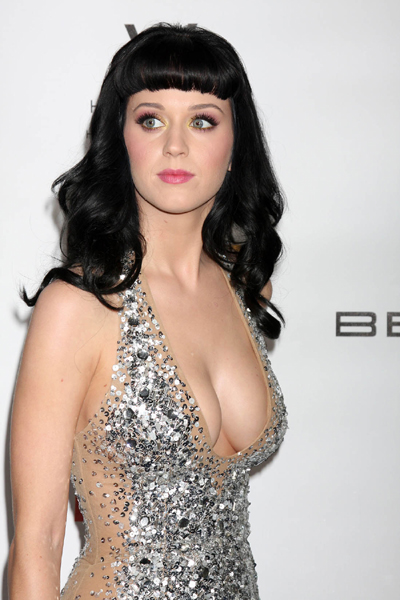 To perfect Perry's skin for on-camera close ups, MAKE UP FOR EVER HD Invisible Cover Foundation helps counter unflattering magnifying and unforgiving technology that can make fine lines and wrinkles, skin imperfections, shine, make up mistakes and incorrectly matched foundation look painfully obvious under a high definition lens.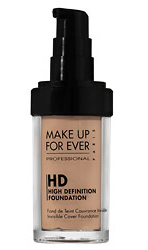 CHANEL 2010 SPRING/SUMMER HAUTE COUTURE BEAUTY: Get The Look and makeup tutorial.
"Karl Lagerfeld gave me three key words: Neon Baroque, Chemical Pastels and Liquid Silver. For the lips I used the new Summer 2010 Rouge Allure Lipstick in Genial. This coral shade perfectly matched the Technicolor and Neon Baroque spirit Karl wanted for the makeup at this show."- Peter Philips, Global Creative Director of CHANEL Makeup.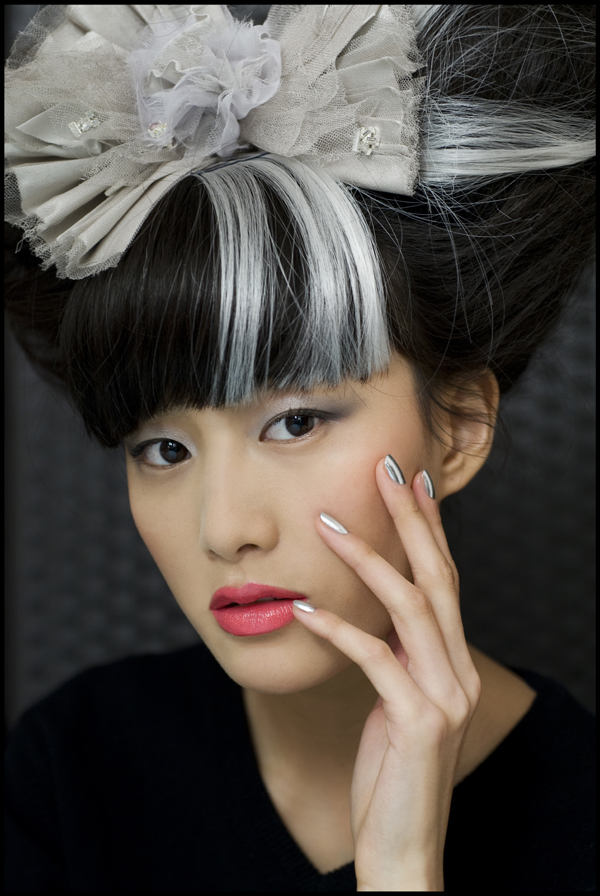 Photo Credit: vincent lappartient – photographe
Marta Walsh says: I love the CHANEL Spring/Summer 2010 makeup, particularly the coral lips and the silver nail polish. I also loving the grey and white highlights on model's hair, and yes, the hairstyle.
Peter used the following CHANEL products to create the runway beauty looks:
Skincare:
Skin prepared with Hydramax + Active Nourishing Cream for Dry Skin (Available in March 2010)
Complexion: Base Lumiere Illuminating Makeup Base Pro Lumiere Professional Finish Makeup SPF 15
Poudre Universelle Libre Natural Finish Loose Powder
Stylo Eclat Lumiere Highlighter Face Pen
Correcteur Perfection Long Lasting Concealer
GET THE LOOK: Actress Katrina Bowden, star in the hit show "30 Rock" made her mark on the red carpet of the 2010 SAG Awards this weekend! mark celebrity makeup artist Jamie Greenberg explains how she created Katrina's sultry look for the event.
How to Get Katrina's Memorable Makeup Look at the 2010 SAG Awards:
Face
"I started by prepping Katrina's face with mark For Goodness Face Antioxidant Skin Moisturizing Lotion and mark Kiss Dry Goodbye Lip Smoother onto her lips. I evened out her complexion with mark Face Xpert Flawless Touch Makeup in Golden then buffed Champagne onto her cheek bones for emphasis. To give her that natural looking rosy glow, I used mark Just Pinched Instant Blush Tint in Peachy, smoothed onto the apples of her cheeks followed by a dash of mark Bronze Pro Bronzing Powder. I finished her face with a final brush of mark Matte-nificent Oil-Absorbing Powder to eliminate any excess shine. I then used mark Jewel Body Cream on any exposed skin to give her body a gorgeous glow."
GET THE LOOK: Award Winner Julianna Margulies Wears NARS Makeup at the 2010 Golden Globes!
The Look: "Julianna has such beautiful skin and a gorgeous beaming smile, that I wanted to keep the colors subdued and let her natural skintone shine through," said Kristofer Buckle for NARS Cosmetics. "I didn't want to use too much color because it might have taken away from her. I wanted it to be all about Julianna so I focused on highlighting her skin by encouraging shine and glow."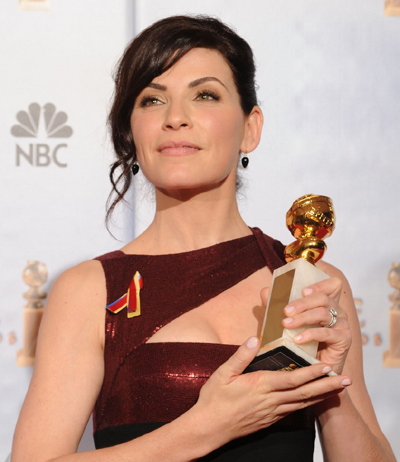 Below is Kristofer's makeup tutorial to recreate Julianna's look:
Complexion:
· Using fingers apply Orgasm Illuminator (NEW for Spring 2010) down the center of the nose, across cheekbones, and on the apples of the cheeks
· Apply Firming Foundation all over face, mixing in with the Orgasm Illuminator
· Re-apply Orgasm Illuminator over the entire complexion to encourage shine [Kristofer's tip: "I used the Flat Concealer Brush to apply the Orgasm Illuminator on top of the foundation creating high gleam."]
GET THE LOOK: Celebrity makeup artist Genevieve gave Courteney Cox her Golden Globes look, pairing a sexy smoky eye with a pale nude lip. Genevieve gave us all the details on the nominee's look.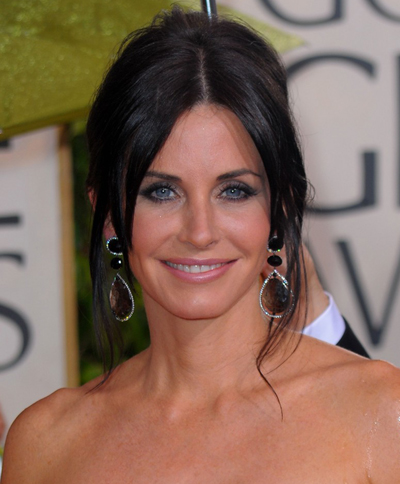 Genevieve lined Lancôme Le Crayon Khôl in Gris Noir on the upper and lower lash line to define Courteney's eyes. Several coats of Lancôme Hypnôse mascara in black gave her lashes a beautiful boost of volume. Genevieve added Lancôme Color Design Eyeshadow in Honeymoon to the inner corner and The New Black to the outer corner to make Courteney's eyes pop. Genevieve added just a touch of color to the cheeks with Giorgio Armani Sheer Cream Blush #2. For Courteney's soft neutral colored pout, Genevieve dabbed on Lancôme Color Design Lipcolor in Pale Lip.
All Lancôme products are available at www.lancome-usa.com.
GET THE LOOK: Lancôme's new ambassadress Julia Roberts looked gorgeous on the red carpet at the Golden Globe Awards. Celebrity makeup artist Genevieve created Julia's look and Talking Makeup got the inside scoop.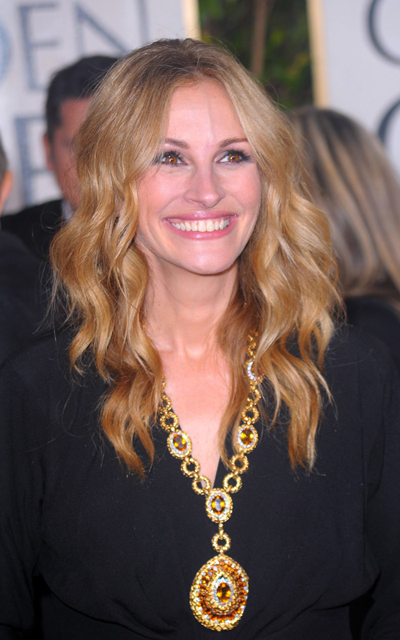 First, Genevieve applied Lancôme Bienfait Multi Vital Teinté to Julia's flawless complexion. Just a hint of color was applied to the cheeks with Lancôme Color Design Cream Blush in Petticoat Pink. Genevieve used her finger to apply and pressed the color on to Julia's cheeks. To create a dramatic eye, Le Crayon Khôl in Black Ebony was used. Several coats of Lancôme Définicils Pro Mascara in Black created lush, dark lashes. Genevieve opted for a soft natural-looking pout. She applied Lancôme Le Lipstique lip liner in Natural Mauve then coated the lips with Lancôme L'Absolu Rouge in Coquette and topped with Lancôme Juicy Tubes in Hallucination for a high-shine finish.
All Lancôme products are available at www.lancome-usa.com
Danica Jardien is a Denver-based makeup artist with a resume most beauticians feign. Not only has she worked with President Barack Obama, but she's also had the luxury of working with Tyra Banks. Danica is looked up to by many people for her thoughts on beauty and her continued studies on numerous products in the industry. She is a hard-working professional who is in touch with her fans on many of the top social networking sites such as Twitter, YouTube, and Facebook.
In a recent update to her popular YouTube Channel, Danica goes over the art of covering up dark circles. She starts off showing the viewers how she starts off with a concealer, and then discusses how she has finally found an eye serum that works wonders at reducing puffiness and dark circles.
This eye serum is called the "Dark Circle Serum," and it's made by Wrinkle System. The Dark Circle Serum is part of the popular "Two Minute Wrinkle Drill," and if you follow the above link you can see Danica perform the entire routine, which starts off with a cleanser and also includes an anti-wrinkle solution.
Dark circles are caused by many factors, and they can be perceived by people in many ways – none are positive! Dark circles give off the notion that one leads an unhealthy lifestyle, does not sleep properly, or abuses drugs or alcohol. One cannot simply afford to have dark circles or puffy eyes, and for this reason, it's important to watch Danica's video.
*Above post is a sponsered post.
GET THE LOOK: Actress Olivia Wilde, star in the hit show "House" made her mark on the red carpet of the FOX 2010 All-Star Party this week! mark celebrity makeup artist Jamie Greenberg explains how she created Olivia's stunning red carpet look for the event.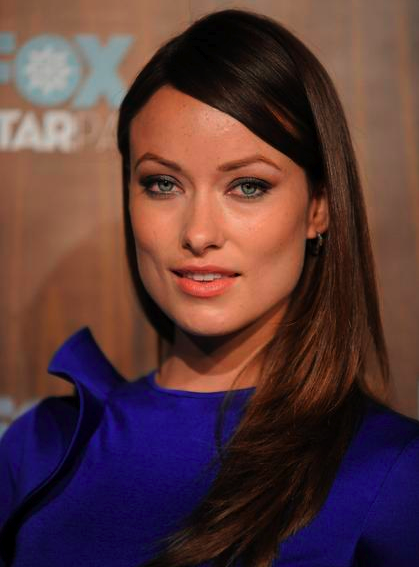 How to Get Olivia's Glowing look:
Face
"I started by moisturizing Olivia's face with mark See Things Clearly Brightening Moisturizer to get an even base. I then applied mark Get a Tint Tinted Moisturizer Lotion in Ivory/Nude to add some subtle color without using a heavy foundation. Next, I used mark Get Bright Hook Up Highlighter under her eyes to hide any dark circles and mark Cheat Sheet Shine-Blotters to eliminate shine. I finished off her face by highlighting her gorgeous cheek bones with mark Glow Xpert Face Shimmer in Champagne Glow and just a hint of color by blending mark Just Pinched Instant Blush Tint in Peachy and Spice onto the apples of her cheeks."