All Posts Tagged With: "Haute Couture"
CHANEL 2010 SPRING/SUMMER HAUTE COUTURE BEAUTY: Get The Look and makeup tutorial.
"Karl Lagerfeld gave me three key words: Neon Baroque, Chemical Pastels and Liquid Silver. For the lips I used the new Summer 2010 Rouge Allure Lipstick in Genial. This coral shade perfectly matched the Technicolor and Neon Baroque spirit Karl wanted for the makeup at this show."- Peter Philips, Global Creative Director of CHANEL Makeup.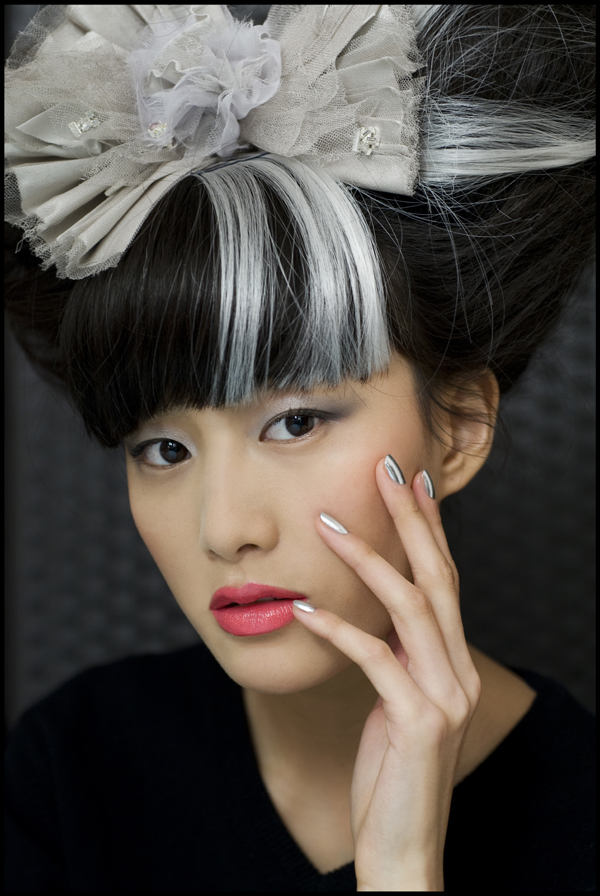 Photo Credit: vincent lappartient – photographe
Marta Walsh says: I love the CHANEL Spring/Summer 2010 makeup, particularly the coral lips and the silver nail polish. I also loving the grey and white highlights on model's hair, and yes, the hairstyle.
Peter used the following CHANEL products to create the runway beauty looks:
Skincare:
Skin prepared with Hydramax + Active Nourishing Cream for Dry Skin (Available in March 2010)
Complexion: Base Lumiere Illuminating Makeup Base Pro Lumiere Professional Finish Makeup SPF 15
Poudre Universelle Libre Natural Finish Loose Powder
Stylo Eclat Lumiere Highlighter Face Pen
Correcteur Perfection Long Lasting Concealer
STRAIGHT FROM PARIS: I would love one day to attend the CHANEL Haute Couture presentation in Paris. Meanwhile all I can do is admire from the distance. I have selected some of my favorites looks from the CHANEL collection to give you a sneak peek. BTW I love the hairstyle and the true coral lips seen on the runway models. The hairstyle? It's a cross between Minnie Mouse and Hello Kitty. Better yet, I see an Asian influence, an Asian Doll perhaps, or the glamour of Shanghai. The fingerless gloves are so Karl Lagerfeld. The silver shoes add a bit of  a space-age element making the whole look very intriguing. And finally, can the skort (skirt plus shorts) make a comeback?
Which CHANEL Haute Couture Spring/Summer 2010 look is your favorite?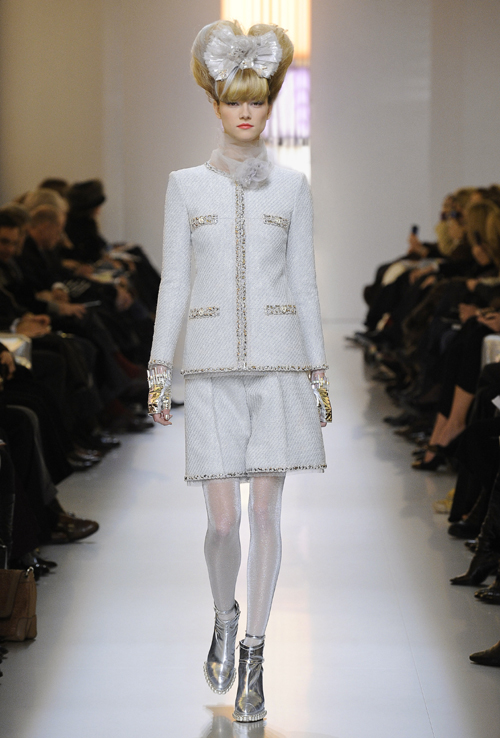 It goes like this: Christmas and the New Year and then it's an Awards and Fashion Week season. Talking Makeup is ready for New York Fashion Week this February, but meanwhile we have Paris. Here's Dita Von Teese all in black leather at the Christian Dior runway show as part of Paris Fashion Week Haute Couture Spring/Summer 2010. I don't really get Dita's "shtick" ("Talent" or "Act" in Yiddish) nevertheless she always manges to look beautiful. I love the leather outfit, very different. Do YOU?