All Posts Tagged With: "Julianna Margulies"
TM & Marta Walsh has the word that hair stylist Matthew Monzon's used Leonor Greyl products on Emmy winner Julianna Margulies' hair for the 63rd Primetime Emmy Awards.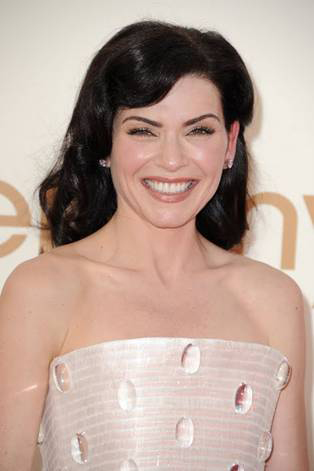 Julianna Margulies Emmys 2011 Hairstyle with Leonor Greyl
"For Julianna Margulies' Emmys look, I wanted to mirror the glamour of her gorgeous Armani prive gown with an old Hollywood, Veronica Lake-inspired style. However, I still wanted Julianna to look modern, so I kept the style somewhat deconstructed.
Here's how…
In 2011, Julianna Margulies will begin appearing in advertising campaigns for the Revitalift skincare collection as the newest spokesperson for L'Oréal Paris.
Julianna joins a remarkable roster of spokespeople for the L'Oréal Paris brand, including Beyoncé Knowles, Evangeline Lilly, Diane Keaton, Andie MacDowell, Eva Longoria Parker, Freida Pinto and Kerry Washington, among others.
GET THE LOOK: Love Fergie's brows at the 67th Golden Globe Awards? Well, the secret to Fergie's perfect brows is Beverly Hills' most sought-after brow expert, Anastasia Soare, who is a must for any A-Lister walking the red carpet. BTW-Fergie's lilac chiffon gown was by Elie Saab.
This year, Anastasia perfected the brows of Golden Globe winner Julianna Margulies, as well as nominees Penelope Cruz, Jane Adams, presenter Jennifer Garner. Other regular clients of Anastasia's who were also at the Golden Globes include Nine star Fergie and Mad Men's Elisabeth Moss.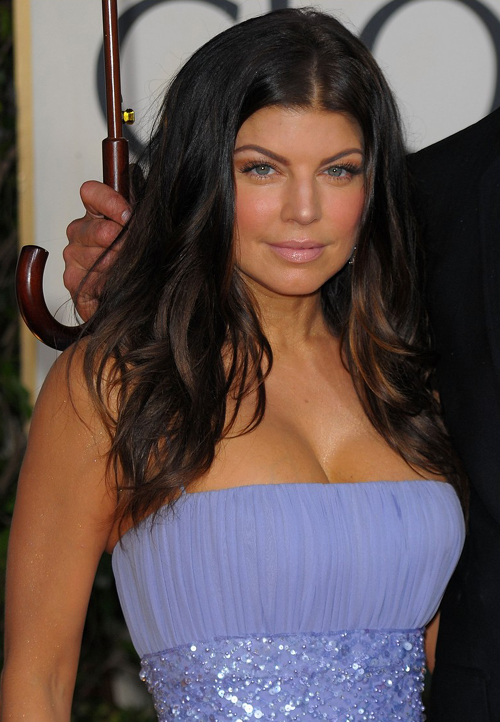 Anastasia's tips on how to get your brows red carpet ready:
How many days/weeks before a big event should you have eyebrows done? Why this period of time? 
"We never want to schedule brow shaping's for actresses the day before or the actual day of an event because there is too much running around between fittings, hair and makeup and your skin can become very sensitive to wax after a facial or with the application of makeup right after a shaping. I prefer 3-6 days before as this gives the skin enough time to be even with the skin tone of the face. When we remove hair with wax the dead skin is "exfoliated" off and can be slightly lighter in pigment for a day or two. In addition, in the event that there is any redness at all we want to be cautious and avoid this by shaping ahead."
GET THE LOOK: Award Winner Julianna Margulies Wears NARS Makeup at the 2010 Golden Globes!
The Look: "Julianna has such beautiful skin and a gorgeous beaming smile, that I wanted to keep the colors subdued and let her natural skintone shine through," said Kristofer Buckle for NARS Cosmetics. "I didn't want to use too much color because it might have taken away from her. I wanted it to be all about Julianna so I focused on highlighting her skin by encouraging shine and glow."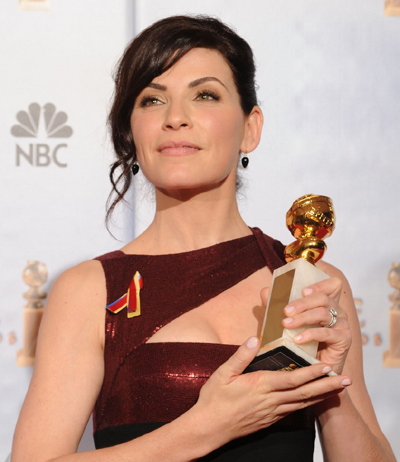 Below is Kristofer's makeup tutorial to recreate Julianna's look:
Complexion:
· Using fingers apply Orgasm Illuminator (NEW for Spring 2010) down the center of the nose, across cheekbones, and on the apples of the cheeks
· Apply Firming Foundation all over face, mixing in with the Orgasm Illuminator
· Re-apply Orgasm Illuminator over the entire complexion to encourage shine [Kristofer's tip: "I used the Flat Concealer Brush to apply the Orgasm Illuminator on top of the foundation creating high gleam."]
Celebrity Makeup Artist Kristofer Buckle will be using NARS to create the makeup looks for presenter Christina Aguilera and nominee Julianna Margulies at the 67th Golden Globe Awards this Sunday, January 17th, 2010.