All Posts Tagged With: "red carpet"
When we watch just about any awards show, the same things happen over and over again. These clichés have become pretty predictable, usually the order of events is the only thing that changes. We've decided to give these shows life again with Red Carpet Bingo!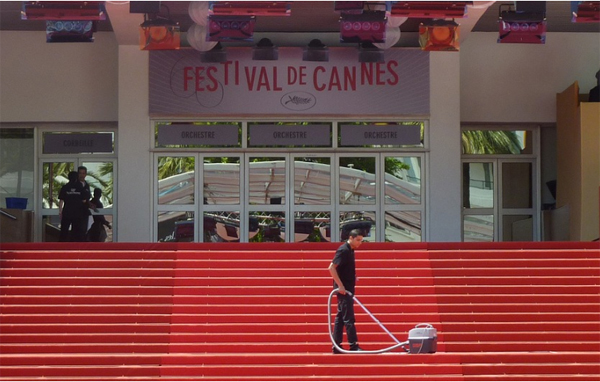 Watching out for the looks and designers that make an appearance on the red carpet is only half the fun of this game. Making up the board is a brilliant chance to rewatch some of your favourite red carpet moments to really make it more fun. You'll need to come up with a few different ones and then place them in varying orders on bingo cards.
With awards season on its way, you can brush up on how to play on bingo sites like www.luckytouchbingo.com. These bingo sites usually have really comprehensive guides on how to play games that you can transfer over to your red carpet games. You'll get a feel for how the games work and you might even get some inspiration too.
Los Angeles, CA, October 23rd, 2010. Jennifer Lopez looked stunning at the 32nd Anniversary Carousel of Hope Gala in a gown by Georges Chakra Couture. Jennifer shined in a white asymmetrical guipure and sequins gown held by a tulle train from the Georges Chakra Couture Spring 2010 collection. Jennifer completed her look with a clutch by Daniel Swarovski. Do you love?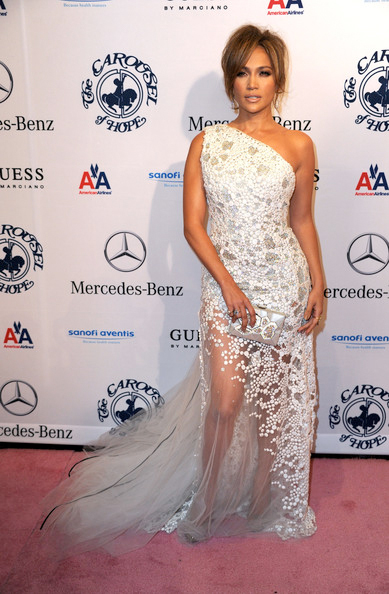 Cameron Diaz in CHANEL Beauté at the 82nd Annual Academy Awards.
Beauty Inspiration: "We took the Veronica Lake regal, smooth, classic Hollywood look and gave it a modern but glamorous twist. We kept the warmth and added a little edge."-Makeup Artist Robin Fredriksz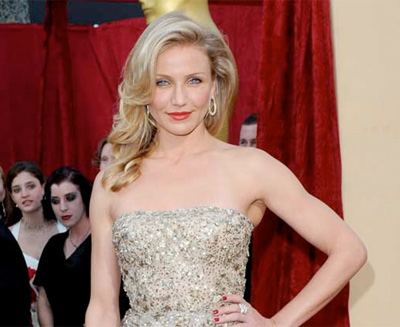 How to get Cameron Diaz' Oscars 2010 makeup look:
Robin started off by applying CHANEL Soft Touch Eye Shadow in Sand in the crease of the lids, and lining the entire eye with CHANEL Intense Eye Pencil in Noir. To make Cameron's striking blue eyes pop even more, Robin applied several coats of CHANEL Inimitable Mascara in Noir. As Cameron has loved a red lip lately, Robin lined her lips with CHANEL Lip Definer in Rouge, and applied the perfect true red lip shade – CHANEL Rouge Coco in Gabrielle. She used the same shade of lip colour as a blush, dabbing a bit on the apples of the cheeks. Her nails were painted with CHANEL Nail Colour in Lotus Rouge, a flattering shade perfect for the red carpet.
At the 52nd Annual Grammy Awards, music's all-stars showcased several beauty looks on the red carpet.
Bright Pinks
The night's big winner, Taylor Swift, as well as Lady Gaga, opted for bright pink lip shades. To get the look with Dolce&Gabbana The Make Up, try The Shine Lipstick in Precious or the Classic Cream Lipstick in Petal from The Intimate Sensuality Collection, new for Spring 2010.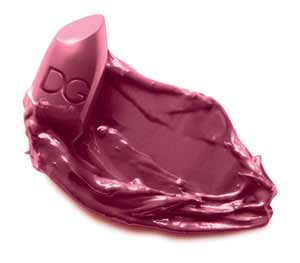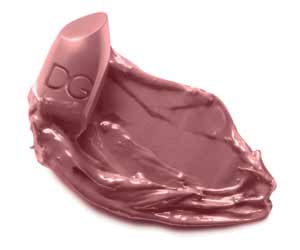 Hair Tutorial: Pink's look at the 52nd annual Grammy Awards was a shimmering vision of modern glamour. Stylist Marco Santini, who highlighted glistening shine to play up her platinum hair color, and define her texture and subtle grey tips, created the sophisticated red carpet look.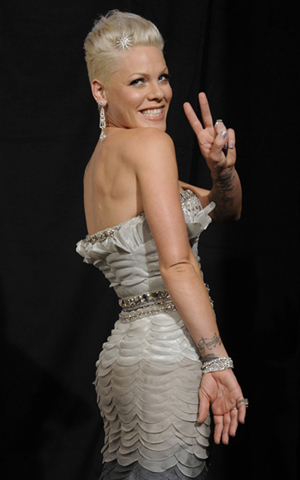 Santini, inspired by her silver-grey gown and the dramatic performance to come, created a unique, flowing shape that emphasized volume, height, and the illusion of movement. He accented the look with a diamond star-shaped pin. Santini stayed with Pink after the red carpet, and was backstage waiting to quickly reproduce the look right after her stunning aerial performance of "Glitter in the Air" during which she was drenched in a shower of water. "I had to work very quickly to restyle her look," explained Santini. "I used Moroccanoil argan oil-infused products because I know they instantly absorb into hair, produce amazing shine, and won't create build up. The look had to appear as fresh, light, and beautiful the second time around as it did for the red carpet."
GET THE LOOK: How Marco Santini Created Pink's Much Discussed Look:
The award show season is officially upon us, which means gorgeous gowns and trendsetting beauty looks are de riguer on the red carpet. The Golden Globes set the bar pretty high, but the the Screen Actors Guild  Awards (SAG), which were held on Saturday, took the glam factor to the max. From the ladies of Nine, shown above, to the rest of Hollywood's elite, the hairstyles and makeup effects were off the gorgeous charts. Here, our favorite trends:
Old Hollywood Glamour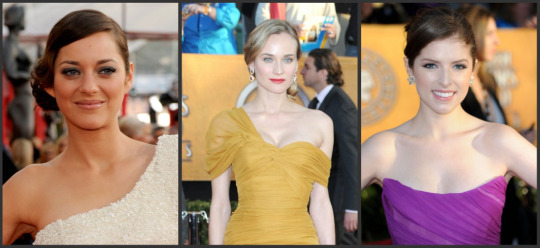 From left, Marion Cotillard Photo: © Kevork Djansezian/Getty Images, Diane Kruger and Anna Kendrick Photos: © Frazer Harrison/Getty Images
They say true glamour never goes out of style and in the case of Diane Kruger, Anna Kendrick and Marion Cotillard, this couldn't be more true. Each of these stunning stars opted for retro, old-school Hollywood vibe, which meant classic, structured updo's, seriously smoky eyes, lots of lashes and a strong lip look. We think Diane stole the show with her creamy red lip, porcelain skin and sleek hairstyle, but bright-eyed newcomer Anna and French siren Marion were also red carpet standouts with their bold, colorful eyeshadow and side-parted 'dos. Read full article in dailymakeover.com
GET THE LOOK: The Office's Jenna Fischer looked beyond gorgeous on the red carpet at Saturday's SAG Awards 2010. Jenna wore a purple, jeweled, strapless Marchesa gown and beautiful silver accessories. She had her hair pulled in a low, side bun. For makeup, she and her makeup artist Jennifer Pitt wanted to keep makeup fresh and natural looking, with an element of surprise. "Jenna likes to let her real skin show through," said Jennifer. "With this colorful, glamorous dress, we felt a touch of drama to the eyes would be fun."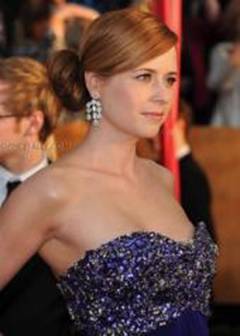 The Breakdown: How to get Jenna's Sultry Makeup Look at the 2010 SAG Awards
FACE: To keep her skin fresh looking, I started out with shu uemura's Depsea Hydrabilty Moisturizing Emulsion. I then applied a bit of shu uemura's UV Under Base Fluid on her cheek bones, under her eyes and on her brow bones. I wanted to take advantage of the product's smoothing effect and the light-reflecting particles to give her skin a flawless finish. For her foundation, I used the Armani Luminous Silk Foundation. They have the amazing ability to be used either for light-weight coverage. Peachy tones look great with Jenna's skin and went really well with her purple dress, so I used shu uemura's Glow On blush in M Peach 44.
GET THE LOOK: Nicole Kidman's hairstyle at the 2010 SAG Awards
Celebrity hairdresser David Babaii achieved Nicole Kidman's red carpet look by combining eras of vintage fabric textures with the perfect epoch red hair color. According to David, "Nicole Kidman always inspires me but for the 2010 SAG Awards, her beautiful skin tone and breathtaking beauty took the lead. The right style and hair color became my main objective." David fell in love with this unique period wig that had various tones of ginger.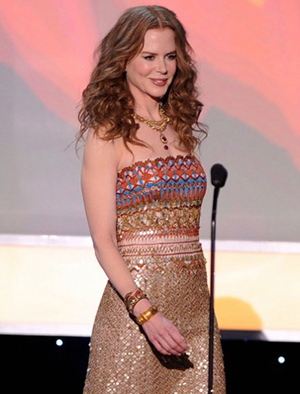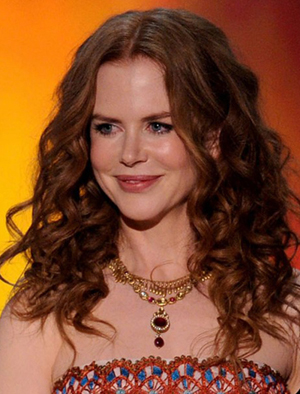 In order to achieve the perfect color match, David sought out the master talents of celebrity hair colorist Lorri Goddard-Clark. Lorri created Nicole's rich new color, while David created the perfect texture needed to enhance this natural but classic "Bohemian" look.
The Color: Lorri Goddard-Clark matched the vintage wig selected by David Babaii by utilizing a combination of deposit-only color, her signature foil-out reverse highlighting technique and a sulfate-free glaze. Nicole's hair was transformed from a medium blonde into a rich, warm Gingered Toffee Red to enhance her azure eyes and porcelain skin.
GET THE LOOK: On Saturday, January 23, 2010 at the Shrine Auditorium in LA, Hollywood honored its own top talent at the 16th Annual Screen Actors Guild Awards. Nominated for Outstanding Performance by a Female Actor in a TV Movie or Miniseries, for her role in Georgia O'Keefe, Joan Allen sparkled and shone on the red carpet. Sebastian Stylist Design Team member Thomas Dunkin crafted the actress' soft, cascading waves that gracefully grazed her shoulders and complemented her overall look.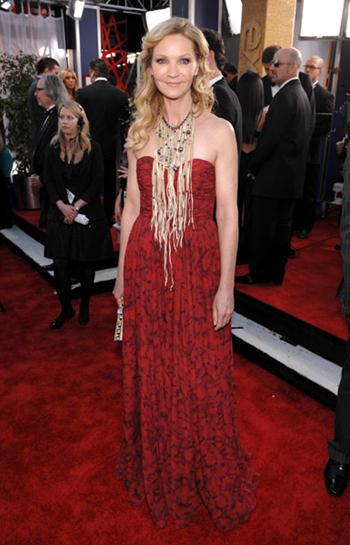 To recreate this A-list style at home, Thomas shares these step-by-step instructions:
1. To begin, apply Sebastian Professional Taming Elixir to slightly damp hair
2. Blow-dry hair straight to give the hair a smooth, even base to work on and part slightly to the left of center
3. Once dry, use a ¾-inch curling iron to wave the hair by starting at the nape and taking 2-inch sections of hair and leaving them loose to drop slightly
GET THE LOOK: Actress Katrina Bowden, star in the hit show "30 Rock" made her mark on the red carpet of the 2010 SAG Awards this weekend! mark celebrity makeup artist Jamie Greenberg explains how she created Katrina's sultry look for the event.
How to Get Katrina's Memorable Makeup Look at the 2010 SAG Awards:
Face
"I started by prepping Katrina's face with mark For Goodness Face Antioxidant Skin Moisturizing Lotion and mark Kiss Dry Goodbye Lip Smoother onto her lips. I evened out her complexion with mark Face Xpert Flawless Touch Makeup in Golden then buffed Champagne onto her cheek bones for emphasis. To give her that natural looking rosy glow, I used mark Just Pinched Instant Blush Tint in Peachy, smoothed onto the apples of her cheeks followed by a dash of mark Bronze Pro Bronzing Powder. I finished her face with a final brush of mark Matte-nificent Oil-Absorbing Powder to eliminate any excess shine. I then used mark Jewel Body Cream on any exposed skin to give her body a gorgeous glow."