All Posts Tagged With: "curl"
GET THE LOOK: On Saturday, January 23, 2010 at the Shrine Auditorium in LA, Hollywood honored its own top talent at the 16th Annual Screen Actors Guild Awards. Nominated for Outstanding Performance by a Female Actor in a TV Movie or Miniseries, for her role in Georgia O'Keefe, Joan Allen sparkled and shone on the red carpet. Sebastian Stylist Design Team member Thomas Dunkin crafted the actress' soft, cascading waves that gracefully grazed her shoulders and complemented her overall look.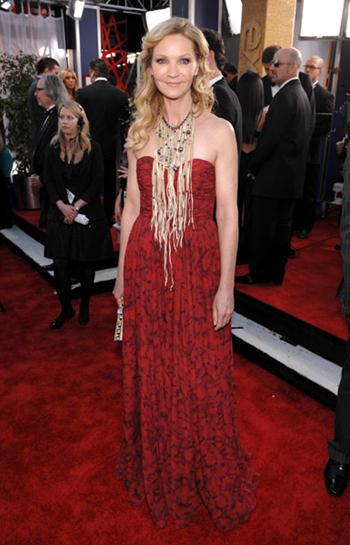 To recreate this A-list style at home, Thomas shares these step-by-step instructions:
1. To begin, apply Sebastian Professional Taming Elixir to slightly damp hair
2. Blow-dry hair straight to give the hair a smooth, even base to work on and part slightly to the left of center
3. Once dry, use a ¾-inch curling iron to wave the hair by starting at the nape and taking 2-inch sections of hair and leaving them loose to drop slightly
GET THE LOOK: Love Avatar star Zoe Saldana's hairdo at the 2010 Golden Globes? Talking Makeup got the scoop and the hair tutorial on how to recreated it at home!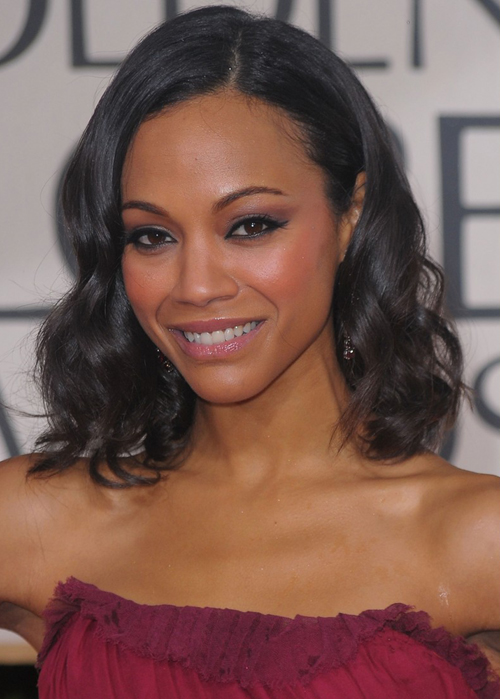 Even in the rain, Zoe Saldana shined! TRESemme celebrity stylist Mara Roszak created soft curls for the fierce star. See below steps on how to recreate the look:
1. Starting with damp hair, apply TRESemme 24 Hour Body Foaming Mousse, and part hair to one side (slightly off center). Blow dry with a small round brush.
2. Spray a soft hold hairspray all over head, like TRESemme 24 Hour Body Finishing Spray, and curl 1″ sections using a 1″ barrel curling iron. Let hair twist as your wrap, and pin to scalp.
3. Let the hair sit in pin curls for at least 10 min. Take out pins, and brush delicately, without a lot of tension to keep the shape.
GET THE LOOK: Celebrity hair stylist Laini Reeves used Living Proof No Frizz to perfect hairstyles for Leona Lewis and Emily Blunt last night at the 67th Golden Globe Awards.
Leona Lewis and Emily Blunt didn't let the rain spoil their perfectly tamed tresses on the red carpet thanks to Laini Reeves and her secret weapon, LIVING PROOF NO FRIZZ. Both Hollywood starlets stayed frizz free and perfectly glamorous in the pouring rain thanks to the new anti-frizz molecule created by MIT scientists doesn't leave hair looking wet or greasy.
For best actress nominee, Emily Blunt – Laini Reeves cut her hair to shoulder length just for the Golden Globes and then created a curl that was blunt and chic, but still a little fun.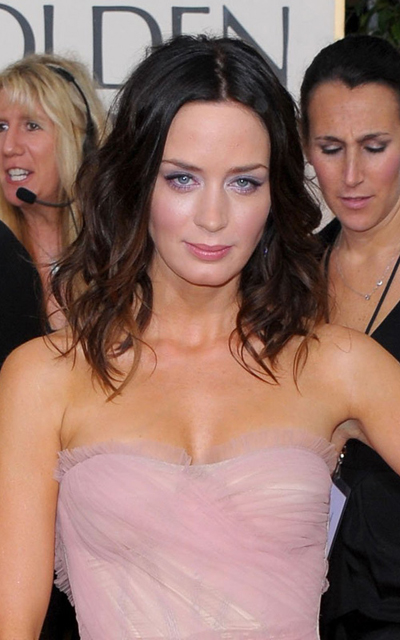 How To Get Emily Blunt's Hairdo:
First, Laini applied the NO FRIZZ, WAVE SHAPING CREAM FOR MEDIUM TO THICK HAIR ($24) to Emily's wet hair to prevent the hair from frizzing. She then added a bit of the new LIVING PROOF FULL ($24) to add a bit of body to the wave. She started creating the pin curls by taking half inch pieces of hair and wrapping each piece around her fingers and then pinning them to the top of the head.
The cast of Sherlock Holmes traveled from Berlin to Madrid then to Paris for three star-studded international premieres for the global blockbuster. Sebastian stylist Thomas Dunkin, who also styled leading lady Rachel McAdams' hair for the world premiere, created three different looks for the actress in these three different cities to complement her gorgeous gowns.
In Berlin, Thomas styled 40's-inspired finger-waves for Rachel that bespoke elegance and grace.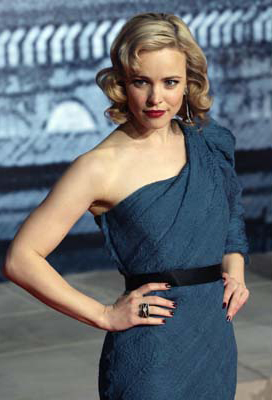 Thomas shares the step-by-step on how to get Rachel McAdams' hairdo at the Berlin Sherlock Holmes Premiere:
1) Begin by saturating damp hair from root to tip with Sebastian Professional Volupt Spray
2) Blow-dry hair with a medium-sized round brush and set whole head in medium-sized Velcro rollers
3) Leave the rollers in hair for about 5-10 minutes to cool down
4) Remove rollers beginning at the bottom, then use a ¼-inch curling iron to curl each section beginning at the root and eventually wrapping the entire section around the iron
5) Brush through hair with a Mason Pearson brush and use large section clips to define the waves where they naturally indent
6) Spray hair with Sebastian Professional Shaper Zero Gravity hair spray over the entire head and leave to set for another 10 minutes
7) Finish by removing the section clips and shaking head for an easy, sexy look
In Madrid, Thomas styled Rachel's unstructured updo with vixen-like volume.
Hair Trends: The return of big wild sexy hair.
NBC's Deal Or No Deal has been one of the hottest shows on television. Besides enjoying comedian host Howie Mandell with his shiny, bald head, men are tuning in to see one thing: The Deal Or No Deal girls! And, the girl that stands out from the rest is #13 — Leyla Milani. Even Oprah loves her: Oprah says Leyla is her favorite.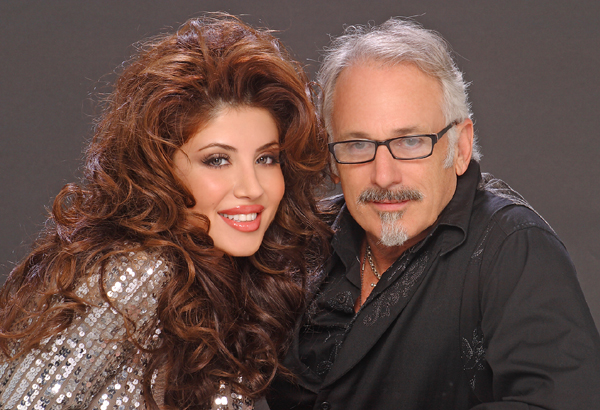 Leyla's big, wild and sexy hair is created by stylist Allen Edwards, the man who created the Farrah Fawcett, and Allen has done it again. Talking about influencial hairdressers. "Leyla Milani is one of the most beautiful women that I've ever met and her hair has the potential to make her the next Farrah Fawcett," states Edwards. "Women all over the country love to be sexy and every woman deserves that. The easiest way is to start with your own hair, and get that Leyla Milani look". Leyla's hair has its own cult following and rumor has it that Lloyds of London is drafting insurance for her famous mane.
I can't wait to get my hands on the new Jimmy Choo for H&M shoe collection! Did you know that Aveda did the Rocker Chic hair for Jimmy Choo for H&M launch party? Talking Makeup has the scoop on how you can get the look at home.
Show: JIMMY CHOO FOR H&M
Lead Hair: Ginger Boyle for Aveda, Planet Salon, Beverly Hills, CA
The Look: The look is very rock and roll—edgy and imperfect with thick, ruffled texture. A new flat-iron technique creates square-shaped waves for easy, rocker chic style.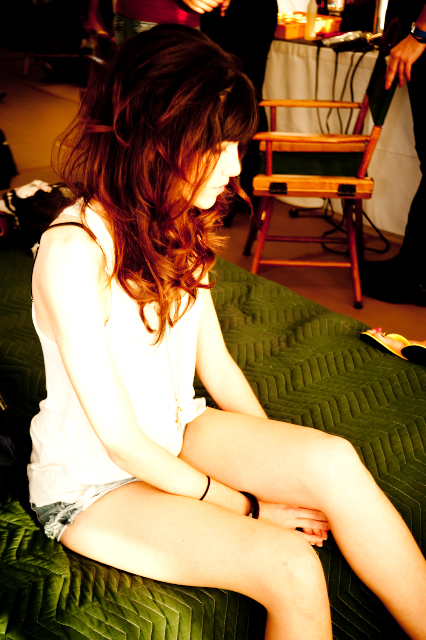 Get the Look/Step-by-Step:
Step 1: Separate hair into top and bottom sections, creating a horizontal line from ear to ear. Further divide the top section into two to three layers, depending on the amount of hair. Twist and secure each layer at the top of the head with a hair clip.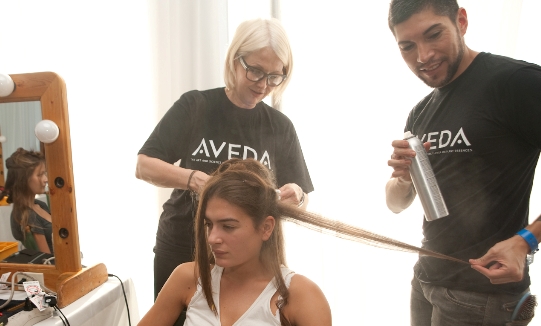 Show: J. Mendel Sprong 2010 Collection
Lead Hair Stylist: Odile Gilbert for Moroccanoil 
Hair Trend: Volume, tons of volume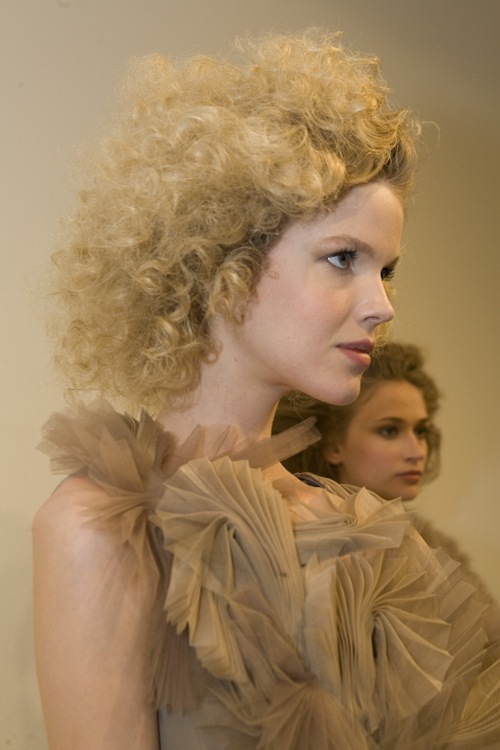 © David Webber for Moroccanoil
Inspiration: The swooping stacked cut lines of artist Noriko Ambe. The organic splendor of artist Tara Donovan. Citing these two biomorphic artists as his springboard for the season, J. Mendel designer Gilles Mendel cultivates a collection seeded in elegant technicality and fluid emotion. "It's the idea of using structured fabrics and adding an element of softness by using curved seams and intricate cut work," says Mendel. "Each piece is an emotion."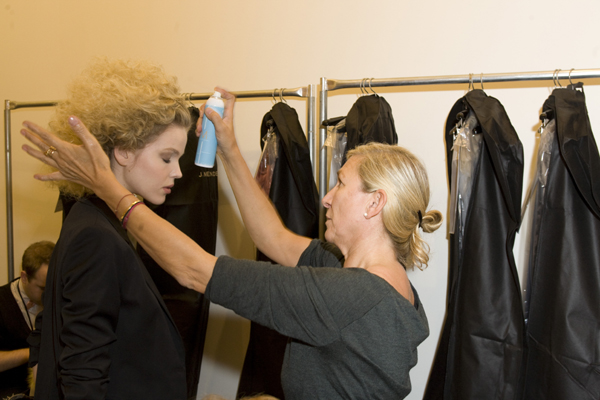 Odile Gilbert for Moroccanoil spraying the Moroccanoil Luminous Hair Spray, previewed at Fashion Week 7 available in December, 2009
© David Webber for Moroccanoil
Hair:  To mirror this dance between tailored precision and soft, sloping curves, and to evoke a feeling of ethereal airiness, stylist Odile Gilbert fashions a voluminous hairstyle that revels in the organic, chaotic nature of mussed curls. "It's all about volume — tons of volume — and a round, fluid shape. This look is very feminine." says Gilbert, adding "It's not feminine-frilly; rather it's femininity with a modern twist."
Thanks to ghd, Talking Makeup is excited to give you a sneak peek to Mercedes-Benz Fashion Week Swim 2010!  
MARA HOFFMAN: Hair lead: Omar Lopez for ghd
"The Modern Hippie"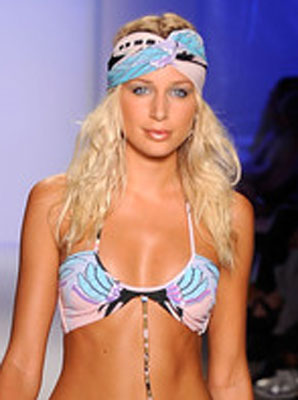 The Look: For her Resort 2010 Swim collection, Mara Hoffman drew inspiration from a spiritual exploration in the desert, which translated into a variety of unique silhouettes and colorful psychedelic prints, ranging from bold and bright to softer and more feminine
The ghd Way: Clean, bouncy waves for a modern take on the classic hippie coif. Lopez prepped the hair with ghd creation spray to protect models' hair and provide a flexible hold for styling. He used a variation of ghd's summer wave technique to create the clean, textured waves which was done by placing the ghd IV styler near the roots of hair and turning it 180 degrees upward and away from the scalp.
The ghd IV styler was slowing pulled down until it reached the midpoint between the roots and the ends, then flipped 180 degrees the opposite way and pulled all the way through the remaining half. Once the waves were created, Lopez misted ghd sea spray throughout to give the look definition and its overall beachy, matte texture.
WHITE SANDS AUSTRALIA: Hair lead: Andy Bodine for ghd
"The Ethereal Goddess"