I can't wait to get my hands on the new Jimmy Choo for H&M shoe collection! Did you know that Aveda did the Rocker Chic hair for Jimmy Choo for H&M launch party? Talking Makeup has the scoop on how you can get the look at home.
Show: JIMMY CHOO FOR H&M
Lead Hair: Ginger Boyle for Aveda, Planet Salon, Beverly Hills, CA
The Look: The look is very rock and roll—edgy and imperfect with thick, ruffled texture. A new flat-iron technique creates square-shaped waves for easy, rocker chic style.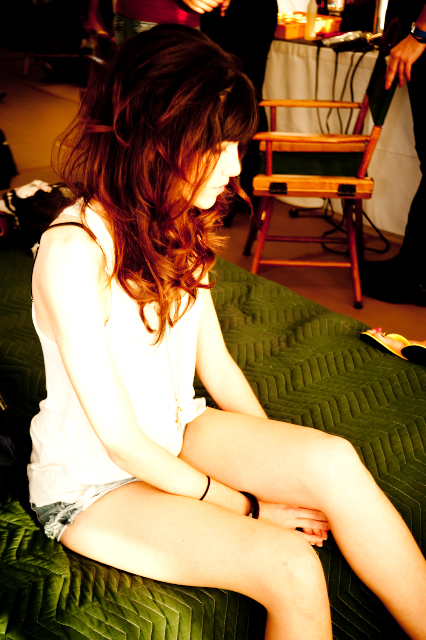 Get the Look/Step-by-Step:
Step 1: Separate hair into top and bottom sections, creating a horizontal line from ear to ear. Further divide the top section into two to three layers, depending on the amount of hair. Twist and secure each layer at the top of the head with a hair clip.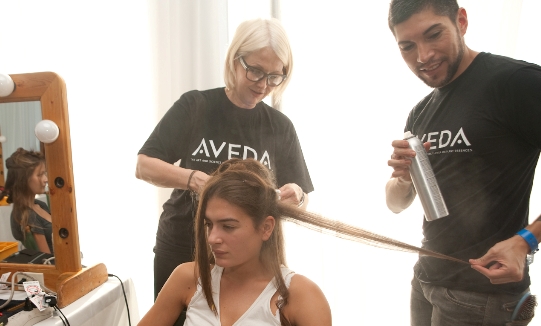 Step 2: Spray bottom section of hair with Aveda Air Control Hair Spray for shine and workable hold.
Step 3: Beginning with the bottom section of hair and working in one-inch sections, flat-iron hair beginning at the roots, and stopping about one to two inches from ends. Wrap the closed flat-iron around straightened hair as if using a curling iron. Repeat throughout bottom section of hair, alternating the direction of the curl with each piece.
Step 4: Wrap waves three at a time into loose braids and wind into rosettes. Secure loosely against the head with clips, helping to set the curls.
Step 5: Repeat steps with additional layers of hair, moving upwards and leaving the top layer untouched.
Step 6: Release remaining top section of hair from clip and create a middle part from forehead to crown.
Step 7: Separate two-inch long pieces of hair along the middle part. Hold sections vertically between two fingers and backcomb the bottom two inches of hair, closest to the root. Flat-iron each backcombed portion to set texture and enhance volume.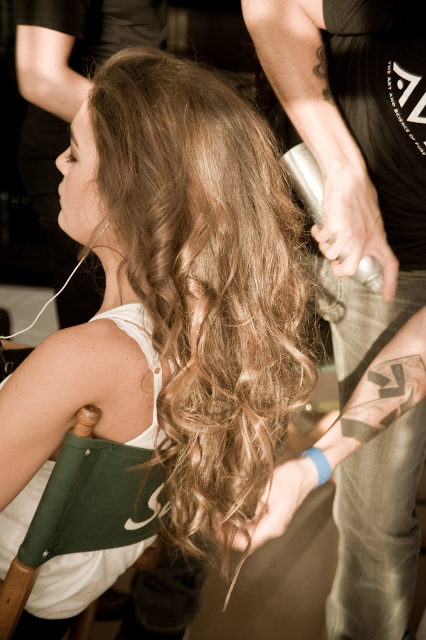 Step 8: Once all hair in the top layer has been backcombed and set with the flat-iron, gently comb the entire section of hair away from the face. Be careful not to comb out volume created at the roots.
Step 9: Remove all hair clips, letting rosettes fall, and roughly rake fingers throughout to loosen waves. Spray Aveda Volumizing Tonic throughout to amplify volume.
Step 10: Finish the look by creating a subtle side part. Lightly sprinkle Aveda Pure Abundance Hair Potion throughout the roots and massage into scalp for added volume and matte texture.
Aveda Products Used:
Aveda Air Control Hair Spray
Aveda Volumizing Tonic
Aveda Pure Abundance Hair Potion
Ginger Boyle Quotes:
Q: What was your inspiration for this look? How did you collaborate with the designer to create the look?
"Jimmy and I sought to create a hair look inspired by the feeling you get when putting on a Jimmy Choo shoe: you just melt into it. The look is organic and naturally flowing, yet sexy, edgy and tousled."
Q: How could a woman achieve this look on her own?
"This look is sexy and easy to recreate for day or evening wear. Prep hair with Aveda Volumizing Tonic for volume and flexibility. Working in one-inch sections, curl hair around a closed flat-or-curling iron, twisting and securing each curl atop the head with large hair clips. Remove all clips and sprinkle Aveda Pure Abundance Hair Potion at the root, massaging into the scalp for added volume and matte texture. To finish the look, rake fingers through hair and mist with Aveda Air Control Hair Spray for volume and hold."