All Posts Tagged With: "Hair Spray"
This season, Redken Global Creative Director Guido capitalized on classic femininity at Tory Burch's FW 2017 Show.
"This season at Tory Burch, both Tory and I were inspired by Katharine Hepburn from the movie "Philadelphia Story". I've prepped the hair with Diamond Oil Shampoo and Conditioner to give it a lot of shine. To me, very clean hair can enhance individual texture. I've pulled the hair back into a low ponytail, and added this thick black velvet ribbon from Tory to evoke a romantic, sophisticated, soft, pretty look. I've kept the hair at a center part vs. a side part, to give a more girly, feminine touch that very much speaks to the Tory Burch brand." – Guido
GET THE LOOK
Hair & Makeup: Get the look from the gorgeous Lela Rose 2011 Resort Presentation with Beauty.com. Michael Shaun Corby for Alterna (hair) and Napoleon Perdis (makeup) helped beautify the presentation with a coral lip, peachy/nude eyes and a casual faux bob.
Hair Care products used at Lela Rose 2011 Resort Presentation:
Alterna Caviar Anti-Aging Rapid Repair Spray
Alterna Caviar Anti-Aging Working Hair Spray
Alterna Caviar Anti-Aging Dry Shampoo
A chic braid seen at Jason Wu Resort 2011 Show with Jenn Chiminiello for Aveda.

Hair by Aveda Master Stylist Jennifer Chiminiello
Jenn Chiminiello, Master Stylist at Aveda Vandam Street Lifestyle Salon in New York City, created an updated braid using Aveda Control Force Hair Spray at the Jason Wu Resort 2011 show in New York. The Hairstyle & Inspiration: "The Jason Wu hair look for Resort 2011 is a slightly tousled, modernized braid that is both innocent and sexy. The freshness of the braid complements the romantic florals and pretty plaids in Jason's collection." —Jenn Chiminiello for Aveda
WATCH: Marta Walsh at The Standard Hotel in New York City talking about the latest product launches from John Frieda hair care line.
Look out for the following NEW John Frieda hair care products:
Smooth Start Shampoo and Conditioner Repairing For Damaged Hair
Smooth Start Shampoo and Conditioner Hydrating For Extra Dry Hair
Root Awakening Strength Restoring Smoothing Lotion
Root Awakening Strength Restoring Gel
Root Awakening Strength Restoring Hair Spray
SRP: $6.49 each. Available at food, drug and mass retailers nationwide from March 2010.
WATCH: Backstage at Rodarte during New York Fashion Week Fall/Winter 2010. Hair by Odile Gilbert for Aveda. Also mentioned in the video: Aveda Control Force Hair Spray (launching in June 2010).
Aveda lead stylist Odile Gilbert created glossy, childlike hair adorned with handmade flower pins at the Rodarte Fall/Winter 2010 Fashion Week show in New York.
"The Rodarte hair look for this season is sleek and shiny—at once free-flowing yet controlled. I was inspired by the idea of a modern, young girl who is strong and capable yet sweet and innocent. The look is young and dreamlike, with handmade metal flowers that make a statement."–Odile Gilbert for Aveda
Q: What is the inspiration for your collection? What is the look you are capturing?
"Our collection this season explores the idea of sleepwalking. The idea of a dream state, or an in-between state, inspired us." —Kate Mulleavy of Rodarte
Aveda lead stylist Antoinette Beenders created a 1960's Parisian glamour "wave" updo using Aveda Control Force Hair Spray at the Christian Siriano Fall/Winter 2010 Fashion Week show in New York.
"The Christian Siriano hair look for this season is a Parisian chic updo—a surge of 1960's glamour." —Antoinette Beenders for Aveda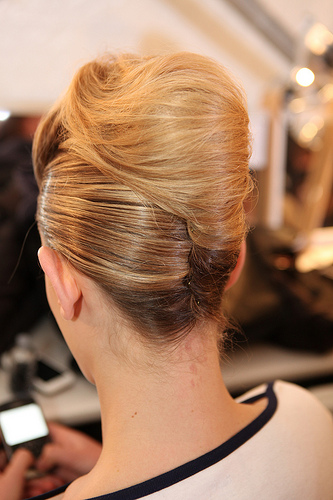 Q: What is the inspiration for your collection? What is the look you are capturing?
"The collection is inspired by 1960's Parisian women and the idea of getting dressed up from day into evening. It is a collection filled with effortless, soft, romantic shapes and silhouettes that compliment strong, structured jackets, coats, and cocktail dresses." —Christian Siriano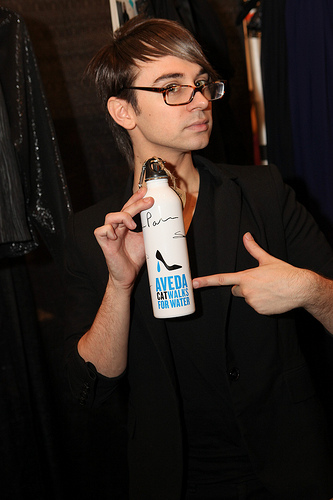 GET THE LOOK: Frederic Fekkai Celebrity Stylist Renato Campora created a sexy undone chignon for Kate Winslet for the 67th Golden Globe Awards. The Look & Inspiration: Renato's inspiration was a glamorous woman leaving her hotel room in a rush. He created a sexy, low chignon with an undone feel and lots of texture.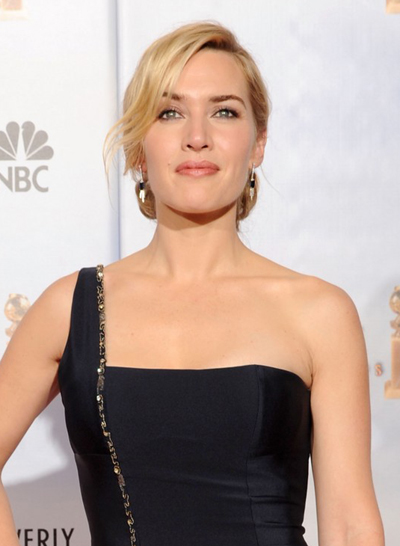 Here's Renato's hair tutorial on how to get Kate Winslet hairdo:
On wet hair Renato applied FEKKAI COIFF STRONG HOLD VOLUME MOUSSE mixed with FEKKAI ADVANCED BRILLIANT GLOSSING CREAM. These two products together provide the right balance to create a texture that leaves the hair hydrated. With the hair still wet, he created a side part and placed pins curls throughout the entire head and dried the hair with a diffuser. Once the hair was 80 percent dry, he removed the pin curls. Renato used his fingers to produce texture and finished drying the hair with the diffuser. He then applied FEKKAI Salon Technician Color Care Anti-Fade Top Coat throughout the hair for shine. Next, he softened the ends by using a curling iron. He then applied the FEKKAI Au Naturel Dry Shampoo all over the head to give the final look some modernity and volume.
GET THE LOOK: Frederic Fekkai Celebrity Stylist Adir Abergel Created a sophisticated style for presenter, Jennifer Garner. The Look: Adir sought to capture her essence and amazing spirit, he wanted to play up her beautiful dress by elongating Jennifer's features. He did that by building height on the top of the head and creating cascading curls to fall down her back.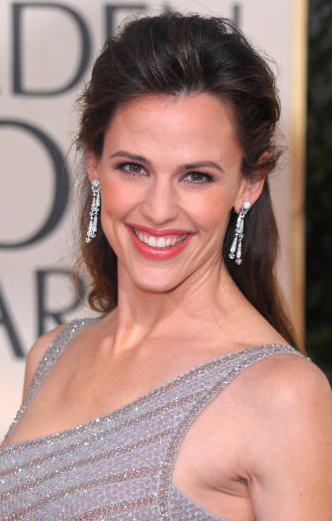 Here's Adir's hair tutorial on how to get Jennifer Garner's hairdo:
He first started by applying the FEKKAI COIFF BOUFFANT LIFTING & TEXTURIZING SPRAY GEL all over the roots to create body and movement. He created extra volume using the FEKKAI COIFF STRONG HOLD VOLUME MOUSSE from the roots to the ends for memory and hold. He took a round brush and blow-dried the hair and while it was hot, placed it into stand up pin curls and let cool while she got her makeup done.
GET THE LOOK: Penelope Cruz style and look at the 67th Golden Globe Awards was one of my favorite. I loved her super chic black Armani dress which had a mixture of stripes and lace. And I loved her hairdo and makeup.
Inspiration & The Look: Inspired by Penelope's vintage Armani dress and her fresh from vacation tan, iconic hairstylist Oribe channeled classic Hollywood glamour for Penelope's red carpet style. He created cascading, pinned back waves for a relaxed, elegant look.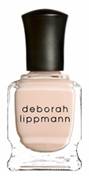 Manicurist Deborah Lippmann polished off some of Hollywood's hottest looks at the Golden Globes on Sunday. Penelope Cruz wore Night And Day to compliment her bronzed glowing skin.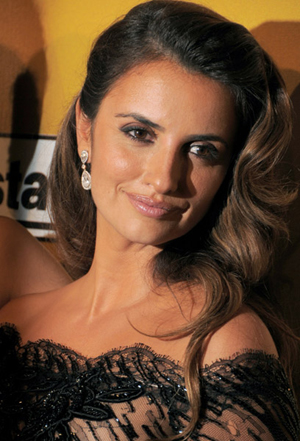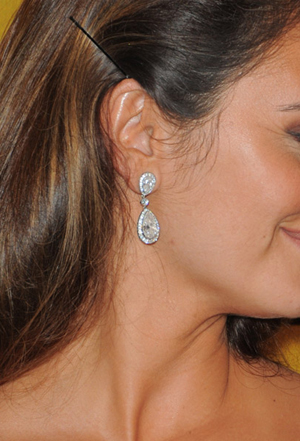 Oribe used his Imperméable to shield Penelope's hair from the day's rain and humidity.
How To Get Penelope Cruz Hairdo at the 2010 Golden Globes:
1. Start by working Gel Serum through the hair and then use hot rollers or a curling iron to set the hair. Spray Imperméable or an anti-humidity spray on the hair before using the curling iron to help protect the style and prevent frizz.
2. Brush loose curls into place
The cast of Sherlock Holmes traveled from Berlin to Madrid then to Paris for three star-studded international premieres for the global blockbuster. Sebastian stylist Thomas Dunkin, who also styled leading lady Rachel McAdams' hair for the world premiere, created three different looks for the actress in these three different cities to complement her gorgeous gowns.
In Berlin, Thomas styled 40's-inspired finger-waves for Rachel that bespoke elegance and grace.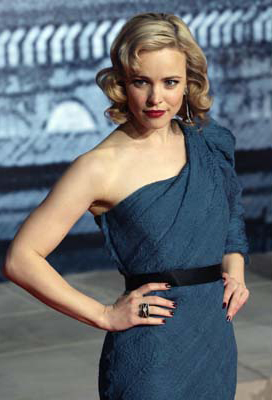 Thomas shares the step-by-step on how to get Rachel McAdams' hairdo at the Berlin Sherlock Holmes Premiere:
1) Begin by saturating damp hair from root to tip with Sebastian Professional Volupt Spray
2) Blow-dry hair with a medium-sized round brush and set whole head in medium-sized Velcro rollers
3) Leave the rollers in hair for about 5-10 minutes to cool down
4) Remove rollers beginning at the bottom, then use a ¼-inch curling iron to curl each section beginning at the root and eventually wrapping the entire section around the iron
5) Brush through hair with a Mason Pearson brush and use large section clips to define the waves where they naturally indent
6) Spray hair with Sebastian Professional Shaper Zero Gravity hair spray over the entire head and leave to set for another 10 minutes
7) Finish by removing the section clips and shaking head for an easy, sexy look
In Madrid, Thomas styled Rachel's unstructured updo with vixen-like volume.