All Posts Tagged With: "Foundation Primer"
Between having to worry about your relationship status, what you're doing or what you're wearing, Valentine's Day can quickly turn into a mix of anxious emotions rather than a day filled with romance. This Valentine's, take the stress out of choosing and give the perfect gift for every stage of the relationship. Whether it's just starting out, a year in, newlyweds or life-long lovers, these gifts are ideal for any loved one.
First Date?
Paul & Joe Pearl Foundation Primer & Powder Blush
I tend to skip primers simply because with my hectic schedule it's just an extra step for me and also because some of them actually so thick and flakey they interfere with my foundation. Sounds familiar? I do though like FusionBeauty Brightening Primer though. It's designed to blur skin imperfections and because it doesn't do all that bad stuff I just described. It's smooth and seamless and it evens out my skin. It's color purple at first then turns into a neutral skin tone shade.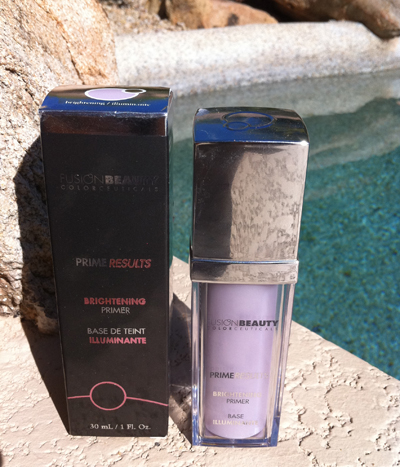 Hair & Makeup: Get the look from the gorgeous Lela Rose 2011 Resort Presentation with Beauty.com. Michael Shaun Corby for Alterna (hair) and Napoleon Perdis (makeup) helped beautify the presentation with a coral lip, peachy/nude eyes and a casual faux bob.
Hair Care products used at Lela Rose 2011 Resort Presentation:
Alterna Caviar Anti-Aging Rapid Repair Spray
Alterna Caviar Anti-Aging Working Hair Spray
Alterna Caviar Anti-Aging Dry Shampoo
This week I tried products from Pur Minerals, a cosmetics line deigned to be free of petroleum-based oil, alcohol, talc, fillers, fragrance and dyes.
I really liked Pur Minerals Colour Correcting Foundation Primer in Green which reduces redness and evens out skin tone. I like to use this primer under my eyes to cover dark circles, and anywhere on my face I find a bit red, $29.50.
4-in-1 Pressed Makeup Foundation with SPF 15 which is is a natural mineral makeup concealer, powder and SPF 15 protection all in one. It applies beautifully on the face and covers minor skin imperfections. It feels light on your skin and not too heavy or overdone. You see your skin, not makeup, just a bit more perfect, $24.50.