All Posts Tagged With: "Lela Rose"
Hair & Makeup: Get the look from the gorgeous Lela Rose 2011 Resort Presentation with Beauty.com. Michael Shaun Corby for Alterna (hair) and Napoleon Perdis (makeup) helped beautify the presentation with a coral lip, peachy/nude eyes and a casual faux bob.
Hair Care products used at Lela Rose 2011 Resort Presentation:
Alterna Caviar Anti-Aging Rapid Repair Spray
Alterna Caviar Anti-Aging Working Hair Spray
Alterna Caviar Anti-Aging Dry Shampoo
Mother's Day, bridal showers, and summer birthdays Gift Ideas: Beauty.com is excited to continue its ever-popular partnership with designer Lela Rose – offering a custom creation just in time for spring and summer, Beauty.com and Lela Rose launch the "Lela Rose Feather Painted Linen Beauty Clutch."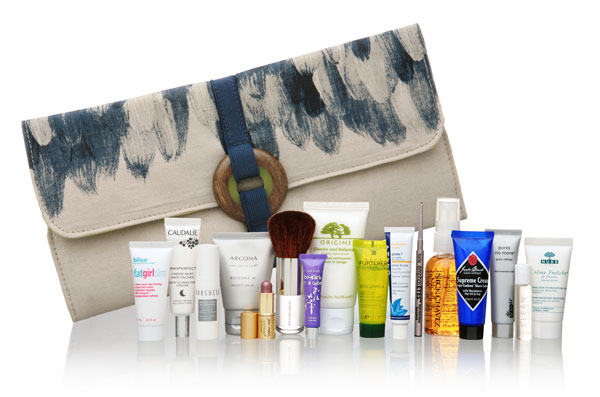 Starting May 4, 2010, when you visit www.beauty.com/lelarose you will receive this custom clutch and 16 deluxe samples with your purchase of $100 or more. The slim linen purse features the signature feather painted Lela Rose print from her spring 2010 collection. Accented with a handsome wooden closure, the clutch unfolds to reveal a bright citrine lining and two zippered compartments.
Here's one look of show that's standing out amidst all the bold, urban, and even vampire-inspired beauty trends we've seen at Fall 2010 Fashion Week: Lela Rose looked up to the sky, the moon, and the stars for the beauty inspiration of her fall 2010 fashion show.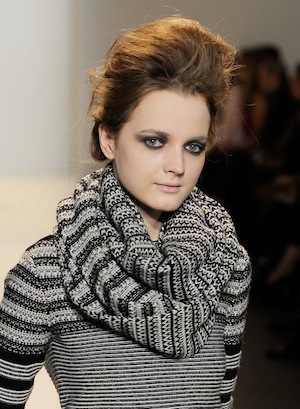 A celestial beauty on the Lela Rose Fall 2010 runway.
Photo: Jemal Countess/Getty Images
Makeup artist Tina Turnbow for Beauty.com created a moonlight smokey eye effect using a shimmery dark gray eye shadow (from the Tarte Eye Couture Palette). "The color looks like the midnight sky and the irridesence is reminiscent of the stars," she says. "The shape of the eye shadow is spherical because it goes well into the inner corners, which makes it look round like a planet and opens up the eye." Even the lip has a celestial twist. "It's a cloudy sheer white gloss," says Turnbow. The models' nails were painted with Deborah Lippmann Across The Universe nail polish, a midnight blue with lots of sparkle–another nod to the sky and the stars. Read full article in dailymakeover.com
For more Beauty Trends and News visit dailymakeover.com
Straight off the Spring 09 Runway Stila Introduces Limited Edition Backstage with Lela Rose and Beauty.com Makeup Collection.
Stila Backstage with Lela Rose and Beauty.com collection contains four key products used by every artist backstage at the Spring 2009 show.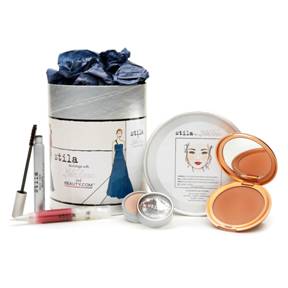 Stila Sun Shade 01 was used to bronze the models' cheekbones. This bronzer is known for its amazing buildable color, which makes it a makeup artist favorite season after season. Cranberry Lip Glaze popped the models' pouts.
For the eyes, Starlight Eye Shadow let the lids shimmer with a champagne glow, and a coating of Major Lash Mascara in Brown helped to create a balanced, feminine face.
Subtle and very wearable, this modern look is sophisticated in its simplicity, a must in order to complement the vibrant kaleidoscope of colors with a funky tribal twist fashions that paraded down the Lela Rose runway.
Price: $34, exclusively at beauty.com starting February 2009.