All Posts Tagged With: "runway"
To embrace the in-crowd individuality of the after-party-inspired Alexander Wang Spring/Summer 2018 runway, Rita Remark for essie chose topless & barefoot, a "chameleon nude" she insists looks soft pink on some, ivory on others, and flattering on everyone. Using speed.setter top coat to achieve a high-shine finish, it's the season's perfect answer to going barely there in an eye-catching way.
New York Fashion Week Fall Winter 2010. Show: Rachel Roy Fall 2010. Makeup by Bobbi Brown Cosmetics.
"Eyes are intense, covered in rich velvet…Scarlet and black create a modern smolder…" –Wendy Rowe for Bobbi Brown Cosmetics.
The Look & Inspiration: A 1930s Egyptian influence weaves together fashion and beauty at the Fall 2010 Rachel Roy Fashion Show. Peacock prints are lifted from feminine silhouettes and translated into bold, beautiful makeup. Iridescent "peacock feather" eyes gleam in denim and burgundy metallic shades from brow to lower lash line with a hint of aqua on inner corners, ultimately lined with a black kohl pencil. An even, dewy finish of the skin, softly defined pink cheek, and sheer beige lip allow the eyes to be the star of this show.
These are the Bobbi Brown Cosmetics makeup used to get the Rachel Roy Fall 2010 runway look:
Here's one look of show that's standing out amidst all the bold, urban, and even vampire-inspired beauty trends we've seen at Fall 2010 Fashion Week: Lela Rose looked up to the sky, the moon, and the stars for the beauty inspiration of her fall 2010 fashion show.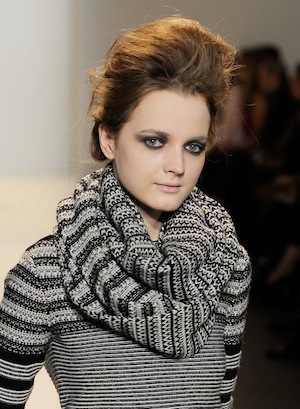 A celestial beauty on the Lela Rose Fall 2010 runway.
Photo: Jemal Countess/Getty Images
Makeup artist Tina Turnbow for Beauty.com created a moonlight smokey eye effect using a shimmery dark gray eye shadow (from the Tarte Eye Couture Palette). "The color looks like the midnight sky and the irridesence is reminiscent of the stars," she says. "The shape of the eye shadow is spherical because it goes well into the inner corners, which makes it look round like a planet and opens up the eye." Even the lip has a celestial twist. "It's a cloudy sheer white gloss," says Turnbow. The models' nails were painted with Deborah Lippmann Across The Universe nail polish, a midnight blue with lots of sparkle–another nod to the sky and the stars. Read full article in dailymakeover.com
For more Beauty Trends and News visit dailymakeover.com
New York Fashion Week Fall/Winter 2010 Report: Avon for Mackage.
Avon's Global Stylist Advisor Tippi Shorter created the hair look for the Mackage fall 2010 runway show, supported by a full team of Avon stylists. Tippi also creates dashing 'dos for stars like Alicia Keys and Mary J. Blige.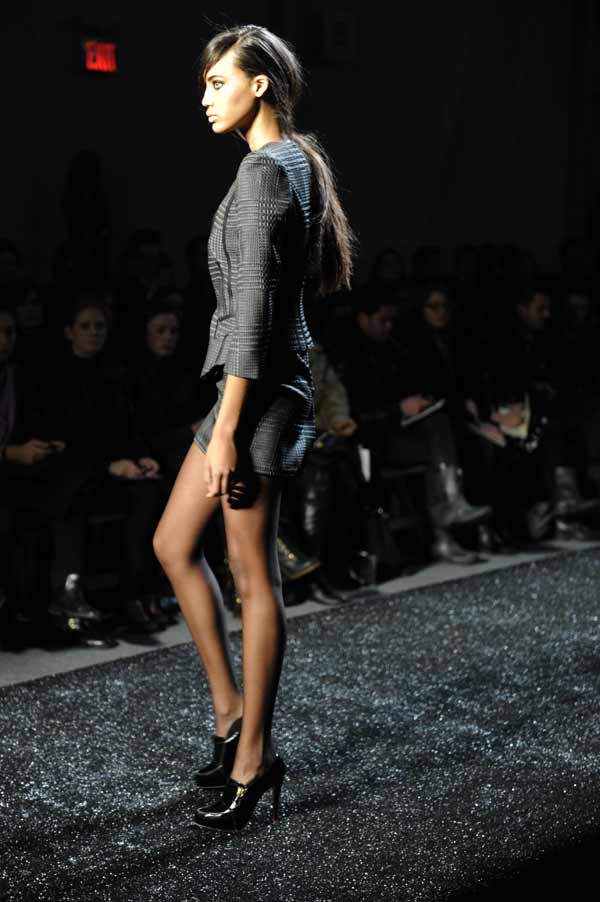 Hair Tutorial: Here's how to achieve this runway "Second Day Chic" hairstyle as called by Avon at-home!
Apply Advanced Techniques Volumizing Mousse by Avon to hair that has been dried straight, evenly distributing create a sturdy base for the style. Use a comb to create a deep diagonal part that extends from the hairline just above outside corner of one eye to crown.
ELLE magazine has a brand new Beauty gallery of Spring 2010 Hair and Makeup Trends. Check out the gallery for images of celebs vs. runway models sporting the trends, and vote on who wore them best. To read full article and to VOTE visit elle.com
Here's a sneak peek: Lauren Conrad wearing bright pink lipstick alongside the runway version.