All Posts Tagged With: "Daily Makeover"
The Awards Season culminated in the red carpet moment of the year, the 2010 Oscars. From Twilight-pale beauties (yay for embracing copy-paper white complexions and eschewing the ubiquitous orange spray tan) to Veronica Lake wavy hairstyles and lashes for days, five celebrity hairstyle and makeup looks in particular blew our hair back.

Credit: © John Shearer/Getty Images
Cameron Diaz brought her beauty A-game this time. No stranger to a red lip, this time Cameron paired hers with a bouncy waved hairstyle pulled over to one shoulder and minimal eye makeup, save for a flirty fringe of lashes. Softly pink cheeks warm up this fun and flirty Oscar look. Read full article in dailymakeover.com
The key to creating any gorgeous hairstyle is to start with healthy, shiny hair. Guest editor and NYC salon owner Sam Brocato shares his best beauty tips on how to score healthy hair even after months of winter abuse. Sam and his team have worked with countless celebrities including Britney Spears, Hilary Duff, and Claire Danes.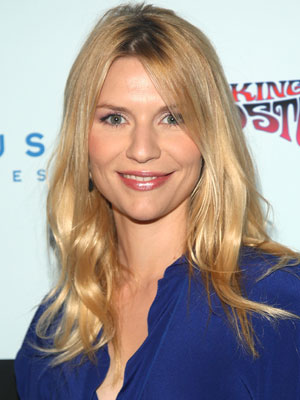 Photo: © Stephen Lovekin/Getty Images
Step 1: Lather Up Gently
Basic winter hair care starts with a gentle shampoo that won't strip hair of moisture. Try to shampoo less than 3 times a week and use a dry shampoo in between washings. If you simply can't part with a favorite shampoo or daily wash, blend two parts shampoo with one part conditioner for added moisture. If you're ready for something new, try a conditioning treatment that has a mild foaming agent like my Brocato Constructor.
Read full article in dailymakeover.com
Related stories:
How to Straighten Your Hair Without Sacrificing Volume

10 Beauty Looks That Will Never Go Out Of Style
Frumpy and dowdy are not two words I associate with the usually smoking hot Jessica Alba. Unfortunately those are exactly the words that came to mind when I got a look at her latest hairstyle. She seems to have traded in her status as a sex bomb for that of a frazzled soccer mom. This messy, shapeless 'do does nothing to accentuate her gorgeous features and makes her look like she'd be more at home in a minivan rather than in a miniskirt. Read full article in dailymakeover.com

L to R: Before -circa January 2010. Photo: © Michael Caulfield/Getty Images for PCA.
After- circa February 2010. Photo: © Frazer Harrison/Getty Images
Realted stories:
Does Heidi Montag's New Face Make Her Look Older?
Gwen Stefani Talks Beauty Backstage At LAMB
Amanda Seyfried also doesn't change her 'do much when she glams it up on the red carpet. It's gorgeous hair–hair I covet, even–but it's always the same old, same old with her. Frankly, you're boring me, Amanda. Let's throw you in the makeover studio and see how you'd look in some edgier 'dos, 'kay? Read Full article in dailymakeover.com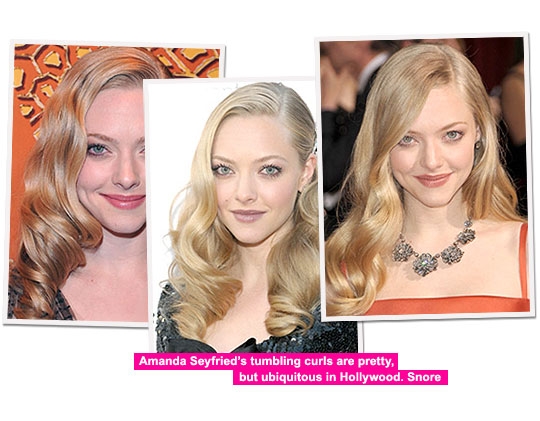 Related stories:
10 Beauty Looks That Will Never Go Out Of Style
It was a mod, mod world backstage at Fall 2010 Fashion Week. From Erin Fetherston to Cynthia Steffe, the look for hair was all about thick, blunt-cut bangs that harkened back to the mod squad models of the late 1960's and early 1970's. Here, some of our favorite versions of the look. Consider yourself warned: The bang is back and it's bigger (and blunter) than ever.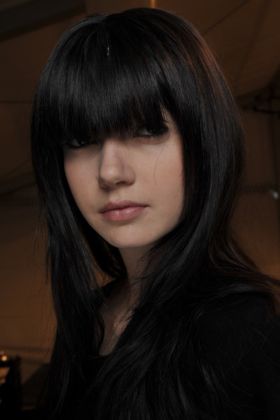 Cool girl chic at Cynthia Steffe.
Photo: © Luca Cannionieri
At Cynthia Steffe, Bumble and bumble lead stylist Rolando Beauchamp gave models a clip-on faux bang to help embody the late 1960's cool British/French girl inspiration. "We're doing a really thick fringe, but the texture on the hair is dirty, like two-day old hair," he said. The slept in texture added to the cool girl feel, giving models a messy-sexy hairstyle that was retro without being too literal.
Read full article in dailymakeover.com
Related Articles:
Fashion Week: Funky, Chunky Haircolor
Vampire Inspired Fashion Week
Fashion Week: The Bold And The Beautiful
Contributed by Megan McIntyre of Daily Makeover
Fall/Winter 2010 Fashion Week started today, and Daily Makeover kicked it off backstage at L.A.M.B. with designer Gwen Stefani. She gave us an exclusive look into what inspires her, how she creates that fab red lip (girlfriend does her own makeup!) and what beauty look her husband can't get enough of.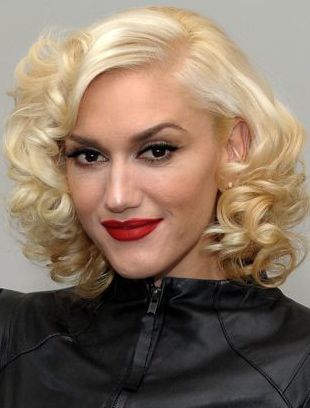 Photo: © Andrew H. Walker/Getty Images
What inspired the beauty look for the L.A.M.B. show?
The collection is based on a vintage, naughty, Hollywood starlet girl, a little bit of a modern, futuristic girl and a little bit of a soldier girl. I found these Ellen von Unwerth pictures with black makeup and the dark lips [that I loved] so we're going to do the hair very set, vintage and glamorous with a lot of bangs.
Here's one look of show that's standing out amidst all the bold, urban, and even vampire-inspired beauty trends we've seen at Fall 2010 Fashion Week: Lela Rose looked up to the sky, the moon, and the stars for the beauty inspiration of her fall 2010 fashion show.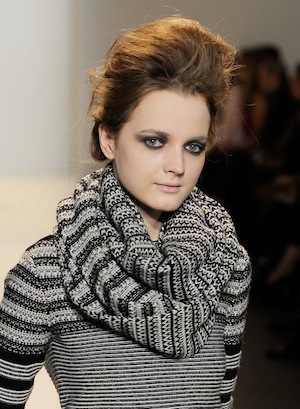 A celestial beauty on the Lela Rose Fall 2010 runway.
Photo: Jemal Countess/Getty Images
Makeup artist Tina Turnbow for Beauty.com created a moonlight smokey eye effect using a shimmery dark gray eye shadow (from the Tarte Eye Couture Palette). "The color looks like the midnight sky and the irridesence is reminiscent of the stars," she says. "The shape of the eye shadow is spherical because it goes well into the inner corners, which makes it look round like a planet and opens up the eye." Even the lip has a celestial twist. "It's a cloudy sheer white gloss," says Turnbow. The models' nails were painted with Deborah Lippmann Across The Universe nail polish, a midnight blue with lots of sparkle–another nod to the sky and the stars. Read full article in dailymakeover.com
For more Beauty Trends and News visit dailymakeover.com
Lipstick lovers always look forward to fall because it's the season of the bold lip. If you're not yet ready to plunge into the deep hues of the glampire beauty trend, there are many interpretations of the more classic crimson look. Oh, and stop making fun of your mother about her lip pencil: The formerly eschewed makeup implement is making a major comeback this fall. Get your sharpeners ready: Here are our favorite red lip looks of the season.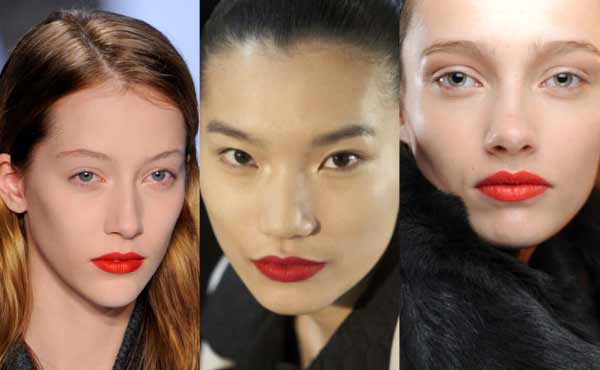 Red lips at (L-R) Richard Chai, Vivienne Tam and Herve Léger.
Photo: Jemal Countess/Getty Images, Maybelline, gorunway.com
At Richard Chai, Gucci Westman for Revlon keyed makeup. Lips were defined with new-for-fall Revlon Suede Rhapsody Multi-Use Palette, set to launch in September 2010. First, Gucci applied ColorStay Lip Liner in Red all over the lip as a base, then painted on the deeper red lipstick from the palette which created a matte effect. "The clothes don't have a lot of color, so I felt a pop of pigment was needed on the lips," explains Westman.
Read full article in dailymakeover.com
For more Beauty Trends and News visit dailymakeover.com
Looks like it's time to break out the Manic Panic. The big beauty trend for hair at Fashion Week was bright, chunky streaks of color that brought to mind punk-inspired street style circa 1996. At the Cynthia Rowley Fall 2010 fashion show, Eva Scrivo for Wella Professionals custom colored hair extensions in shades of emerald, lapis, amethyst, navy and turquoise to replicate the rich jewel tones present in the collection. Each hair extension was completely saturated with professional salon haircolor and then woven into the hair and styled, creating an element of surprise and intrigue when models hit the runway. Read full article in dailymakeover.com

Turquoise tresses at Cynthia Rowley.
Photo courtesy of Wella Professionals
For more Beauty Trends and News visit dailymakeover.com
Sundance 2010: Though the general aesthetic of the Sundance Film Festival revolves around boots with the fur, jeans and puffy coats, the stars who frequented the L'Oreal Paris beauty suite still managed to look put together. Natural makeup was the trend as it seems bordering on insanity to pile on pounds of makeup to complement your leggings and thermal get-up. Right? Here's a list of some of the celebrity highlights of the weekend:
Dakota Fanning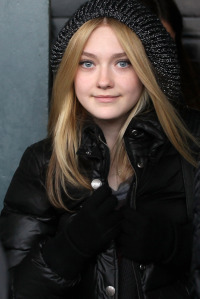 Credit: © Scott Halleran/Getty Images
Dakota Fanning embraced the sparkly hat trend and looked elegant with long, straight blonde locks and natural makeup with lotsa lashes.
Read full article and see more celebrity photos: Kate Mara, Amanda Peet, Parker Posey, Ben Affleck, James Franco, and more in dailymakeover.com