All Posts Tagged With: "Hilary Duff"
TM & Marta Walsh has got the word that celebrity hairstylist Marcus Francis worked with Hilary Duff to create Duff's Brigitte Bardot inspired hairstyle for the New York signing of her new book "Devoted" on Monday, October 10th, 2011.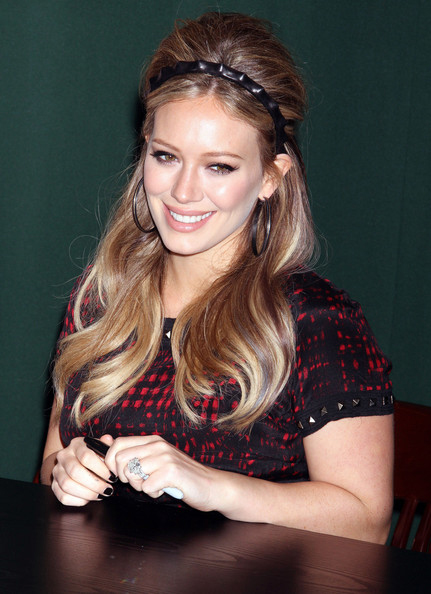 Hilary Duff's Hair At The New York Signing of Her New Book Devoted
Hairstyle Inspiration: "Hilary and I are always drawn to the casual glamour of Brigitte Bardot. For her book signing event, I wanted to recreate that iconic volume, polished off with a leather headband for a sweet and sexy combo look."
How To Get Hilary Duff's Hairdo:
Anne Hathaway, Olivia Wilde and Hilary Duff all stepped out onto the red carpet recently with a bit of NARS makeup to perfect their looks. From the east coast to the west coast, here's who wore what, and where. Marta Walsh got the scoop!
In Los Angeles:
· Makeup artist Kate Lee dusted Anne Hathaway's cheeks with Lovejoy Blush for her premiere of Love, And Other Drugs.
Hilary Duff's Haircolor. Spotted: Hilary Duff leaving the Byron and Tracey Salon in Beverly Hills, California, August 19, 2010, with a new darker hair color. You may call it strawberry blond or light golden brown, either way it's darker! Do you love?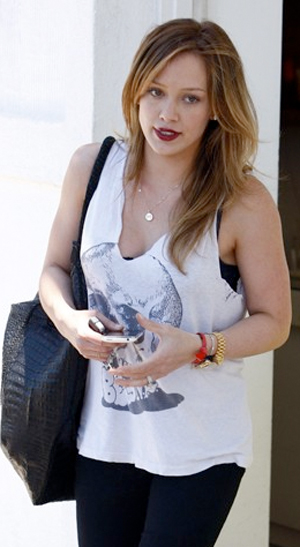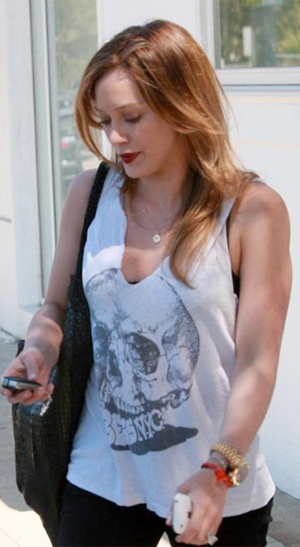 The key to creating any gorgeous hairstyle is to start with healthy, shiny hair. Guest editor and NYC salon owner Sam Brocato shares his best beauty tips on how to score healthy hair even after months of winter abuse. Sam and his team have worked with countless celebrities including Britney Spears, Hilary Duff, and Claire Danes.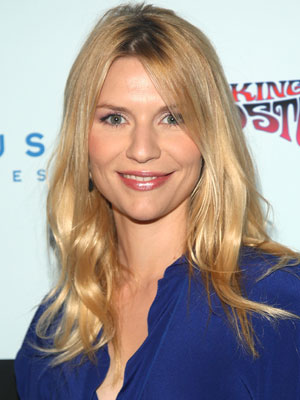 Photo: © Stephen Lovekin/Getty Images
Step 1: Lather Up Gently
Basic winter hair care starts with a gentle shampoo that won't strip hair of moisture. Try to shampoo less than 3 times a week and use a dry shampoo in between washings. If you simply can't part with a favorite shampoo or daily wash, blend two parts shampoo with one part conditioner for added moisture. If you're ready for something new, try a conditioning treatment that has a mild foaming agent like my Brocato Constructor.
Read full article in dailymakeover.com
Related stories:
How to Straighten Your Hair Without Sacrificing Volume

10 Beauty Looks That Will Never Go Out Of Style
Celebs bare all at the Victoria's Secret Fashion Week Suite at the Bryant Park Hotel during New York Fashion Week Spring 2010: Hilary Duff, Emmanuelle Chriqui, Katy Perry, Michelle Trachtenberg, and Mena Suvari (see images below).
Other celebs spotted at the Victoria's Secret Fashion Week Suite: Leighton Meester; Molly Sims; Kim Kardashian; Gabrielle Union; Emmy Rossum; Amerie; Brooke Burke; Stephanie Pratt, Holly Montag and Stacie Hall from The Hills; Erin Lucas from The City; Monet Mazur; Guiliana Rancic; American Idol judge Kara DioGuardi; Melody Thornton from The Pussy Cat Dolls; Vanessa and Angela Simmons;
Hilary Duff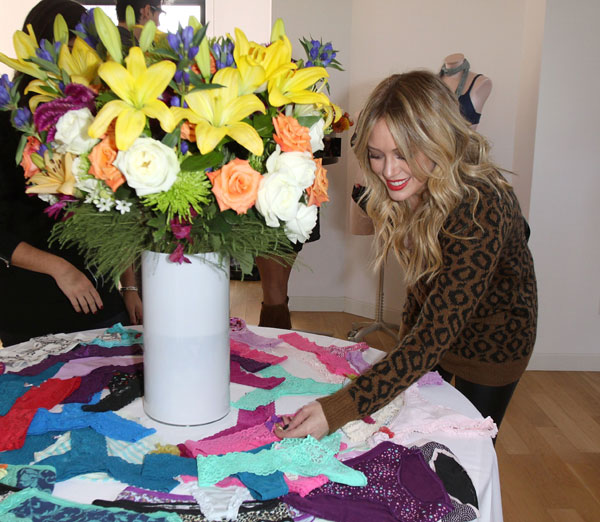 Emmanuelle Chriqui

Summer 2009 Red Carpet Beauty Trends: This summer celebrities like Lauren Conrad, Giselle Bundchen and Hilary Duff all appear to have just stepped off the beach and onto the red carpet. Christina Zilber, make-up stylist and founder of Jouer Cosmetics teaches us easy ways to fake a healthy luminous look.
How To Get Healthy Luminous Skin: To protect skin from excess oil, Christina begins by using fingertips to apply Jouer Essential Matte Touch where needed. This botanical mattifier can be used under makeup or alone to purify skin and calm irritation, while firming and moisturizing with Vitamins C, D, & E.
The most important aspect to the celebrity look is flawless skin. Even out your complexion using the Jouer's Luminizing Moisture Tint. This lightweight hydrating tint evens out imperfections and fades the appearance of fine lines. Rich SPF 20 protects from UVA and UVB rays while Ginseng and Gingko Biloba Leaf Extract deliver antioxidants to skin promoting a healthy complexion.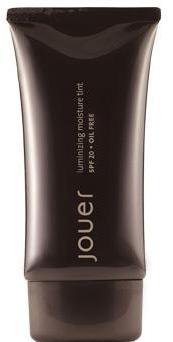 Get The Look:Grey Luxe, or grey and silver eye makeup, as seen on Kristen Stewart, Hilary Duff and Alicia Keys.
With summer parties in full swing, Modelinia.com (www.modelinia.com ) is here to give you tips on the hottest makeup trends. Grey and silver eye makeup work on all skin tones and can be seen on the runways of Marc Jacobs and Matthew Williamson and on celebrities like Kristen Stewart, Hilary Duff and Alicia Keys.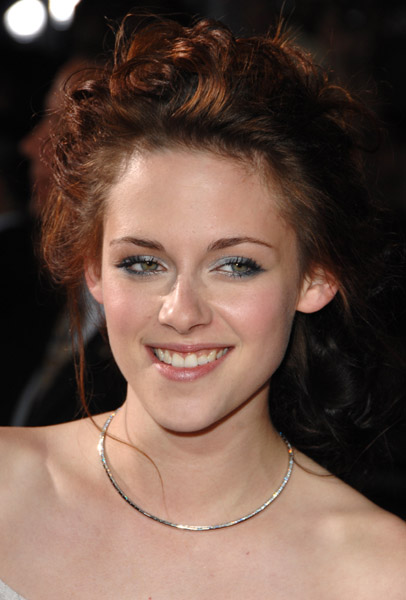 Johnny Lavoy, Maybelline's resident makeup experts and the host of Modelinia.com's series Get the Look, gives step by step instructions on how to get this classic look in this video.
 1. Sweep a light silver color across the eyelid. Go right up to the crease on the lid and stop where the crease starts and apply from the inside corner to where the lash line ends. Don't forget to blend in because you never want to see when one color stops and the other color starts.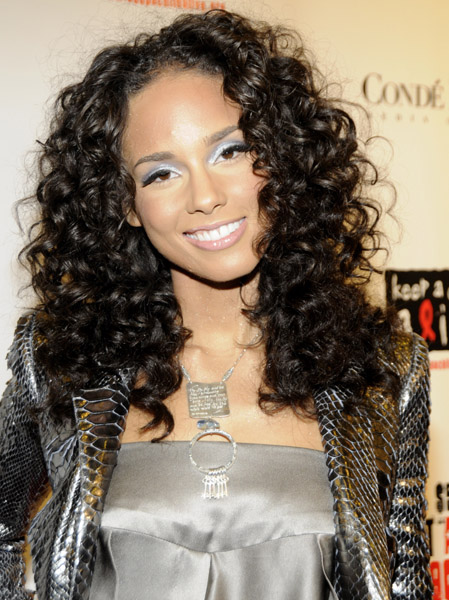 Hilary Duff is on the cover of Maxim Magazine January 2009.
I love everything about Hilary Duff's hair and makeup look on the cover of Maxim January 2009!
Hilary's hair is parted in the middle, with big soft curls. This hair style reminds me of Marisa Miller's hair style at her Victoria's Secret photo shoots. In fact I describe Hilary Duff's hairstyle as a Victoria's Secret inspired hair style.
Hilary Duff's makeup: Eyes are lined top with a black eye liner, and bottom with a purple eye liner. Peachy pink cheeks, and the perfect pink lipstick or lip gloss on the lips. All in all, Hilary Duff's makeup look is soft and feminine.
See more photos of Hilary Duff from Maxim Magazine January 2009 here:
Hilary Duff, together with Elizabeth Arden, will launch her first fragrance With Love this September.  Elizabeth Arden is also responsible for bringing us the fabulous Britney Spears fragrances Curious and Fantasy.  Hilary duff was inspired by her older sister Hailey Duff has created a very sophisticated fragrance.  With Love, however, still appeals to both Moms and Daughters.   Hilary Duff was involved in the entire process of creating this fragrance.  Hillary went through 115 changes until finally achieved her final fragrance.  With Love is a layered fragrance and develops on your skin.  Hillary Duff's new fragrance is packaged With Love in an antique style bottle that was inspired by her favorite vintage ring. Its outer carton is light blue with gold scroll and looks like a present.  Cocobolo wood and mangosteen fruit are some of Hilary Duff With Love main notes.