All Posts Tagged With: "Claire Danes."
TM & Marta Walsh have the sneak peek to cover and inside story from the new May 2012 issue of ASOS Magazine that just launched featuring cover star, Claire Danes.
BTW-Claire wears all clothing available for purchase on ASOS.com
the 32-year-old Emmy and Golden Globe winning American actress was shot exclusively by ASOS at the Chateau Marmont in LA two days after picking up the Best Actress in a TV series aware at the Golden Globes for her role as Carrie Mathison in "Homeland."
The first I've noticed last night when I saw Claire Danes at the 2012 Golden Globe Awards was her super clean blonde hair. It was the real deal blonde and as I like to call it Hollywood Blonde. TM & Marta Walsh has got the scoop about Claire's hair color from Steve Amendola, colorist at the Serge Normant at John Frieda Salon in New York. Steve colored Claire Danes's hair for the 2012 Golden Globes.
The Inspiration Behind Claire Dane's Blonde Hair Color
NEW YORK, NY, FEBRUARY 28, 2011 – Calvin Klein, Inc. announced that Calvin Klein Collection wardrobed the following men and women for the 83rd Annual Academy Awards® as well as for the evening's after parties, held last night in Hollywood, California.
Those wardrobed in Calvin Klein Collection for the award ceremony, included actors Gwyneth Paltrow, Jennifer Lawrence, and John Hawkes.

Calvin Klein Collection at The 83rd Annual Academy Awards & After Parties: Gwyneth Paltrow Oscars 2011 gown by Calvin Klein Collection
Claire Danes and the secret to her red carpet glowing skin: Talking Makeup and Marta Walsh has just found out that celebrity makeup artist Matin prepped Emmy-award winner Claire Danes with Orlane's Refining Arm Cream and Active Hydration Body Care for the 2010 Emmys.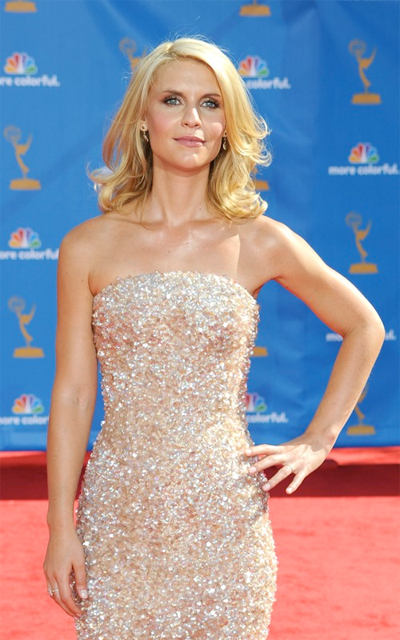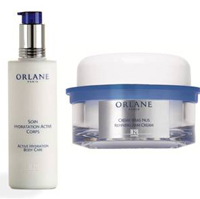 Refining Arm Cream ($85.00) contains natural targeted ingredients selected to effectively fight against sagging skin so arms regain a toned, defined, and firm appearance.
Claire Danes looked exceptional in a strapless slate-grey gown by Christopher Bailey for Burberry, with a hair look that highlighted her elegant pale blonde color with natural-looking polished and textured waves. According to stylist Peter Butler for Moroccanoil, "the look was elegant with a luxurious rock-and-roll edge. I created a higher part than Claire usually wears to open up her face and created smooth, flowing waves that looked tousled yet sophisticated. It's almost like a modern version of combed out beach waves with a refined texture."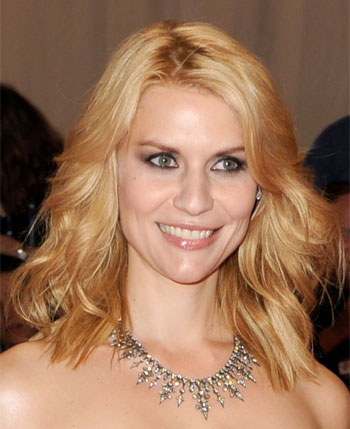 To create the look:Hair Tutorial
Peter Butler first applied a dry shampoo at the roots for volume, then used new argan oil-infused Moroccanoil Light to smooth and hydrate strands, reduce frizz, and help prepare and protect hair before using a curling iron. "I used Moroccanoil Light because of Claire's fine texture and delicate pale blonde.
The key to creating any gorgeous hairstyle is to start with healthy, shiny hair. Guest editor and NYC salon owner Sam Brocato shares his best beauty tips on how to score healthy hair even after months of winter abuse. Sam and his team have worked with countless celebrities including Britney Spears, Hilary Duff, and Claire Danes.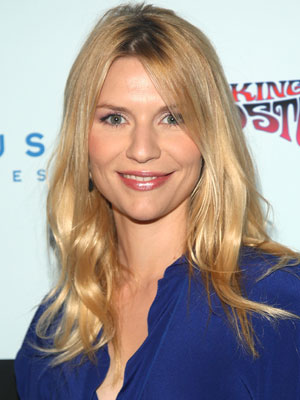 Photo: © Stephen Lovekin/Getty Images
Step 1: Lather Up Gently
Basic winter hair care starts with a gentle shampoo that won't strip hair of moisture. Try to shampoo less than 3 times a week and use a dry shampoo in between washings. If you simply can't part with a favorite shampoo or daily wash, blend two parts shampoo with one part conditioner for added moisture. If you're ready for something new, try a conditioning treatment that has a mild foaming agent like my Brocato Constructor.
Read full article in dailymakeover.com
Related stories:
How to Straighten Your Hair Without Sacrificing Volume

10 Beauty Looks That Will Never Go Out Of Style
A French friend of mine called me the other a Francophile. In translation it's basically a person who has a strong interest in, or admiration for French culture. Hey, I learn everyday, and this one I'm adding to my vocabulary at once. What I know for sure is that I'm a person with a strong interest and love for French skincare!
I would like to share with you my list of French skincare lines that I absolutely love for my skin in general, and particularly my under eye. I believe there are some things in life that you need to invest, like good shoes, and a good eye cream!
Here it is, Marta's favorite eye creams or eye treatments, oo la la..Eye Dream by Talika and Eye Therapy Patch by Talika. SAMPAR Eye Rule peptide & adenosine under eye cream. And, Orlane Absolute Radiance Lightbox or Orlane éclat absolu Lightbox.
Eye Dream by Talika ($55): Apply at night under eye, (I cheat and I also apply during the day, works & feels amazing, shu…). During sleep, the delicate skin around your eyes loses up to 50% of its moisture and is most biologically receptive to external hydration and nourishing ingredients. Eye Dream by Talika can help in keeping you under eye very nourished, hydrated, and refreshed. I love using Eye Dream after a long day of work (blogging that is:) or  a big night out. It immediately revives my tired eyes.
You might also like Eye Therapy Patch by Talika ($62): This patch is a pleasant, effective, natural and comfortable solution for combating wrinkles, circles and under-eye puffiness.
Visit www.talika.com to further explore the brand.
SAMPAR Eye Rule peptide & adenosine under eye cream ($78): Celebrity fans: Famous celebrity makeup artist, Matin, used it on Julianne Moore and Claire Danes. Jessica Szohr from Gossip Girls is also a fan.