A French friend of mine called me the other a Francophile. In translation it's basically a person who has a strong interest in, or admiration for French culture. Hey, I learn everyday, and this one I'm adding to my vocabulary at once. What I know for sure is that I'm a person with a strong interest and love for French skincare!
I would like to share with you my list of French skincare lines that I absolutely love for my skin in general, and particularly my under eye. I believe there are some things in life that you need to invest, like good shoes, and a good eye cream!
Here it is, Marta's favorite eye creams or eye treatments, oo la la..Eye Dream by Talika and Eye Therapy Patch by Talika. SAMPAR Eye Rule peptide & adenosine under eye cream. And, Orlane Absolute Radiance Lightbox or Orlane éclat absolu Lightbox.
Eye Dream by Talika ($55): Apply at night under eye, (I cheat and I also apply during the day, works & feels amazing, shu…). During sleep, the delicate skin around your eyes loses up to 50% of its moisture and is most biologically receptive to external hydration and nourishing ingredients. Eye Dream by Talika can help in keeping you under eye very nourished, hydrated, and refreshed. I love using Eye Dream after a long day of work (blogging that is:) or  a big night out. It immediately revives my tired eyes.
You might also like Eye Therapy Patch by Talika ($62): This patch is a pleasant, effective, natural and comfortable solution for combating wrinkles, circles and under-eye puffiness.
Visit www.talika.com to further explore the brand.
SAMPAR Eye Rule peptide & adenosine under eye cream ($78): Celebrity fans: Famous celebrity makeup artist, Matin, used it on Julianne Moore and Claire Danes. Jessica Szohr from Gossip Girls is also a fan.
Encased in a completely air-tight roller ball pen applicator, you apply exactly the amount you need without mess and without letting bacteria in. I found, one pump is enough for both eyes. Better yet, place SAMPAR in the refrigerator for the ultimate cooling and soothing under eye effect. Also, great for travel, you don't have to worry about spilling.
Main ingredients: peptides, adenosine. Urban advance complex: shea butter, minth and sweet, probiotic extracts. Argan oil and red raspberry seed oil. Complex LMB: licorice, marigold, butcher's broom. Cornflower, horse chestnut, white lupin, oat, imperata cylindrica extracts.
Available at www.3graces.com
Orlane Absolute Radiance Lightbox or Orlane éclat absolu Light Box in French: Cinderella Skin in 7 Minutes! I can't rave enough about this product! I'm addicted to it and to what it does to my skin. It feels so invegrating and fresh after only one use, it wakes my skin up in an instant! If you are looking for that wow feeling, you might want to give Orlane Absolute Radiance Lightbox a go.
The Orlane Absolute Radiance Lightbox includes éclat absolu Dazzling Eye Ritual Under-Eye Patches and éclat absolu Eye Contour Serum. Apply the eye serum first to your under eye and follow by applying the eye patch underneath each eye. It also includes a Shimmering Skin Masque Cream which you prepare, in no time, by mixing the Shimmering Skin powder provided in the kit. Once done mixing, apply on your face wait 7 minutes, rinse off, and apply the éclat absolu Evanescent Cream which smells and feels amazing! Now, YOU tell me what you feel?:)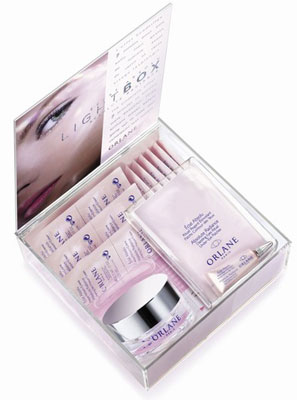 Orlane Paris Absolute Radiance Lightbox retails at $200 and is available at Bloomingdales, Neiman Marcus and Saks Fifth Avenue.
Marta Walsh interview with Matin