Claire Danes looked exceptional in a strapless slate-grey gown by Christopher Bailey for Burberry, with a hair look that highlighted her elegant pale blonde color with natural-looking polished and textured waves. According to stylist Peter Butler for Moroccanoil, "the look was elegant with a luxurious rock-and-roll edge. I created a higher part than Claire usually wears to open up her face and created smooth, flowing waves that looked tousled yet sophisticated. It's almost like a modern version of combed out beach waves with a refined texture."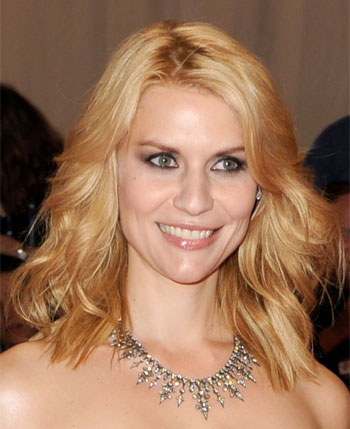 To create the look:Hair Tutorial
Peter Butler first applied a dry shampoo at the roots for volume, then used new argan oil-infused Moroccanoil Light to smooth and hydrate strands, reduce frizz, and help prepare and protect hair before using a curling iron. "I used Moroccanoil Light because of Claire's fine texture and delicate pale blonde.
Unlike a lot of other products, I knew it would be ideal for fine hair, wouldn't alter her unique color. It also protects without weighing hair down or interfering with the hairstyle" Next, I used a medium barrel curling iron, picking up small sections starting at the nape of the neck, twisting hair around while leaving ends straight. After combing curls out with a wide-tooth comb, I adjusted the texture with my hands and brought them forward to soften the face. Once I had the look, I used a bit more Moroccanoil Light to further smooth out ends and help prevent frizz because the air in New York tonight is quite humid. I finished with a light mist of Moroccanoil Glimmer Shine Spray followed by Moroccanoil Luminous Hair Spray for a hold that looked natural and allowed hair to move."
Moroccanoil is sold in professional salons and spas throughout the country. Visit www.moroccanoil.com for more details.