All Posts Tagged With: "Moroccanoil"
Moroccanoil Treatment wins Stylist Choice Award for "Favorite Product You Can't Live Without." Fifth Consecutive Win.
Wins Stylist Choice Award
Moroccanoil, the originator and leader in luxury, professional argan oil-infused products for hair has once again won the coveted Stylist Choice Award in the influential "Favorite Product You Can't Live Without" category. This is the fifth annual win for the breakthrough Moroccanoil® Treatment formulation that created a new oil treatment category for hair within the beauty industry.
New York Fashion Week: Backstage Hair Update. Badgley Mischka Fall/Winter 2013. Hair by Peter Gray for Moroccanoil. Inspiration: Fall 2013 was inspired by Hitchcock's femme fatales – Kim Novak, Eva Marie Saint and Grace Kelly – the paradox of their cool surface and inner fire.
The Look
Carolina Herrera Fall/Winter 2013 Hair looks New York Fashion Week. Orlando Pita Using Moroccanoil. Photos by David Webber for Moroccanoil.
The Hairstyle Inspiration
Michelle Williams looked spectacular on the red carpet at the annual Met Ball last night, held at the Metropolitan Museum of Art. Wearing a beautiful Miu Miu gown accented with metallic bronze and gold swallows, and Fred Leighton jewelry, all eyes were on her fabulous platinum hair.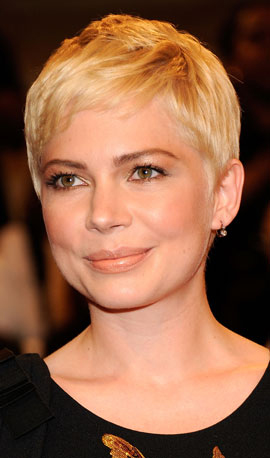 Michelle Williams At The 2011 Met Gala hair styled with Moroccanoil hair care products
Celebrity stylist Peter Gray shares with us how he created the eye-catching style for Michelle's short cropped hair:
"The dress was so beautiful with those bronzes and golds that I wanted to reflect that in her hair. I didn't want it to look styled or even blow-dried, so I created the whole effect on freshly-shampooed, naturally-dried hair. My inspiration was a modern day Jean Seberg with a "Breathless" nuance, but with a soft, sexy and defined texture."
NEW from Moroccanoil: Curl Defining Mousse.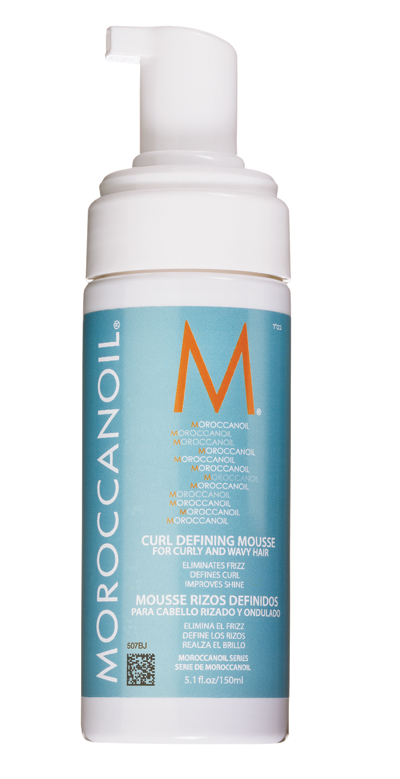 Moroccanoil Curl Defining Mousse is an innovative, all-in-one, argan oil-infused styling product that holds as well as creates bouncy, smooth frizz-free curls. Specially designed to meet the unique needs of curly and tightly coiled hair, lightweight Moroccanoil Curl Defining Mousse gives styles "memory," for longer-lasting, soft and very natural hold, while sealing in the moisture so essential to keeping curly locks looking their best. It immediately absorbs deeply into the cortex to moisturize and strengthen hair from within.
Vera Wang FW 2011. Hair by Moroccanoil.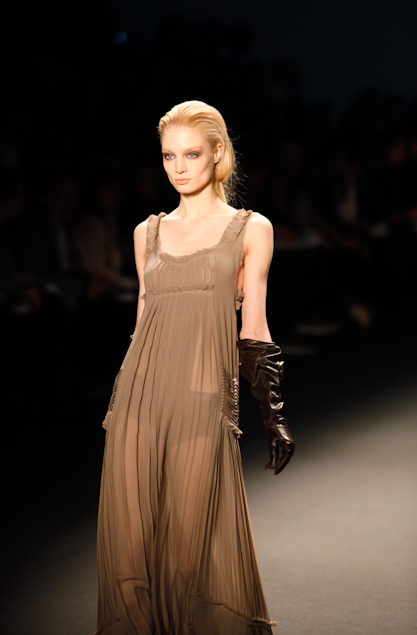 Hilary Swank at the 17th Annual Screen Actors Guild Awards Hair by Robert Vetica and Moroccanoil. "Outstanding Performance by a Female Actor in a Leading Role" nominee and award presenter Hilary Swank wore her hair long, loose and sexy for the SAG Awards tonight. Wearing a soft, champagne-colored Versace gown, she looked red-carpet perfect.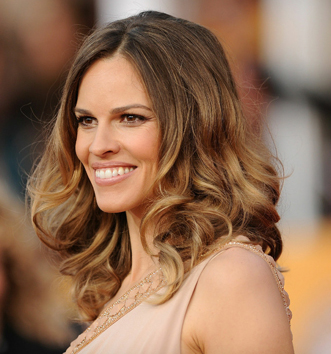 Hilary Swank hair by Robert Vetica and Moroccanoil
The "Conviction" actress' gorgeous hair was designed by leading Hollywood stylist, Robert Vetica, who was inspired by the sensual lines of her dress and the hairstyles of iconic 60's Hollywood siren and Bond girl, Ursula Andress.
2011 Golden Globes nominee for Best Performance by an Actress in a Supporting Role in a Feature Film, Amy Adams, looked radiant as she wore a gorgeous strapless Marchesa gown with her fabulous red hair worn in a flowing, back-braided updo created by celebrity stylist Laini Reeves.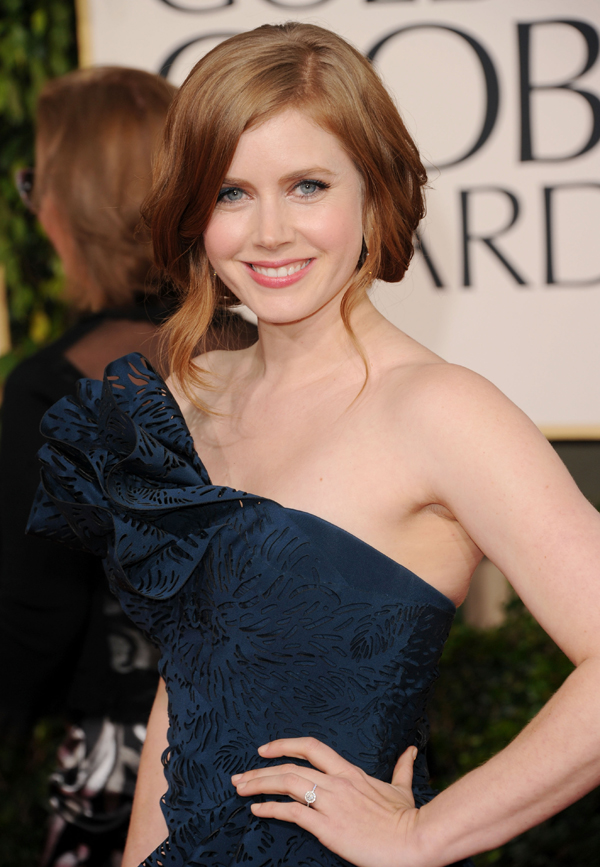 Laini Reeves explains how the look was styled:
"I wanted to create a soft 20's mood, but in a different, modern way. We started by changing the texture of her hair before we went on to loosely braid and roll the chignon. Amy has a beautiful, full and thick head of hair and a nice, natural wave. We started by washing her hairwith Moroccanoil® Moisture Repair Shampoo which infuses the hairwith argan oil, keratins, fatty acids, and proteins. Combined with Moroccanoil® Moisture Repair Conditioner, it immediately controlled the hair and left itsmoother, frizz free and easy to manage and style.
2011 Golden Globe Award Presenter Scarlett Johansson looked extraordinary on the red carpet tonight. Wearing a sparkling blush-colored Elie Saab gown, her dazzling, sculpted updo was softly glamourous in a new, very modern way.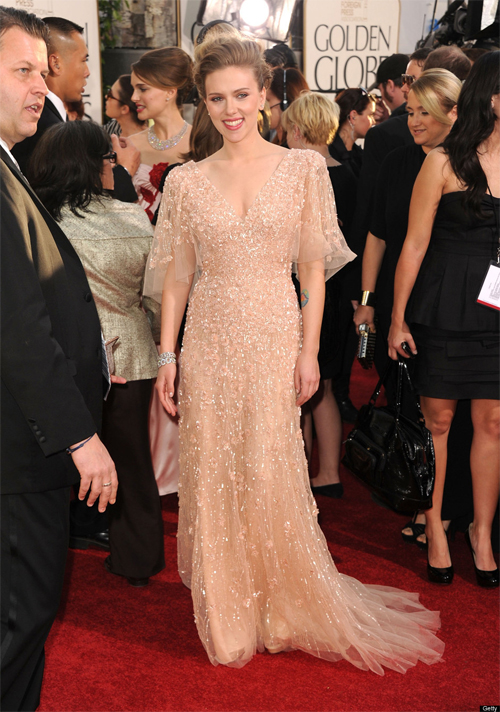 Scarlett Johansson Hairstyle at the 2011 Golden Globes hair products by Moroccanoil
Influenced by glamour of 40's Hollywood and the sophisticated photographs of 40's and 50's fashion photographer, Lillian Bassman, Vetica took red carpet hair to elegant new heights. Inspired by the flowing lightness of Scarlett Johansson's gown, Vetica created an updo that blended softness, movement, direction and a new sculptural shape.
Natalie Portman's hair. Natalie Portman looked like a classic Hollywood star tonight at the New York Premiere of her new film "Black Swan." Wearing a glamorous black Dior off the shoulder dress and gorgeous, full-bodied wavy hair, she dazzled the red carpet.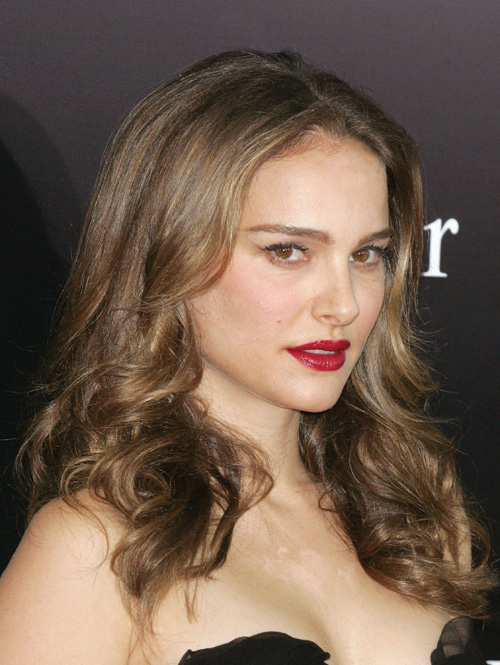 Natalie Portman. Photo credit: Jim Spellman for Getty Images®
The look was designed by her stylist John D., who, though tempted to do an elegant updo, succumbed to the glamour of the dress and created a look that accented the its sense of drama and sensuous silhouette.
"The hair was beautiful, and helped balance the total look," said John D.,