Hilary Swank at the 17th Annual Screen Actors Guild Awards Hair by Robert Vetica and Moroccanoil. "Outstanding Performance by a Female Actor in a Leading Role" nominee and award presenter Hilary Swank wore her hair long, loose and sexy for the SAG Awards tonight. Wearing a soft, champagne-colored Versace gown, she looked red-carpet perfect.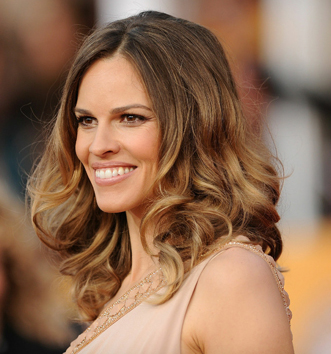 Hilary Swank hair by Robert Vetica and Moroccanoil
The "Conviction" actress' gorgeous hair was designed by leading Hollywood stylist, Robert Vetica, who was inspired by the sensual lines of her dress and the hairstyles of iconic 60's Hollywood siren and Bond girl, Ursula Andress.
Vetica shared how he created the beautiful look:
"Istarted by blow-drying Hilary's hair using Moroccanoil® Treatment to instantly condition, bring any dry ends back to life and make her hair easier to style. It also gave the hair a brilliant, natural-looking shine.
After the hair was dried, I did a full head set by curling 1" by 1" sections of hair, starting at the nape of the neck, then pinned to the head. These were real,full base curls, not spiral curls. I continued section by section until I reached the crown, then finished the sides and top of the head. When I finished, it had the look of a 60's roller set, which could have been done using hot rollers.
I gave the set a good spray of Moroccanoil® Luminous Hairspray and let it sit for 20 minutes, to insure a good, healthy-looking set.
Tofinish, I removed the set and gave it a good brushing. Next, I took a smallamount of Moroccanoil® Hydrating Styling Cream to give the hair a touch of weight and ensure body.
I then gave the hair a good backcombing at the root and sprayed again. I brushed out most of the backcombing except at the crown, running my fingers through thehair to loosen it up. I then backcombed a bit more at the crown, gave it another spray and lightly brushed over the top.
Products used to achieve Hilary Swank's look:
Moroccanoil® Treatment, a proprietary argan oil-infused formula, is exclusively designed to give hair a natural-looking silky, lustrous shine and a frizz- and static-free finish. It strengthens, conditions and revitalizes hair while significantlyreducing drying time. (MSRP: $41.80 / 100ml)
Moroccanoil® Luminous Hairspray is argan oil-infused for lasting, healthy and natural-looking hold with shine. (MSRP: $21.00 / 330ml)
Moroccanoil® Hydrating Styling Cream gives beautifully hydrating and natural-looking hold while eliminating frizz, and adding definition and shine. (MSRP: $31.80 / 300ml)
The originator and industry leader of luxury, professional argan oil-infused styling, finishing and conditioning products for the hair, the Moroccanoil®brand is world renowned for its proprietary lightweight, instantly absorbedformulas and unparalleled results.
Moroccanoil's argan oil is harvested under a free trade program, which provides substantial socio-economic support to thousands of families in the Southwest region of Morocco.
Moroccanoil® products are sold exclusively in fine salons. Consumers can find the nearest salon by visiting http://www.moroccanoil.com.