All Posts Tagged With: "Versace"
Celebrity makeup artist Monika Blunder worked with Megan Fox for Ferrari's 60th Anniversary in the USA Gala on Saturday, October 11th in Beverly Hills, CA.
BEAUTY INSPIRATION: "Megan wore a red Versace dress and I matched the lip color exactly to the dress. The look was effortless and chic. On her eyes I did hardly anything, just a very thin black eyeliner and a pop of shimmer in the inner corners of her eyes."
How to get Megan Fox's makeup look
"I started off by applying Cle de Peau Silk Cream Foundation in 030 with a foundation brush all over her skin. For a bit of coverage under her eyes, I used NARS Radiant Creamy Concealer in Custard.
Drawing inspiration from the 1980's, Redken Creative Consultant Guido created a sporty-chic hairstyle for Versace's Spring/Summer 2015 show in Milan. Using guts 10 volumizing spray-foam mousse to create height in the front and forceful 23 super strength finishing spray for the perfect amount of control and shine, Guido achieved a minimal hairstyle that made a massive statement on the runway.
"The Versace girl is a bit sporty this season, but still very modern and glamorous. I created this minimal and very natural hairstyle to enhance this feeling. I created volume in the front with guts 10, and left the back natural to get that beautiful, modern texture. Then I raked my fingers back through the hair, using forceful 23 to create those distinct lines and hold for a boyish, sporty vibe that's still quite glamorous with the height in the front and shiny finish."-Guido, Redken Creative Consultant
Kate Hudson looked super stunning at the Venice Film Festival 2012. She looked perfect. Everything from hair and makeup down to her Versace gown. TM & Marta Walsh has the scoop on how to get Kate's hairdo at the evening premiere of "The Reluctant Fundamentalist".
KATE HUDSON'S DRESS at the evening premiere of "The Reluctant Fundamentalist"
Hairstylist Giannandrea created Reese Witherspoon's hairstyle for Cannes Film Festival 2012. "The inspiration For Reese Witherspoon hair style for premiere of Mud in Cannes 2012 was true classic elegance. A modern take on the French twist."
How to get Reese Witherspoon's hairstyle
"My idea was to create a modern version of the French twist for Reese, a Versace sapphire Goddess!
Redken Creative Consultant Guido cut each models' bangs into a very extreme, short fringe that hit mid-forehead for the Fall 2012 Versace show in Milan yesterday, Feb 24, 2012.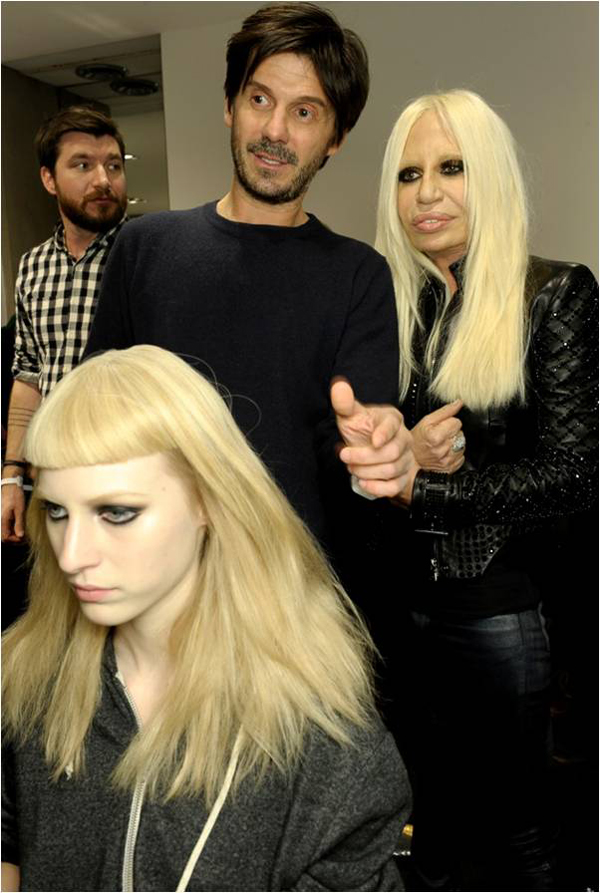 Guido and Donatella Versace backstage at Versace Fall 2012 Fashion Show in Milan
Versace Fall 2012
"The Versace girl is very rock 'n' roll, very cool and very Donatella. It's a very strong look that compliments the collection. It's a shaggy sort of texture which makes it a younger look, and a lot less blown out than we've seen in past seasons."–Guido, Redken Creative Consultant
Gita Bass for Votre Vu created Best Actress in a Comedy Nominee Tina Fey's classic look for the 2012 SAG Awards tonight, using Votre Vu Skincare and Makeup.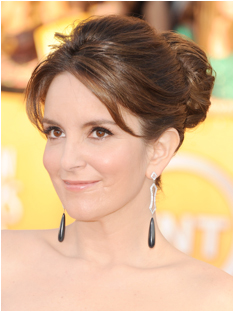 Tina Fey's makeup
"We were inspired by Tina's black strapless Versace gown. We wanted her look to be equally classic and sexy," says Gita.
The Versace NEW Yellow Diamond perfume package is very Versace and very cool. The perfume itself is bright, fruity floral, with woody musk dry down. I can see myself taking it with me on a sunny vacation. I love everything about the bottle and packaging and the perfume is daytime for me and wearable.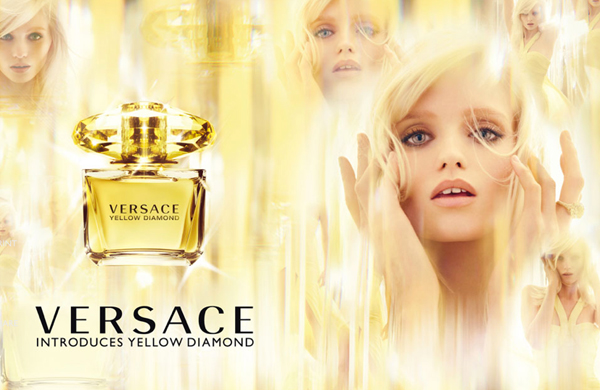 Yellow Diamond perfume by Versace
"The yellow colour recalls the brightness, sensuality and great energy of this fragrance, able to depict and emphasize charm and femininity of a woman"-Donatella Versace
Redken Creative Consultant Guido created luscious blow-outs for the Versace show today in Milan. "For Versace, we've created a big, bouncy blowout that has a light feel. It's gorgeous and rich like a real Versace woman, and works really nicely with the clothing."–Guido, Redken Creative Consultant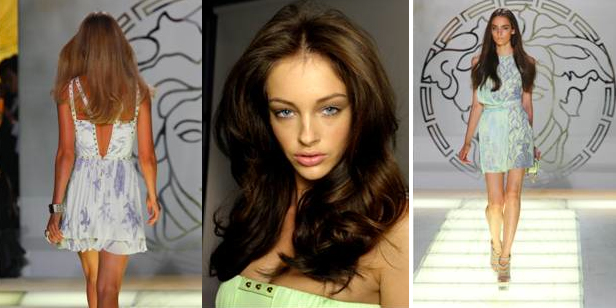 Versace Spring 2012: Milan Fashion Week
Redken Products Used:
Continuing Milan Fashion Week, Redken Creative Consultant Guido created an effortlessly sophisticated low airy ponytail, nodding to the 60s, at the Gianfranco Ferre show. "This is an ultra flattering look on any woman in an almost sporty kind of way. When you tease and create height at the crown it throws the face forward."

Redken Products
satinwear 02 ultimate blow dry lotion
shine flash 02 glistening mist
Create the Look
Hilary Swank at the 17th Annual Screen Actors Guild Awards Hair by Robert Vetica and Moroccanoil. "Outstanding Performance by a Female Actor in a Leading Role" nominee and award presenter Hilary Swank wore her hair long, loose and sexy for the SAG Awards tonight. Wearing a soft, champagne-colored Versace gown, she looked red-carpet perfect.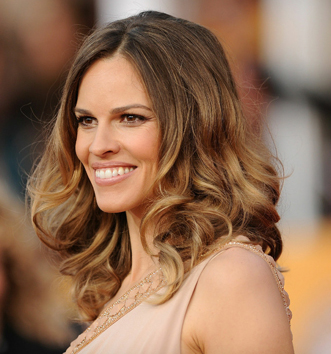 Hilary Swank hair by Robert Vetica and Moroccanoil
The "Conviction" actress' gorgeous hair was designed by leading Hollywood stylist, Robert Vetica, who was inspired by the sensual lines of her dress and the hairstyles of iconic 60's Hollywood siren and Bond girl, Ursula Andress.