All Posts Tagged With: "Kerastase"
Rebecca Minkoff Spring 2017 Get The Look. Hair: Giovanni Vaccaro for GLAMSQUAD using Kerastase. INSPIRATION: This season's hair is whimsical and diffused, leaving it feeling airy and effortless.
GET THE LOOK: HAIR
· Prep the hair by applying Kerastase L'incoryable Blowdry followed by Kerastase Mousse Bouffant section by section, roots to end
LOVING the Kerastase densifique bain densité Bodifying Shampoo shampoo & Gel Masque. The shampoo is the perfect combination of a clean light rinse yet gentle and hydrating to hair. I wash my hair sometimes twice to make sure I don't have build-up. The Gel Masque is light yet super hydrating especially if you have wavy and fizz-prone hair. You feel it work as soon as you apply the masque, unlike some other conditioners I had used in the past that just 'sit' on the surface of hair and do not 'penetrate' to makes hair soft. The best part is that after using kerastase Densifique my styling time has reduced significantly, rarely my hair get so silky that I even need to also cut down on styling products. Amazing.
Kérastase Lead Artist Odile Gilbert created the hairstyles at the Joseph Altuzarra Spring 2014 show.
At The Row Fall 2013 presentation, legendary hairstylist Odile Gilbert created a simple and elegant style using Kérastase products.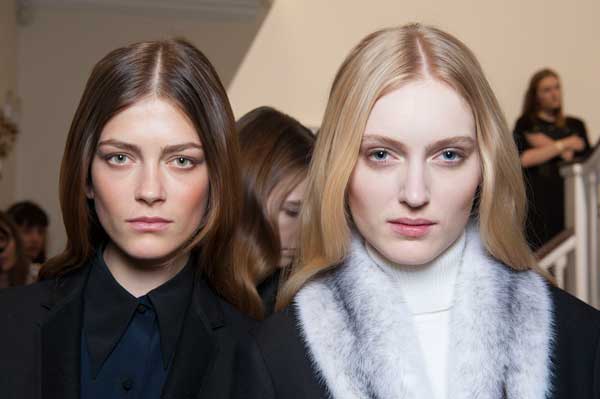 HOW TO
Overall look: Simple, Chic and Elegant Style
NARS created the look for the Thakoon runway show today. LEAD ARTIST: Diane Kendal for NARS Cosmetics. TREND: Strong brows. DESIGNER INSPIRATION: "Everything is light and transparent for the purpose of combining structure and transparency," said designer Thakoon Panichgul.
MAKEUP LOOK
On my last visit to do my color at the Elizabeth Arden Red Door Spa in Biltmore Phoenix Arizona my great colosrist David Todd recommended I get a Kerastase treatment. Let me tell you my hair needed it! It was dry when I arrived and it turned silky soft when I left.
Hairstylist Giannandrea created Reese Witherspoon's hairstyle for Cannes Film Festival 2012. "The inspiration For Reese Witherspoon hair style for premiere of Mud in Cannes 2012 was true classic elegance. A modern take on the French twist."
How to get Reese Witherspoon's hairstyle
"My idea was to create a modern version of the French twist for Reese, a Versace sapphire Goddess!
Absolutely loving the Kérastase Fibre Architecte which is a dual serum that seals and repairs very damaged lengths and split ends (like mine, ha!). Just what the doctor ordered for my hair today, it got that silkiness back to my hair. I applied on toweled dried hair and blow dried straight. It's a yes!
Kérastase Fibre Architecte hair serum
Kérastase Backstage New York Fashion Week Fall 2012.
3.1 Phillip Lim Fall 2012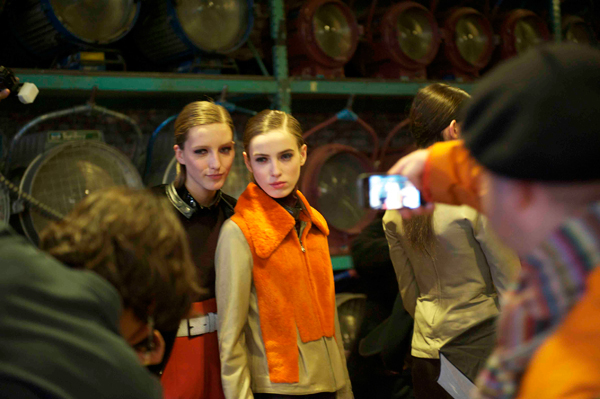 Kérastase Paris and Odile Gilbert created the hairstyles today backstage at Jason Wu Spring 2012 fashion show. The Overall look: Grace Kelly Chic Meets '90-Punk.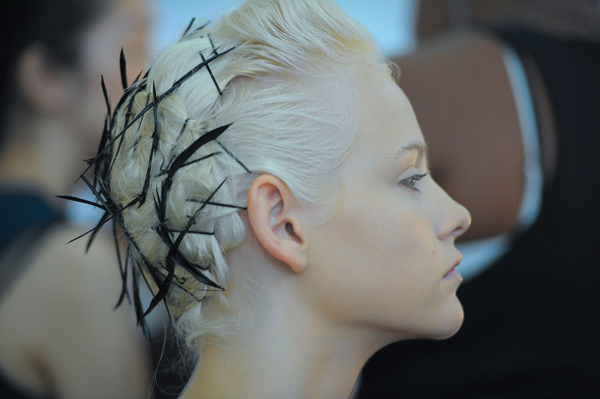 Jason Wu Spring 2012 hair by Kérastase Paris and Odile Gilbert
How To:
Use Kérastase Lotion Densitive to add thickness and texture to hair