All Posts Tagged With: "Kate Hudson"
TM has a sneak peek to the behind the scenes to Kate Hudson's commercial for new Almay Smart Shade CC Cream. Shot by filmmaker Lisa Cholodenko (The Kids Are All Right, Six Feet Under), the commercial features an intimate moment with Kate. Do you love?
Almay new CC Cream
Move over Angelina Jolie or Megan Fox because Kate Hudson is the new sexiest girl in Hollywood according to moi. Here's how Kate got the best red carpet hair & makeup !
HAIR
The 70th Annual Golden Globes sets the stage for the "Kate Hudson Look". According to celebrity hairstylist David Babaii, "I wanted to show off Kate's healthy, shiny hair in a style that emphasizes her true Hollywood beauty. As the perfect "Muse" and my inspiration, Kate is my generation's Brigitte Bardot showing off soft voluptuous hair that is touchable, glamorous and now Kate's very own signature look."
Kate Hudson looked super stunning at the Venice Film Festival 2012. She looked perfect. Everything from hair and makeup down to her Versace gown. TM & Marta Walsh has the scoop on how to get Kate's hairdo at the evening premiere of "The Reluctant Fundamentalist".
KATE HUDSON'S DRESS at the evening premiere of "The Reluctant Fundamentalist"
Kate Hudson looked radiant as she arrived at the 2012 Vanity Fair Oscar Party hosted by Graydon Carter at Sunset Tower with hair by celebrity stylist David Babaii. If you want to be a blonde like Kate, David recommends that your stylist uses IT&LY HAIRFASHION's Colorly 20/20 professional hair color to achieve a natural, healthy and shiny blonde.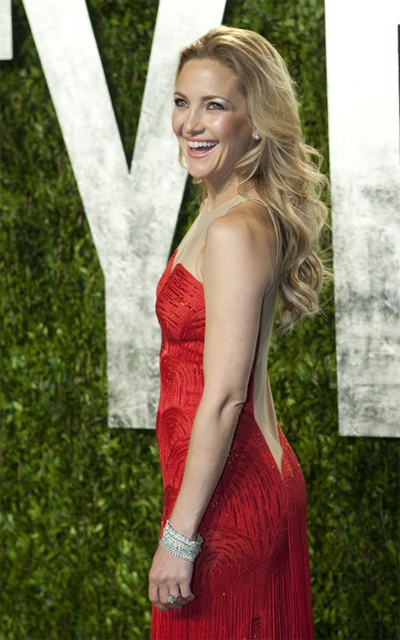 Kate Hudson Blonde Hair Oscars 2012
How To
Almay Brand Ambassador Kate Hudson attended the world premiere of her new movie, Something Borrowed, at Grauman's Chinese Theatre in Los Angeles on May 3, 2011. Marta Walsh has the scoop about Hudson's makeup.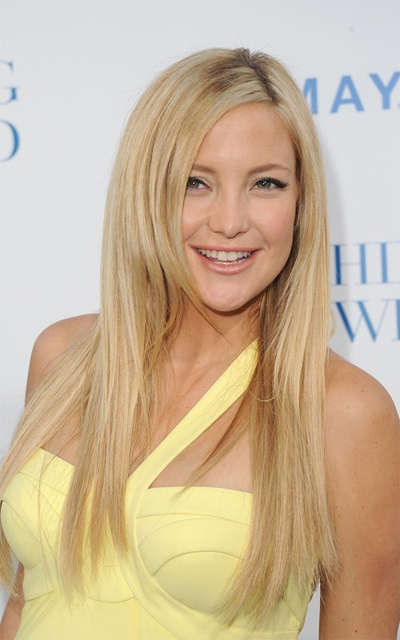 Kate complemented her stunning yellow dress with subtle yet sophisticated makeup, playing up her eyes with extra long lashes while keeping her lip and cheek neutral. To get Kate's look, Almay recommends the following products:
FACE:
Almay Smart Shade Smart Balance Foundation – Light/Medium: Smart Shade Smart Balance has smart technology –skin balancing microspheres that detect dry and oily areas and hydrate and absorb oil where needed, while instantly adjusting to match any skin tone. ($13.99)
Almay Brand Ambassador Kate Hudson attended the 2011 Costume Institute Gala at the Metropolitan Museum of Art in New York City on Monday, May 2nd, 2011. This year's MET Ball, themed "Alexander McQueen: Savage Beauty," was hosted by Anna Wintour, Stella McCartney and Colin Firth, with Francois-Henri Pinault and Salma Hayek as honorary co-chairs. The annual event, dubbed "The Fashion Oscars," attracts the most stylish and influential in the entertainment and fashion industries.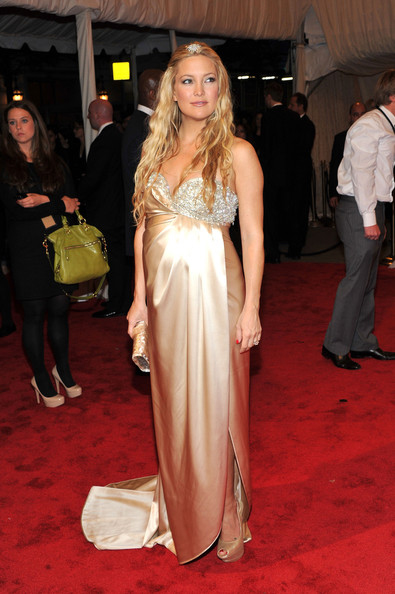 Kate Hudson At The 2011 Met Gala dress by Stella McCartney
Kate Hudson complemented her dazzling dress with smoldering eyes and a subtle lip at this year's annual MET Ball. To get Kate's look, Almay recommends the following products:
FACE:
Almay Wake-up Hydrating Makeup: Almay's wake-up makeup instantly hydrates and soothes to keep skin looking well-rested and feeling energized all day. ($12.99)
Kate Hudson is carrying a CHANEL handbag on the set of her upcoming movie Something Borrowed. Kate is carrying a grey quilted bag, style A48016 Y04624 44203, from the 2010 Spring/Summer Collection currently available in all CHANEL Boutiques.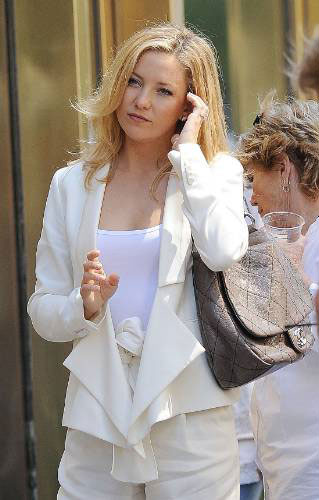 ALMAY's newest Global Brand Ambassador, Kate Hudson, looked fabulous at the ALMAY concert to celebrate the Rainforest Fund's 21st Birthday. The Makeup Look: Celebrity makeup artist Leslie Lopez created an effortless look that was inspired by Kate Hudson's radiant and elegant beauty.
How To Makeup Tutorial:
1. Apply ALMAY smart shade makeup with your fingers and blend into the skin for an even tone
Revlon, Inc. has announced that its Almay brand has signed one of Hollywood's hottest stars, Kate Hudson, as its newest Global Brand Ambassador.
"Almay is known for its fresh, effortless approach to beauty", said Kate Hudson. "I share that philosophy and I'm honored to be partnering with a brand that believes cosmetics should bring out the natural beauty inside every woman. At the end of the day we all want to have fun and feel beautiful – that's what Almay is all about."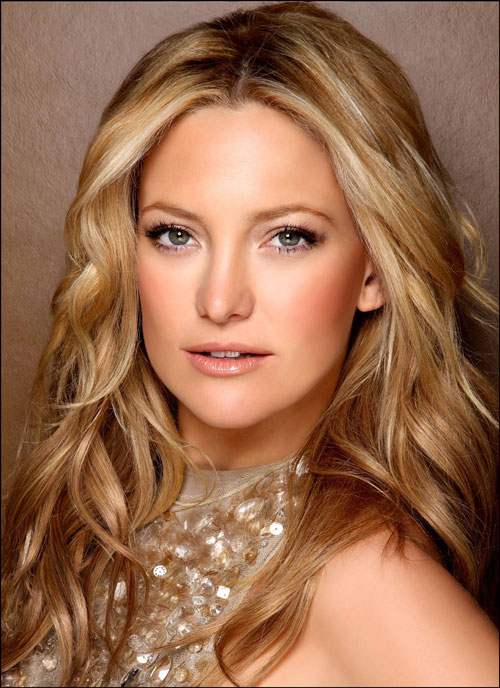 In her role as Global Brand Ambassador for Almay, Kate will be the face of new and existing Almay products and will appear in global multi-media campaigns that include television, print, in-store and internet placements. Kate's first television and print campaign for the brand is set to debut later this year.
David Babaii for Living Proof Full styles Kate Hudson's hair for the 2010 MET Costume Institute Gala. The Hairstyle & Inspiration: A day spent sun-bathing in San Tropez, elegant but a little flirty, not too coiffed to match her chic Stella McCarthy dress.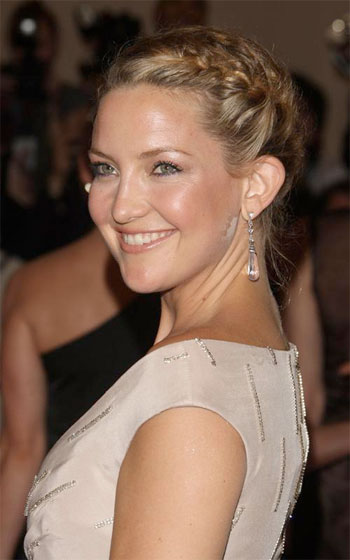 How to get the look: Hair Tutorial
First, David Babaii used Living Proof Full to give Kate Hudson's fine, limp blonde hair a thicker feel. He rubbed the product between his fingers to activate the ingredients and applied from the product root to shaft. He rough dried the entire head to add additional volume.