All Posts Tagged With: "Living Proof"
KIM KARDASHIAN. HAIR BY: CHRIS McMILLAN, LIVING PROOF CELEBRITY HAIRSTYLIST.
Kim Kardashian 2013 MTV Movie Awards
INSPIRATION: "We wanted a really simple, chic blow out. Kim's been trying to grow her bangs out, so I created a deep part to pull the bangs to the side. We kept the blowout sleek with a little bit of texture."
TIPS/TECHNIQUE: "I used Living Proof Prime Style Extender while Kim's hair was still damp so that her style would last all night. Then I blew it dry with a round brush to create the sophisticated blow out. I created a very deep part to tuck her bangs to the side. I used Hold Flexible Hairspray throughout her hair to create texture and a piecy look. I also used it to keep the bangs tucked away."
PRODUCTS: PRIME STYLE EXTENDER ($20), HOLD FLEXIBLE HAIRSPRAY ($24)
DRESS: YVES SAINT LAURENT
RETAILERS: LIVINGPROOF.COM, SEPHORA, SEPHORA.COM, ULTA, NORDSTROM
Jennifer Aniston Becomes Co-Owner in Innovative, Award Winning Beauty Company 'Living Proof' Founded by World-renowned Biotech and Medical Scientists.
Cambridge, MA – October 11, 2012 – Living Proof announced today it is joining creative forces with Jennifer Aniston as she becomes a co-owner and hair care spokesperson in the ground-breaking company. Living Proof was founded by Dr. Robert Langer, Institute Professor of MIT and by Jon Flint and Amir Nashat of Polaris Venture Partners, a leading venture capital firm that supports the translation of scientific discoveries into meaningful products. Living Proof has distinguished itself by attracting world class scientists and utilizing advanced scientific technologies that originated from MIT to solve women's toughest beauty problems.
NEW YORK, NY (August 29, 2011) – Living Proof Full Thickening Cream has been selected Best Volumizing Styling Product by QVC viewers in the multimedia retailer's third annual Customer Choice Beauty Awards. Nearly 30,000 customers voted for their favorite brands and products over a two-week period and the winners were revealed during two live broadcasts on August 27. Customers chose favorites from among many prestige beauty brands in more than 25 categories, including cosmetics, hair care and skin care.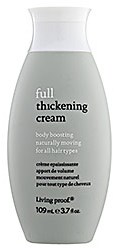 Living Proof Full Kit which includes full shampoo, conditioner & full thickening cream are my stars today x I don't normally fall for hair thickening products because my hair is naturally very full. However, even someone like myself needs bigger than life full hair sometimes so I do still look out for the good ones. So far, the Living Proof Kit is the winner.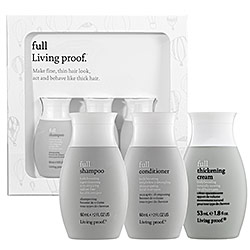 Why Living Proof full shampoo, conditioner & full thickening cream work for me? Well, most hair thickening products make my hair sticky and give me that 80s tease look which quite frankly I can't stand. My hair get so sticky and dry that blow drying and styling becomes very frustrating. A complete deal breaker.
Summer Hair: Living Proof Hold Hairspray is now available just in time for summer! say goodbye to frizzy hair.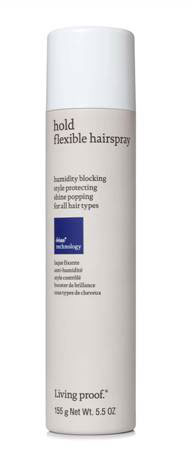 Hold Hairspray is a reinvention of traditional hairspray with flexible hold and ultimate control, plus exclusive humidity-blocking technology PolyfluoroEster.
David Babaii for Living Proof Full styles Kate Hudson's hair for the 2010 MET Costume Institute Gala. The Hairstyle & Inspiration: A day spent sun-bathing in San Tropez, elegant but a little flirty, not too coiffed to match her chic Stella McCarthy dress.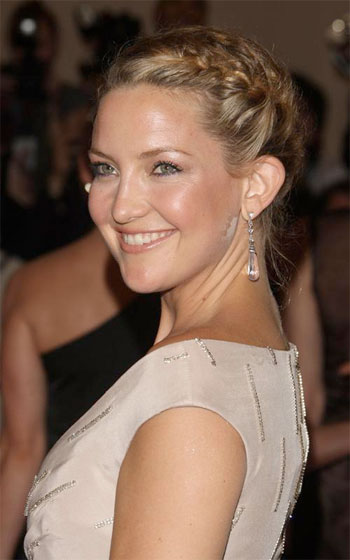 How to get the look: Hair Tutorial
First, David Babaii used Living Proof Full to give Kate Hudson's fine, limp blonde hair a thicker feel. He rubbed the product between his fingers to activate the ingredients and applied from the product root to shaft. He rough dried the entire head to add additional volume.
Living Proof, the beauty company that revolutionized the industry with No Frizz and Full Thickening Cream, is launching its latest innovation just in time for summer 2010! New Hold Hairspray is a reinvention of traditional hairspray with flexible hold and ultimate control, plus exclusive humidity-blocking technology PolyfluoroEster. Hold Hairspray provides all day protection for everyday styles, yet allows for movement, softness and incredible shine.

Living Proof introduces the latest innovation in the battle against frizz: No Frizz Restyling Spray. A new style reviver that detangles, reduces static and adds shine, No Frizz Restyling Spray helps restyle hair with light conditioning and hold. Instead of rewashing and styling from scratch each day, this one weightless formula helps to refresh and reclaim gorgeous hair.

No Frizz Restyling Spray is available exclusively at QVC.com.
Oscars 2010 Hair Trends: Big Hair like Cameron Diaz. Get the look with full thickening cream by Living Proof.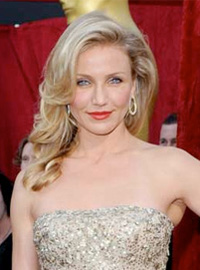 The star turnout on the red carpet was big, and the hair was even bigger at the 82nd Annual Academy Awards show Sunday night. Romantic, natural tresses with lots texture and movement are speaking volumes this awards season. Living Proof celebrity stylist, Ward Stegerhoek, gives tips on how to use full thickening cream, and get the look at home. Full, the new breakthrough technology product that gives body and movement helps to create large, loose waves that will enhance any modern-chic style with a sexy, carefree, look.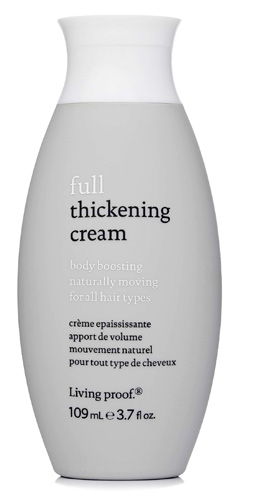 Hairstyle Tips: How to get the big hair look
Step 1: When using full thickening cream, start with clean, damp hair. Squeeze a nickel-sized amount of full onto your fingertip. Once you dispense the correct amount, rub full between your hands. Ward Stegerhoek reminds us that full is designed to provide thickness, not lift. So if you want to use a root lifter, apply that first.
I love everything for my hair from Living Proof: their shampoo, conditioner, styling cream wave shaping , styling cream straight making. Their new product addition is: Living Proof Full Thickening Cream. I haven't tried it yet but I'm planning to! I will let you know all about my experience.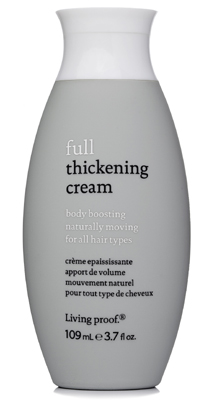 Meanwhile here are some details about Living Proof Full Thickening Cream:
THE "PERFECT" PROBLEM
Flat, limp, thin, or lifeless hair is a significant concern for many women and is the result of each strand being so smooth and fine that it lies flat, one strand on top of the other. The beauty industry has traditionally tried to add the appearance of volume by puffing up the hair with various sprays (glues, really), or holding the hair into specific positions with various brittle, "glassy" polymers.