Living Proof Full Kit which includes full shampoo, conditioner & full thickening cream are my stars today x I don't normally fall for hair thickening products because my hair is naturally very full. However, even someone like myself needs bigger than life full hair sometimes so I do still look out for the good ones. So far, the Living Proof Kit is the winner.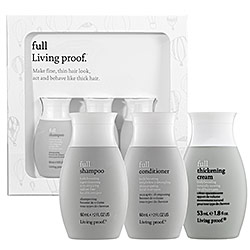 Why Living Proof full shampoo, conditioner & full thickening cream work for me? Well, most hair thickening products make my hair sticky and give me that 80s tease look which quite frankly I can't stand. My hair get so sticky and dry that blow drying and styling becomes very frustrating. A complete deal breaker.
These hair thickening products by Living Proof actually make my hair soft in the shower. Also the shampoo lathers well and actually cleanse my hair without weighting it down. Think cleansing, hydrating and full hair all is one is pretty much unbeatable combination. Marta Walsh is highly impressed.
via sephora.com:
Full Kit ($34 Value) An amazing (Marta Walsh agrees) three-step kit for thicker, fuller hair.
What it does:
These three products work together to create beautiful, natural fullness and touchable body that lasts throughout the day. The Full Thickening Cream contains PolyBetaAminoEster-1, a revolutionary ingredient that allows fine, thin hair to act, look, and feel like thick, full hair. The Full Shampoo and Full Conditioner weightlessly cleanse and moisturize each strand, properly preparing them for fullness—without added sulfates, silicones, or oils.
What it is formulated WITHOUT:
– Parabens
– Sulfates

Living Proof full shampoo, conditioner & full thickening cream in real life