All Posts Tagged With: "Flat limp thin hair"
I love everything for my hair from Living Proof: their shampoo, conditioner, styling cream wave shaping , styling cream straight making. Their new product addition is: Living Proof Full Thickening Cream. I haven't tried it yet but I'm planning to! I will let you know all about my experience.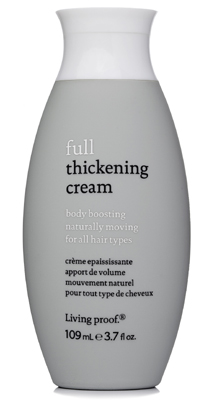 Meanwhile here are some details about Living Proof Full Thickening Cream:
THE "PERFECT" PROBLEM
Flat, limp, thin, or lifeless hair is a significant concern for many women and is the result of each strand being so smooth and fine that it lies flat, one strand on top of the other. The beauty industry has traditionally tried to add the appearance of volume by puffing up the hair with various sprays (glues, really), or holding the hair into specific positions with various brittle, "glassy" polymers.