All Posts Tagged With: "thin hair"
Suffering from thinning hair? NIOXIN the leader in professional scalp treatment has a 3-part hair & scalp systems (8 in total) to bring back the full hair you long for (pun intended).
"There are several lifestyle triggers that can contribute to thin looking hair, no matter how old you are," says dermatologist Dr. Valerie Callander. "Chemical treatments and daily styling can also lead to hair breakage and thin looking hair. If you want thicker, fuller looking hair, visit NIOXIN salon and speak with your stylist for expert advice you can use."
Introducing Peter Lamas the hairdresser to the stars. Peter was Jackie O's hairdresser for years and has worked with everyone from Diana Ross to Kate Winslet. Needless to say, I was very curious to try some products of his from his hair care line. And of course, because I'm a beauty addict.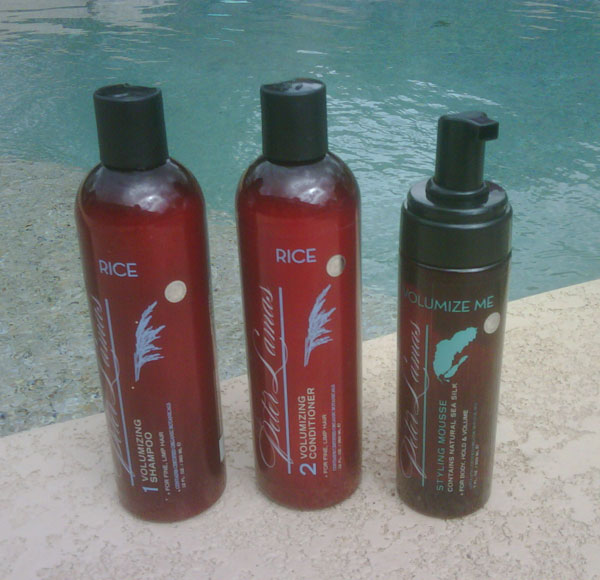 I put the Peter Lamas RICE Volumizing Shampoo and conditioner (formulated with rice protein nature's thickening and volumzing agen and with certifed organic botanicals, vitamins and amino acids) to the test this morning. I love the packaging. Kind of an understated feature, I know, but sometime products can be great but when they are not user friendly or attractive to the eye it can be a deal breaker. The packaging was straight forward yet it had a quality feel to it. Then I really loved the smell. Not too sweet and not too fresh and poky. A smell that will make you want to smell your hair all day. I was a bit nervous to try the volumizing shampoo and conditioner because I was expecting to get super huge, dry, and tough to control hair which I sometimes get from volumizing hair products. In addition I already have naturally super voluminous hair (I know, tough life LOL).
Jonathan Product is launching in April 2010 the INFINITE VOLUME collection including Shampoo, Conditioner and Thickening Foam.

L to R: Jonathan Product INFINITE VOLUME Shampoo ($20), Jonathan Product INFINITE VOLUME Conditioner ($22), Jonathan Product INFINITE VOLUME Thickening Foam ($24)
Amanda Seyfried Oscars 2010 Hair Tutorial by Celebrity Hairstylist Sally Hershberger.
"I thought Amanda Seyfried looked amazing, so youthful and modern. There were a lot of up-dos out there that left me totally underwhelmed but Amanda was perfection!" – Sally Hershberger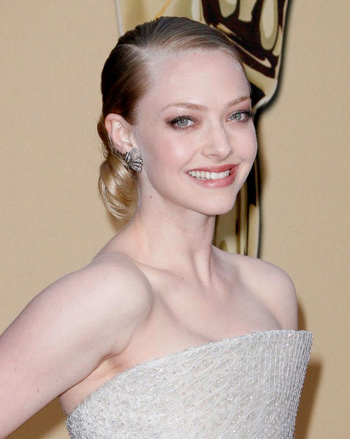 How to get Amanda Seyfried's Oscars 2010 up-do by Sally Hershberger:
1. To start, shampoo hair with Sally Hershberger's Normal to Thin Shampoo and avoid using conditioner so you can create a texture that will hold throughout the night.

Oscars 2010 Hair Trends: Big Hair like Cameron Diaz. Get the look with full thickening cream by Living Proof.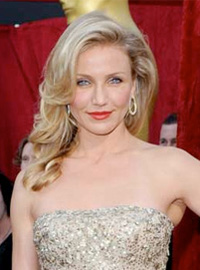 The star turnout on the red carpet was big, and the hair was even bigger at the 82nd Annual Academy Awards show Sunday night. Romantic, natural tresses with lots texture and movement are speaking volumes this awards season. Living Proof celebrity stylist, Ward Stegerhoek, gives tips on how to use full thickening cream, and get the look at home. Full, the new breakthrough technology product that gives body and movement helps to create large, loose waves that will enhance any modern-chic style with a sexy, carefree, look.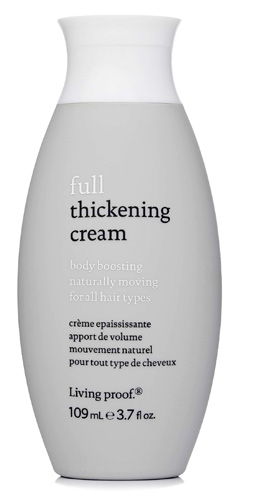 Hairstyle Tips: How to get the big hair look
Step 1: When using full thickening cream, start with clean, damp hair. Squeeze a nickel-sized amount of full onto your fingertip. Once you dispense the correct amount, rub full between your hands. Ward Stegerhoek reminds us that full is designed to provide thickness, not lift. So if you want to use a root lifter, apply that first.
Milan Fashion Week. Show: Gucci Fall 2010. Hair by John Frieda hair care professionals . The Look: Voluminous Hairstyle. Straight silky hair without comprising volume. Say goodbye to flat boring hair!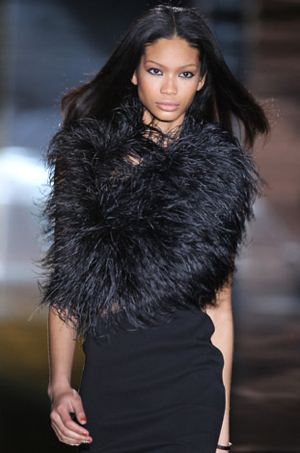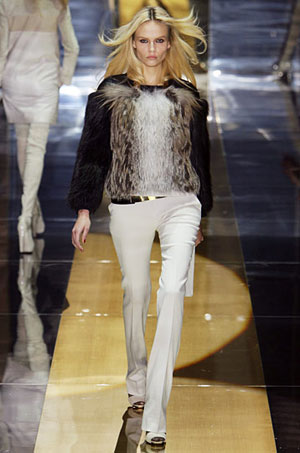 Get The Runway Look: To get this bouncy look, hairstylist Luigi Murenu worked John Frieda Luxurious Volume Mousse through damp hair, then blew it dry with a round brush. He then wrapped the hair in Velcro rollers ("Velcro rollers are back," he told us. "They give the hair that natural softness"), and then messed up each models' hair a little bit just before she hit the runway. Read Full Article in allure.com

It's been a long but fun beautiful year here at Talking Makeup. I've tried many beauty products and fell in love 100 plus times. Here is the list of my favorite hair products for 2009! I really hope you all enjoy "The List" and love them as much as I do:)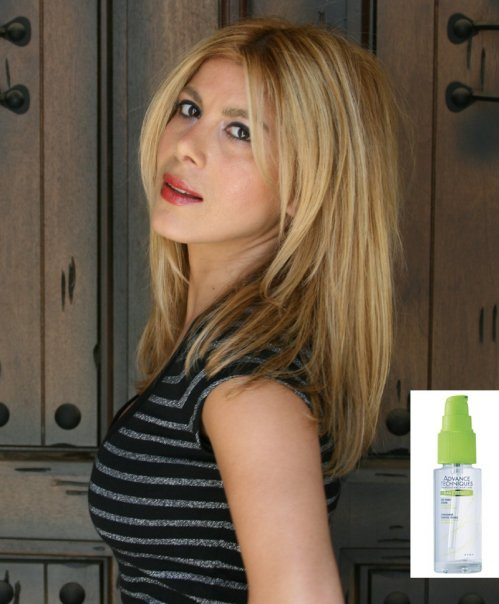 Marta Walsh is having a great hair day thanks to Avon Advanced Techniques Dry Ends Serum:)
Shampoo & Conditioner
For Blonde Hair:
1. Pantene highlighting expressions
2. John Frieda Collection sheer blonde
3. Redken Blonde Glam
Frizzy hair, dry hair, color treated hair:
1. Pantene Smooth Vitality
2. Pureology supersmooth and Pureology hydrate
3. Living proof no frizz
4. Paul Labrecque Repair
5. Moroccanoil moisture repair
6. L'Oreal Professionnel Paris vitamino color
7. Pantene Pro V Restoratives Frizz Control
8. L'Oreal EverPure Moisture
9. Leonor Greyl nourishing shampoo for long and dry hair
Celebrity hair watch: Rihanna Got New Blonde Highlights.
Rihanna seems to not be afraid to try out trends straight off the runways. Rihanna's very short haircut now gets blonde highlights! It reminds me of the 80's punk look (George Michael "Wake Me Up Before You GO GO"?). I've seen the 80's inspired look and hairstyles making a comeback backstage at Betsey Johnson Spring 2010, during New York Fashion Week. With 80's classic music hits playing in the background, I must add. Loved it!!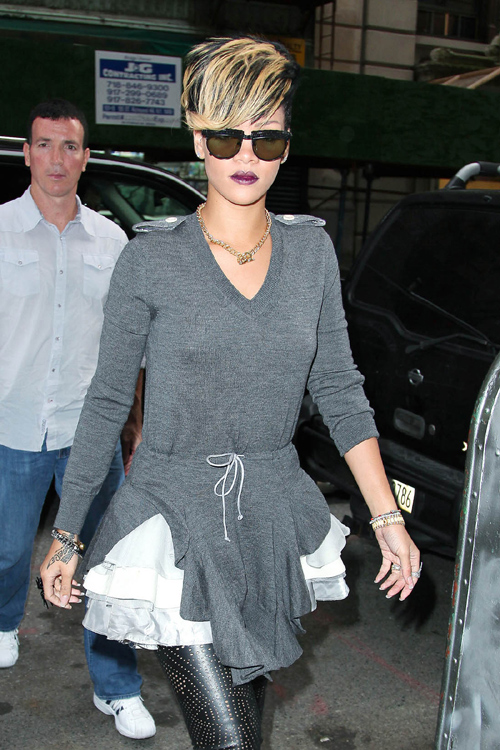 Rihanna is also sporting a fall makeup trend: dark purple lips.
To get Rihanna's dark purple inspired lips try MAC Mattene Lipstick in Night Violet. Shade description: Deep purple grape (Matte).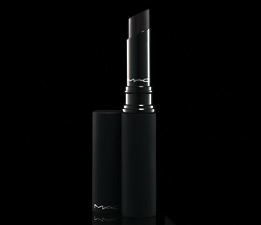 To get Rihanna's weightless volume and 'guts' to hair try: Aerate 08 bodifying cream-mousse by Redken. This new mousse was a huge hit backstage during New York Fashion Week Spring 2010 at shows like: Badgley Mischka and Betsey Johnson. I've been using this mousse myself for the past week, and it works amazing to tame my very wavy frizz-prone hair, air dried or blow dried. According to Redken's lead hairstylist backstage Peter Gray: many people afraid of a mousse as a styling product because all they think is the 80's and that big hair. But in his opinion, mousse was the best thing invented for hair. He also said that most people afraid of styling products which shouldn't be the case. Styling products are here to help you get the hairstyle you want. Also it is very important to apply styling products in the right way: use the right brush to apply or the right quantity.
 BTW: Do you love Rihanna's new blonde highlights?
Image via: www.hollywoodtuna.com