All Posts Tagged With: "FHI Heat"
It's been a long but fun beautiful year here at Talking Makeup. I've tried many beauty products and fell in love 100 plus times. Here is the list of my favorite hair products for 2009! I really hope you all enjoy "The List" and love them as much as I do:)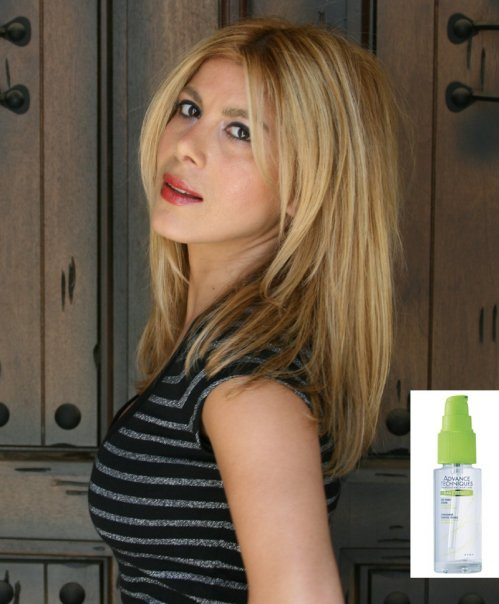 Marta Walsh is having a great hair day thanks to Avon Advanced Techniques Dry Ends Serum:)
Shampoo & Conditioner
For Blonde Hair:
1. Pantene highlighting expressions
2. John Frieda Collection sheer blonde
3. Redken Blonde Glam
Frizzy hair, dry hair, color treated hair:
1. Pantene Smooth Vitality
2. Pureology supersmooth and Pureology hydrate
3. Living proof no frizz
4. Paul Labrecque Repair
5. Moroccanoil moisture repair
6. L'Oreal Professionnel Paris vitamino color
7. Pantene Pro V Restoratives Frizz Control
8. L'Oreal EverPure Moisture
9. Leonor Greyl nourishing shampoo for long and dry hair
I've always been a fan of FHI Heat styling tools and have used the FHI Heat Platform SE 1 inch styling iron for a while now. I'm now also very much in love with the new 1 inch Go styling iron by FHI Heat (see image below). How can you not fall in love with it: it's colorful, fashion-forward, and it gets my hair beautifully straight. Also it's easily portable in travel bags.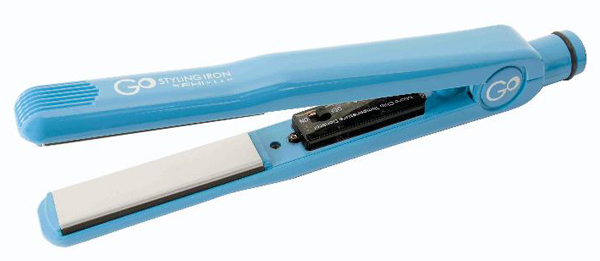 The Go styling irons feature brightly-colored, scratch-resistant, ceramic coated plates covered with a high quantity of tourmaline crystals which results in a large negative ion count. Other features include: a beveled edge for curling, flipping and twisting hair; an extra-long 9-foot swivel cord; gentle far infrared heat and low EMF; and an advanced heater with adjustable temperature control that allows the temperature to range from 140 to 410 degrees F. The Go irons also feature a special dual voltage plug that will allow you to plug the irons into various types of outlets which operate on different voltages. The iron retails for $79.99 and comes in 5 colors: Teal, Red, Pink, Black and Purple.
Today it's a good hair day here at the headquarters of Talking Makeup. My hair feels super soft and smells amazing. I like to thank Morocconoil haircare products for making my day/hair so beautiful.
These are the Morocconoil products that I used on my hair:
Moroccanoil Moisture Repair Shampoo: This shampoo is sulfate-free and gentle to hair. It doesn't lather a lot but enough.

At last night's Emmy Awards, the stars were out in full force flaunting their eye-catching styles on the red carpet. Today, Harry Josh, John Frieda International Creative Consultant, shares his styling secrets with easy-to-use tips and tricks to achieve Rose Byrne's award night look.
Last week, Harry gave Rose this ultra-chic collar bone-length cut to accentuate her bone structure and play up her youth. "Since her dress was so elegant, I wanted to create a simple and chic look for Rose," said Harry. "I knew that leaving her hair down to showcase her new cut would do just that."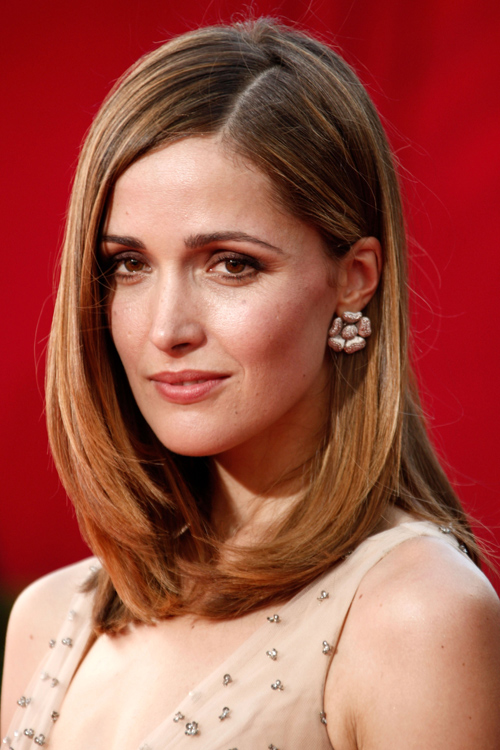 Since it was such a hot day in Los Angeles yesterday, Harry began by applying John Frieda Frizz-Ease Original Formula Hair Serum to Rose's soaking wet hair to ensure her style remained frizz-free and polished throughout the night.
 EXPERT TIP: "By infusing soaking wet hair with a dime-size portion of Frizz-Ease Serum, you can block frizz that is caused by humidity and fend off flyaways before they start, paving the way for smooth, flawless style," said Harry.
FHI Heat, the hair industry's leading innovator in ceramic, tourmaline and Nano-Fuzeion technologies, announces that its Runway styling iron has been named "Best Flat Iron" by InStyle for its "Best Beauty Buys" April 2009 issue. The magazine features the Runway in both its print issue and online at www.instyle.com . This represents the second straight year the Runway has received this distinction.
"We are deeply honored to have received this prestigious recognition once again," states David Kim, CEO of FHI Heat, Inc., global manufacturer of professional hair tools. "FHI Heat continues to receive accolades from the industry's top hairstylists working in the U.S. as well as Canada, the U.K., Europe, Australia, South Africa and Latin America, where our products are distributed. It's very rewarding to know that the Runway styling iron has been positively experienced by so many hairstylists around the world."
Watch Marta's video blog for today talking about the new FHI Do More: Earth Styling Iron from the FHI Heat DO More series.
About FHI Heat Do More Earth Styling Iron: FHI Heat Gives Back: New series of "Do More" charitable irons help create healthy hair while improving global well-being. Do More: Earth's "Green" focus is helping communities plant trees.
With your purchase of FHI Heat Earth $1 will be donated to plant trees in local communities. For every dollar received by Trees for the Future (www.treesftf.org) approximately 10 new trees will be planted.
The Do More: Earth styling iron features beautiful green, 1-inch plates with accompanying packaging, as well as FHI Heat's signature high-heat (410 degrees) with fixed temperature control, combined with proprietary Nano-Fuezion technology, a unique combination of Nano-Titanium, Nano-Titanium Dioxide and Nano-Silver particles. Together they remove bacteria, toxins and static, producing superior conditioning and shine. Additional features: 3 layers of ceramic coating, largest quantity of crushed tourmaline crystals. SRP: $ 120.
FHI Heat, Inc. announces the appointment of Phillip Wilson, formerly of PureOlogy® Serious Colour Care, as the International Creative Director of FHI Heat, a leading manufacturer of professional hair tools.
"We are so thrilled to have on board Phillip Wilson, who is world renowned for his alternative cutting technique and brings so much talent, depth of experience and passion to our company," states David Kim, CEO of FHI Heat, Inc. "I am certain that, with his contribution, FHI Heat will become the premiere global brand of professional hair tools equally known for its superb quality and strong commitment to education."
Wilson was born and raised outside of London, England, and has worked for three decades in the professional beauty industry as a stylist, salon owner, educator, creative director, and international platform artist, holding prestigious titles such as Artistic Consultant for Redken and L'Oreal USA, and most recently, Creative Director for PureOlogy®.
Here are some simple tips for maintaining hair and hair color during summer by Les Haverty, Artistic Director of FHI Heat, a manufacturer of professional hair tools.
"It's almost that time of the year again" states Les Harvey "The beach, the swimming pools, and many outdoor activities are about to cause aggravation because they can adversely affect your hair's moisture and color. These days the nice thing is that we have many helpful options to protect out investment in our hair.
Shampoo with hydrating color safe, sulfate-free shampoos: "These are usually the safest for daily use. I recommend sulfate-free shampoos because they use natural cleansers to clean the hair without using the harsh sulfate detergents that are responsible for degrading the color or low-lights you spent your hard earned money on. I would also recommend an acidifying conditioner. These are usually citrus-based conditioners which have a PH value between 3.0 and 3.7, and remember that hair's natural PH is 4.5 to 5.5. Acidifying conditioners help seal the cuticle around the color molecules on the hair shaft and allow the color to last longer."
Wash hair with tepid or lukewarm water: "…Washing with too hot water can actually open the cuticle removing the hair's natural moisture and further dry out the hair making it feel like card board or a corn stalk. It also contributes to color loss…This can be done daily (for oily scalps), but if you are one with a dry scalp, every other day is okay as well. On in between days, try using a natural bristle brush and brush the hair from scalp to ends allowing the natural oils or sebum to cover the hair…VERY IMPORTANT, make sure you shampoo immediately following swimming in the pool.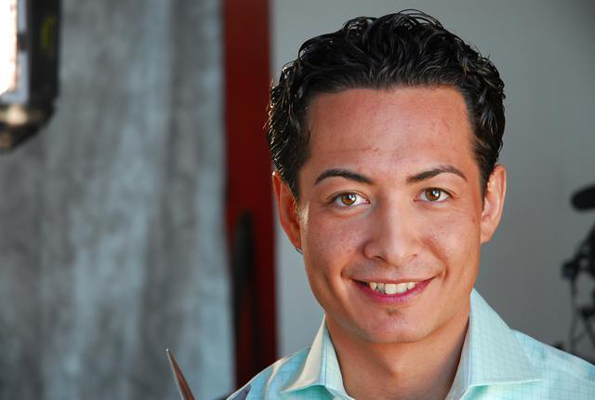 Les Haverty, Artistic Director of FHI Heat. 
The chlorine and bromine used in today's swimming pools can strip hair and discolor it. In the summer the sun can amplify these chemicals increasing the stress on the hair, leaving it very brittle. Also, wash your hair right after…ocean time. The Ocean contains massive amounts of salt, which can cause your hair color to fade as well. Add the sun's solar energy to the mix and you will start to see the bleaching effect on hair, the sun is like a bleach factory…"
Conditioning hair: "I stick with the acidifying type for daily use…I would also try a hydrating conditioner once every two weeks to maintaining the softness and condition of the hair…for extremely dry and brittle hair try keeping a comb in the shower as well…comb the conditioner through the hair. This makes sure that the hair…absorbs it."
Style hair with alcohol-free and silicon-free products: "…I would stay away from mousses, gels, and sprays containing alcohol. The non-alcoholic products work just as good, if not better because they are not damaging…For styling products I recommend serums that contain no drying silicon, but instead natural moisturizers, such as FHI' Heat's Hot Sauce which contains jojoba crystals…"
Finish hair with UV enriched sprays: "…Be careful not to apply too much as it will weight the hair down and the sun's heat may actually make the hair look greasy."
Use gentle heat styling tools featuring far-infrared heat (gentle, healthy heat), such as FHI Heat blow dryers, styling irons, and curling irons.
Les Haverty at-home tip for summer beach hair and skin spray:
-Boil 2 cups of bottled water.
-Add 4 tablespoons of SPF 40 or higher sunscreen (lotion or cream works best).
-Stir until well emulsified.
-Let cool.
-Put into a clean spray bottle with sprayer nozzle.
"I use this in my hair at the beach and also on my skin for a recharge in battling the sun's harmful UV rays…it also gives my hair that nice shiny look!"
As part of FHI Heat expansion as the leading-edge source for professional styling tools it created a new series of lightweight professional brushes. The brushes are offered in three design: Paddle, Cushion, and Round, each available in two convenient sizes.
According to Les Haverty, Artistic Director for FHI Heat, the groundbreaking Nano-Fuzeion technology first introduced to the industry by FHI Heat blow dryers and styling irons is now also utilized in the manufacturing of the new professional brush series.
"The combination of tourmaline and nano-silver in these brushes makes every blow-out a conditioning treatment, as well as a styling experience," says Haverty. "To recreate the celebrity looks we've made famous on the red carpet, the screen, and the runway, hair must be healthy and in top condition. Damaged and dry hair is porous, brittle and unresponsive, so we developed these brushes to restore hair's natural resiliency and shine as we style."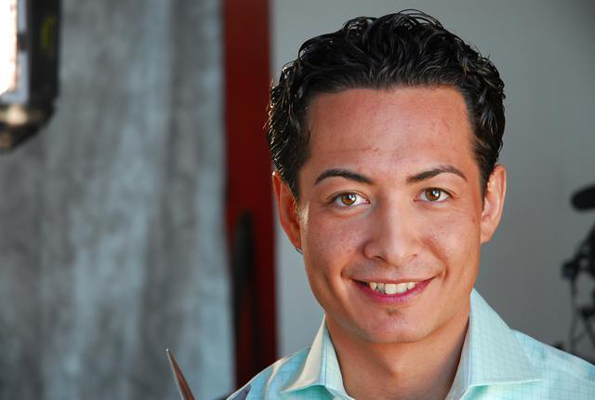 Les Haverty, Artistic Director for FHI Heat,
Haverty recommends the Paddle and Round styles for blow-drying, and the Cushion style for finishing. "I reach for the Round Brush when I want to blow dry volume into the hair, and when I want to shape a really concise design, like a flick or a tuck," he says, "I use the Paddle Brush for detangling damp or dry hair, and also when I want to create a sleeker style a bit closer to the head. The Cushion Brush has curved corners, do it's really great for maneuvering and finishing off the design with holding spray."
Each FHI Heat brush retails for $15.
Availabe at fine hair salons and beauty stores nationwide, including ULTA locations.  For more inforamtion visit: www.fhiheat.com or call 877-FHI-HEAT (877-344-4328).
There are some great new products from FHI Heat tools this season, and if you are serious about getting your hair sleek, straight and beautiful you might want to take a note.
Talking Makeup is particularly in love with the new FHI Heat Platform SE Styling Iron, it is fantastic. I am quite of a straight hair junkie, and FHI Heat Platform SE completely revolutionized my heat styling tools and gave me an 'after salon' look at home. My hair is so much softer and sleeker than before, and I'm in love!

FHI Heat Hot Sauce. 
I used FHI Heat styling iron together with FHI Heat Hot Sauce which is a moisture-based, heat activated daily conditioner. FHI Heat Hot Sauce can be also applied prior to exposure to the elements such as sun, salt, chlorine, wind, heat and dry hair. Made of jojoba crystals suspended in a cream base which dissolve into hair when heat is applied. While most finishing products are silicone-based and only coat the hair on the outside, this conditioner penetrates into hair to make it so much smoother. ($16 for 2 oz, $28 for 5 oz, $4 for a 10 ml packet).
And to section my hair I used FHI Heat new T-Rex clips which feature a patented spring design that securely holds any amount of hair and also releases hair easily and quickly. So you can say "goodbye to slip n' slide" hair clips.

FHI Heat T-Rex clips in pink.
"These intelligently-designed, versatile clips are amazing because stylists can work with greater precision and speed, and obtain more accurate results, " explains Les Haverty, Artistic Director for FHI Heat professional styling tools. "After sectioning hair, you can hold it in place securely without having hair slide away or slip out. These smooth, not snag clips have the capacity to hold the same amount of hair as a common jaw clip with the precision of a slim bill clip!"  
FHI Heat T-Rex clips are suitable for all hair types and are ideal for coloring, shaping, and heat styling as they do not melt when heat is applied. Only one clip is necessary to hold even the thickest and coarsest of hair types. ($7.50 per pack with 2 clips).

FHI Heat T-Rex clips in black.
Here are some more facts about the new limited edition FHI Heat Platform SE Styling Iron: Offers snag proof styling for the smoothest glide ever. Easy-glide plates allow for greater durability, scratch resistance, and increase smoothness.

FHI Heat Platform SE Special Edition Styling Iron.
The new FHI Heat Platform SE provides the same high-heat and performance as the regular Platform series irons, however, it's 6% lighter in weight due to advances in thermal plastic design allow for strength while withstanding high temperature. The iron's design is also narrower, making the iron appear less bulky. The iron is also less damaging to the hair due to the special ceramic composite used to coat the plates.
"People will love the snag-proof corners that prevent hair from getting caught in the plates," states Les Haverty, Artistic Director of FHI Heat. "And, when combined with the lack of friction when gliding over the hair, the irons achieves faster and more convenient performance."
Here are some additional great features of the FHI Platform SE Special Edition Styling Iron: 3 layers of ceramic coatings, A PTFC heater larger than any other on the market, 450 degrees of far-infrared heat, the largest quantity of crushed tourmaline crystals which results in the highest negative iron count, triple function of the Nano-Fuzeion technology which removes bacteria, toxins and static, producing superior conditioning and shine, ultra rapid heat, curling hair, protecting color fading, sealing cuticle to lock in moisture and repel humidity which helps eliminating frizz. Wow we're sold!
Available in 1 inch size. Price: $195.
Where to buy: Fine hair salons and beauty retailers nationwide, including ULTA, Pure Beauty and Beauty First, and also via toll-free number at 877-FHI-HEAT (877-344-4328) and at www.FHIheat.com.