All Posts Tagged With: "sulfate free"
The fist time I became aware of Privé hair care products was at the Elizabeth Arden salon reopening in Biltmore Phoenix AZ, they were on their product shelf. I finally got to try them this morning and I'm very impressed. I was worried it won't be effective in cleaning my hair as I noticed this is the case in some 'green' hair products.
Why I love Privé Concept Vert Shampoo and Conditioner?
Today it's a good hair day here at the headquarters of Talking Makeup. My hair feels super soft and smells amazing. I like to thank Morocconoil haircare products for making my day/hair so beautiful.
These are the Morocconoil products that I used on my hair:
Moroccanoil Moisture Repair Shampoo: This shampoo is sulfate-free and gentle to hair. It doesn't lather a lot but enough.

Celebrate the Holidays with a Gift from Pureology: Whether it's a stocking stuffer or a hostess gift at the next holiday party, Pureology offers the perfect gift for that special someone.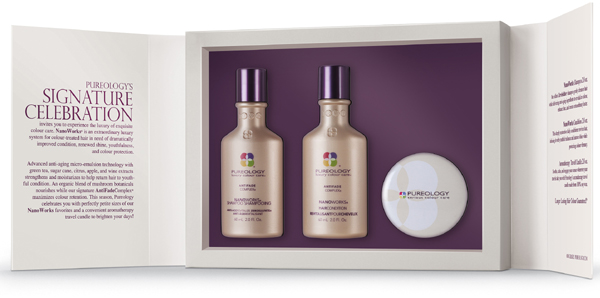 Holiday NanoWorks Hostess Gift: Present this beautiful gift box featuring Pureology's super luxury system and aromatherapy candle to the "hostess with the mostest."
NanoWorks Shampoo (2.0 oz. petite)
NanoWorks HairCondition (2.0 oz. petite)
Aromatherapy Travel Candle
Price: $28.00