All Posts Tagged With: "Talking Makeup"
IN THE PRESS. TM & Marta Walsh are featured in Desert Living Today woohoo. I wrote an article called Take 5 With Talking Makeup where each month I talk about my most favorite 5 beauty products. "Introducing Take 5 for beauty with Marta Walsh of Talking Makeup, one of America's top beauty and fashion blogs. Each month, Marta brings us her beauty tricks and top picks for looking lovely everyday.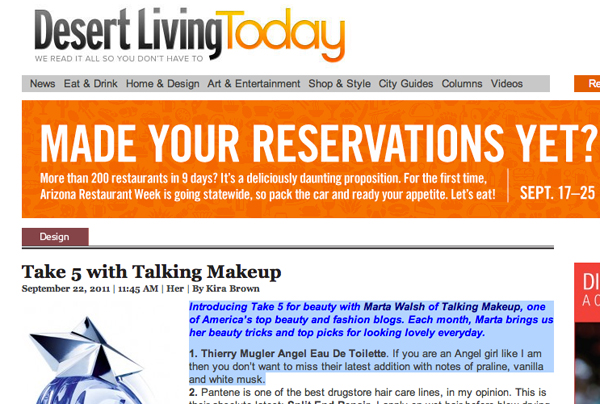 1. Thierry Mugler Angel Eau De Toilette. If you are an Angel girl like I am then you don't want to miss their latest addition with notes of praline, vanilla and white musk.
Check out what are my other must-have beauty picks for this month. Read Full Article in Desert Living Today.
Exciting news here over the headquarters of Talking Makeup.com:) TalkingMakeup With Marta Walsh is now available as an app for your iPhone! To get started CLICK HERE! <3
I contributed to an article by Kristina Mastrocola in Woman's World  Magazine titled: "You deserve the best…deodorant." My favorite deodorant choice was Dove Ultimate Visibly Smooth. The print of issue of Woman's World  Magazine hits stands on Memorial Day.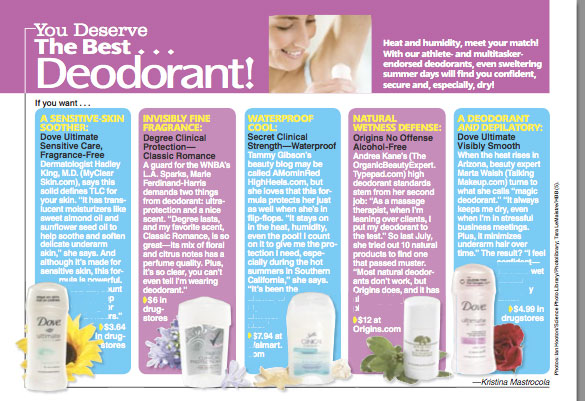 It reads: "When the heat rises in Arizona, beauty expert Marta Walsh (TalkingMakeup.com) turns to what she calls "magic deodorant." It always keeps me dry, even when I;m in stressful business meetings. Plus, it minimizes underarm hair over time. The result? "I feel confident again. No more embracing wet circles under my arms!"
Estee Lauder spokesmodel Hilary Rhoda attended the 2010 Tribeca Ball Benefiting The New York Academy of Art in New York City, April 13th, 2010. Hilary is in a Rachel Roy dress. Shoes by Manolo Blahnik. Jewelry by Isabel Marant. Handbag by Proenza Schouler. Makeup by Estee Lauder.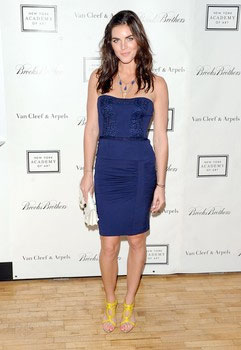 Today it's a good hair day here at the headquarters of Talking Makeup. My hair feels super soft and smells amazing. I like to thank Morocconoil haircare products for making my day/hair so beautiful.
These are the Morocconoil products that I used on my hair:
Moroccanoil Moisture Repair Shampoo: This shampoo is sulfate-free and gentle to hair. It doesn't lather a lot but enough.

Hello my lovelies! I hope you are all having a wonderful holiday season and are getting ready for the big 2010!!
I would like to wish you a very happy new year and may all your wishes come true.  Thank you SO much for making my 2009 beautiful and I'm looking forward to another great year together:) There is a lot more to come here at Talking Makeup: beauty and makeup reviews, celebrity beauty and celebrity interviews, amazing giveaways and fashion & style. And remember, when it comes to beauty do what works for you and don't be afraid to be yourself! Everyone of you is already a star all you have to do is just shine. I love you all!   xoxo Marta Walsh

Marta Walsh your Super Blogger:)
Hi guys! Hope all is well:)
Follow me, Marta Walsh, on Twitter, Please!! XOXO: www.twitter.com/TalkingMakeup for the latest beauty news, MAC makeup news, celebrity beauty inspired tips, celebrity interviews, makeup how-to, Fashion Week trend reports, and amazing giveaways!
Become friends with Marta Walsh & Talking Makeup on Facebook: http://www.facebook.com/martawalsh 
Thanks for the support guys! I love you:) muaa…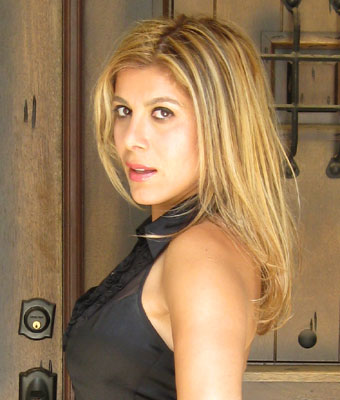 Marta Walsh
Talking Makeup & Marta Walsh are excited to present: KENZO RYOKO fragrance Collection:KenzoAmour GIVEAWAY!
How to enter to WIN:
1. Subscribe to Talking Makeup's YouTube Channel HERE!
2. Leave a comment HERE! Note: Do not leave a comment under this post, you must leave the comment under video on YouTube, Thanks:)
3. MUST have US or Canada shipping address.
Watch Marta's video blog for more details:
Today is a good day and I'm very excited! Talking Makeup and myself, Marta Walsh are featured in Glamour.com
Make sure to also check out Glamour Beauty section for other great stories!
Blogging Babes: Meet Marta of TalkingMakeup.com and BeautyInterviews.com

Photo Credit: Amber Rima McLinn Photography.
Usually, Marta Walsh, the sweet beauty addict behind the Talkingmakeup.com network of sites, does all the interviewing. In fact, two of her blogs, beautyinterviews.com and styleinterviews.com, are solely dedicated to that very thing. But I got this lady (pictured here with hair wizard Edward Tricomi) to agree to flip the tables here in Blogging-Babe-land and do some spillin' of her own. Keep reading to find out all about her, her makeup tips and the one product she thinks every woman should own.
TGBD: Tell me how you got into makeup? Was it something you took to right away in your pre-teen years or did the love come later?
Marta: My love for makeup began in my early teens. My classmates use to wear black eyeliner and a lipgloss. I wasn't allowed any makeup until I was 16, so I used to cheat now and then borrowing my big sister's eyeliner and pretend I'm wearing real lip gloss with ChapStick. Growing up in Israel we didn't have the variety of brands we have now, a lipstick from Revlon meant real luxury to me. Everything changed when I moved to New York City in my later teens, I felt like a kid in a candy shop. My obsession with trying every makeup and skincare brand just got bigger.