All Posts Tagged With: "Deodorant"
In my beauty bag right now the very NEW Degree Women motionSense Deodorant which is my best friend real estate-ing around in the very warm Phoenix AZ weather. When we say NEW we mean it's not even on shelves yet which make me feel really special to be able to try out first. Degree Women MotionSense works keeping me dry and confident even when temperatures or stress level rise throughout the day. It has a smell but soft, fresh, and doesn't clash with my favorite perfume.

Degree Women MotionSense Deodorant
How Degree Women MotionSense Deodorant works? Activated by motion first, not moisture. It contains motion-activated micro-capsules that break and release bursts of freshness once movement occurs. Which means you don't have to start sweating for your deodorant to begin working! Pretty amazing hey:)
I contributed to an article by Kristina Mastrocola in Woman's World  Magazine titled: "You deserve the best…deodorant." My favorite deodorant choice was Dove Ultimate Visibly Smooth. The print of issue of Woman's World  Magazine hits stands on Memorial Day.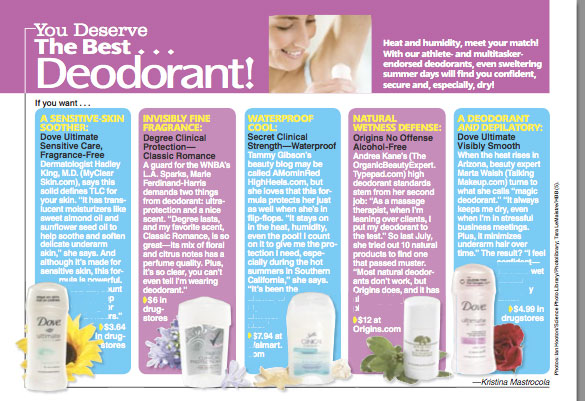 It reads: "When the heat rises in Arizona, beauty expert Marta Walsh (TalkingMakeup.com) turns to what she calls "magic deodorant." It always keeps me dry, even when I;m in stressful business meetings. Plus, it minimizes underarm hair over time. The result? "I feel confident again. No more embracing wet circles under my arms!"
Degree dares you to join the forces with nature with their NEW Degree Women Natureffects, $3.99: For the longest time I was avoiding purchasing a scented deodorant until I discovered Degree (in Sexy Intrigue BTW). The Degree deodorant uses a sophisticated scent designed by world-renowned fragrance expert , Ann Gottlieb so it's not just any perfumed deodorant. Now Degree got even 'hotter' introducing the Degree Natureffects deodorant collection which infuses Degree's top odor and wetness protection with fragrances inspired by natural ingredients.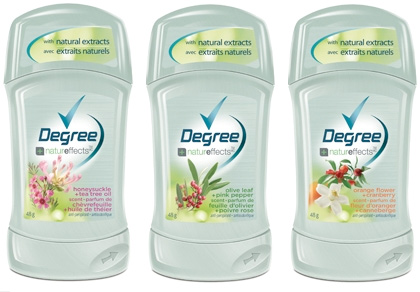 Available in Honeysuckle & Tree Oil (Marta's pick), Olive Leaf & Pink Pepper and Orange Flower & Cranberry.
I love Degree deodorants! I've been using Degree Sexy Intrigue from their Fine Fragrance collection for a while now. Just tried and approved the NEW Degree ultra clear red satin deodorant which promises to be unbeatable on white marks. So far so good, Marta's black clothes (and they are many) are clear. It smells fresh, soft, feminine, and keeps me confident all day! What's else do I need?:) It is also red carpet worthy! Hello Oscars add this to your list:)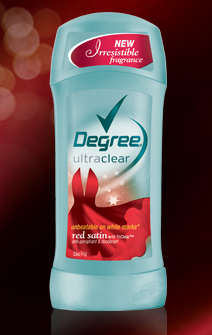 To learn more about the NEW Degree ultra clear red satin deodorant and to print a coupon visit their website: degreedeodorant.com
Holiday Gift Guide 2009:
This season marks the 15th anniversary of Donna Karan's Cashmere Mist. Embrace the comfort of cashmere and celebrate one of the world's most beloved scents this holiday.
Donna Karan Cashmere Mist Limited-Edition Mini Deodorant, $10: This cult-classic favorite from the Donna Karan Cashmere Mist Collection is now available in a mini 1.0 oz size. The perfect stocking-stuffer for all fans of Cashmere Mist. Available at Nordstrom and Sephora beginning October 2009.
Secret: Marta loves to shop in Walmart for beauty products! I know, some of you might be surprised. But I believe in life you need to mix and match. I like to mix expensive beauty products with some classic super affordable products.
Here are Marta's picks:
Cover Girl lash blast Volume Blasting Mascara: I hear this mascara by Cover Girl is a total super star and is securing its place as a classic. It made my lashes this morning long and full in just seconds.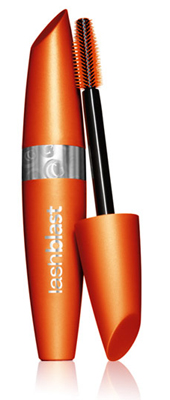 For years, choosing a natural deodorant has meant sacrificing efficacy and luxury. Between the wet, sticky texture and limited odor protection, natural deodorants rarely live up to their name. Now, Lavanila Laboratories introduces The Healthy Deodorant, a powerful natural deodorant that delivers superior odor protection and vitamin-rich nourishment without the use of commonly feared harsh chemicals.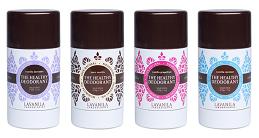 Freshly scented with Lavanila's signature essential oil blends, The Healthy Deodorant uses a breakthrough, clinical strength formula that's as safe as it is effective.
WHY IT'S HEALTHY: Medical reports document the accumulation of commonly used chemicals in the body. Traditional deodorants may contain ingredients including Aluminum, Propylene Glycol and Parabens that could potentially absorb into the delicate underarm area, a gateway to the infection-fighting lymphatic system. The Healthy Deodorant is a 100% Healthy solution. Completely free of Aluminum, Parabens, Propylene Glycol, Talc, Phthalates and Triclosan, it's a safe and effective way to fight odor.
Dove Ultimate Visibly Smooth is a new anti-perspirant deodorant, scheduled to debut in May 1st. Dove Ultimate Visibly Smooth deodorant will minimize the appearance of hair growth and that stubble feeling in between shaving.
Dove Ultimate Visibly Smooth anti-perspirant deodorant is a new way for women to care for underarms with  a unique formula that not only provides 24 hour odor and wetness protection, but also makes underarm hair look and feel less noticeable over time. It even alleviates white marks! 
Dove Ultimate Visibly Smooth Deodorant contains a special antiperspirant formula with Pro-Epil Complex, natural extracts, and Dove 1/4 translucent moisturizer. From the first use, it smoothes and conditions your underarm skin. Within weeks, you'll start to notice that your underarm hair feels soft, fine, and easy to remove. Over time, your underarm hair will look and feel less noticeable, and as Dove describes it: "Feel stubble for longer."
See which popular brand ranked No. 1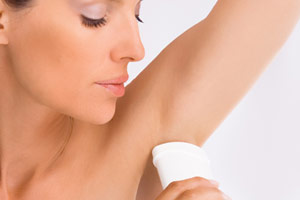 Tired of failing deodorant leaving our arms pinned at the end of the workday, we had three busy Pilates students put five buzz-generating brands — natural and not — to the test. View our countdown to see which product fared best.