Degree dares you to join the forces with nature with their NEW Degree Women Natureffects, $3.99: For the longest time I was avoiding purchasing a scented deodorant until I discovered Degree (in Sexy Intrigue BTW). The Degree deodorant uses a sophisticated scent designed by world-renowned fragrance expert , Ann Gottlieb so it's not just any perfumed deodorant. Now Degree got even 'hotter' introducing the Degree Natureffects deodorant collection which infuses Degree's top odor and wetness protection with fragrances inspired by natural ingredients.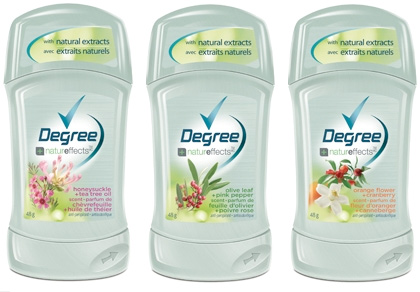 Available in Honeysuckle & Tree Oil (Marta's pick), Olive Leaf & Pink Pepper and Orange Flower & Cranberry.

Matching body mists found in the deodorant aisle add a layered splash of refreshment to allow you experience a naturally inspired fragrance.
Degree Women Natureffects is available at mass market retail stores beginning March 2010. Visit degreewomen.com for more details.