All Posts Tagged With: "Body Treatments"
Talking Makeup has caught up with Ryan Bloch, president of Laser Cosmetica in New York. He told us all about his top procedure, laser hair removal!

Q&A With Ryan Bloch, President of Laser Cosmetica in New York:
What is your premiere service?
We are known best for laser hair removal as we are the leading laser hair removal provider in New York. We have multiple lasers and can treat all skin types.
Body Refining & Cellulite Treatment Skincare. It is summer time and probably many of you are spending more time in your bathing suits. Now there is body care that targets cellulite and maintaining firmer skin. Here are the picks: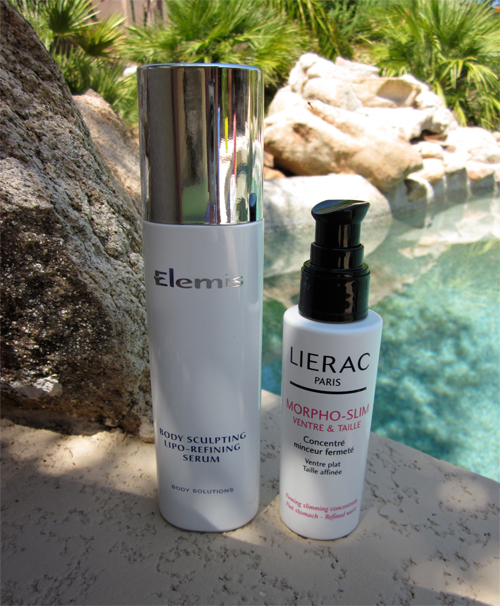 L to R: Elemis Body Sculpting Lipo-Refining Serum is a luxurious and super light gel that is easily absorbed into skin. The serum is cooling and calming. According to Elemis: "Designed with a Lipo-Refining trio of Marine and plant extracts….selected for their effectiveness to reduce the visible signs of cellulite". LIERAC Paris Morpho-Slim Firming slimming concentrate. According to LIERAC: "Flat stomach. Refined waist". Although I wouldn't skip my gym, both serums feel cooling, calming and nice on the skin. I like to use them more as preventative than actual treatment, because I don't have cellulite (please don't hate me). I use anti-aging skincare for my face, why not my body. Just a thought:)
I'm a sucker for good body scrubs in the shower and bath. My latest love is LaLicious Sugar Souffle Moisturizing Body Scrub in Brown Sugar & Vanilla scent. I'm into the sweet and warm vanilla and brown sugar smell, it cheers me up (I am not a floral kinda girl!!). The other plus about this scrub is that it's not overly oily even tough ther are e oils in it and it's very easily to rinse. The scrub has a whipped texture which makes it spread smoothly on the skin. Here's a closer look: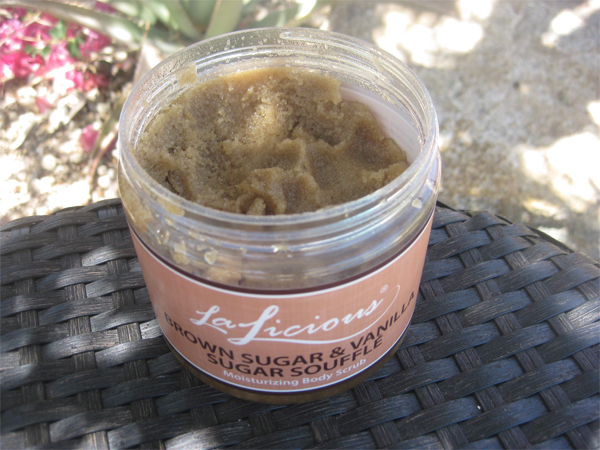 LaLicious Sugar Souffle Scrub Brown Sugar & Vanilla
Maintain the perfect bikini body this summer with handpicked firming and detox products from Elemis' Director of Product and Treatment Development, Noella Gabriel.
"When warm weather hits, you want to feel comfortable enough with your body to strip down to the bare minimum. Summer is a great time to firm and detox your body, because this is when you show off the most skin." Says Noella Gabriel "Below are my top summer must-haves to achieve the best body results": … all available online at www.timetospa.com/elemis
Elemis Body Brush – $44
Made with the pure natural Elemis cactus bristle brush. Body brushing daily increases circulation, improves metabolism, eliminates dead skin cells and helps the body's natural detoxification process.
One of the greatest things about being a beauty blogger is getting in the inside or behind the scenes of beauty products. I'm absolutely fascinated with product development. And it's also one of the reasons why I love to interview beauty brands creators. I'm interested in the creative process and picking their brains. In February 2010, while I was in New York City covering Fashion Week I was invited by CVS/pharmacy to stop by at their Reinventing Beauty Lounge at Robert Verdi's Luxe Laboratories and to test out or 'sniff' their Latest upcoming new scents for their Essence of Beauty body care line.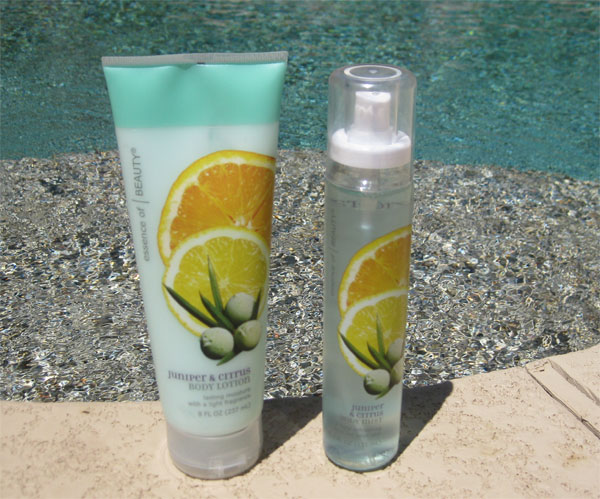 Bath & Body Works Anti-Bacterial Kitchen Collection is a collection of hand soaps, hand sanitizers and hand lotions specially designed for use in the kitchen. They are designed to give you an anti-bacterial protection with odor-eliminating technology and skin-smoothing benefits infused with fresh fragrance.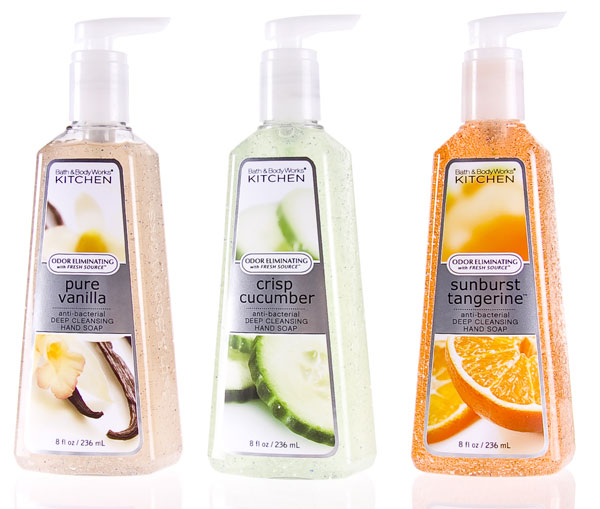 A breeding ground for bacteria and unpleasant odors, the kitchen is a place where clean hands are a must. That is why leading anti-bacterial retailer Bath and Body Works developed cleansing anti-bacterial products that not only kill germs, but also eliminate cooking smells that linger on hands. The Anti-Bacterial Kitchen Collection is formulated with Fresh Source odor eliminating technology, that goes beyond cleansing and germ-fighting to actually rid hands of unsavory odors like garlic and onion – all the while infusing hands with fresh clean fragrances such as crisp citrus, lush fruit and fresh-cut herbs.
Caswell-Massey is introducing an ALL NATURAL collection of Hand Lotions and Hand Wash Gels. This is the first time this LUXURY brand has launched a line of ALL NATURAL products. The elegant new pieces will debut at the opening of Caswell-Massey's boutique at Limelight Marketplace (47 W. 20th Street) on May 7th, 2010.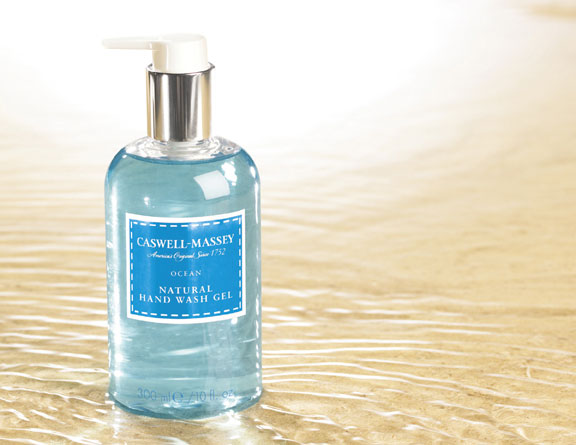 The pieces are also for sale at Bergdorf Goodman and Gracious Home, NYC; Caswell-Massey, West Palm Beach, FL and Charlotte, NC; Los Angeles (Studio Beauty Mix); and Charlottesville, VA (Londons Bathecary).
Degree dares you to join the forces with nature with their NEW Degree Women Natureffects, $3.99: For the longest time I was avoiding purchasing a scented deodorant until I discovered Degree (in Sexy Intrigue BTW). The Degree deodorant uses a sophisticated scent designed by world-renowned fragrance expert , Ann Gottlieb so it's not just any perfumed deodorant. Now Degree got even 'hotter' introducing the Degree Natureffects deodorant collection which infuses Degree's top odor and wetness protection with fragrances inspired by natural ingredients.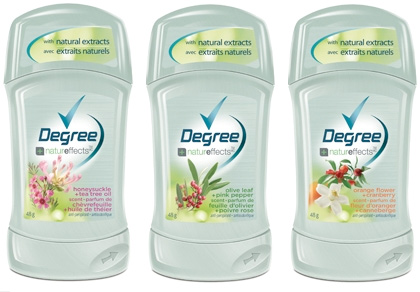 Available in Honeysuckle & Tree Oil (Marta's pick), Olive Leaf & Pink Pepper and Orange Flower & Cranberry.
FarmHouse Fresh introduces Bourbon Bubbler body scrub that exfoliates using real Kentucky Whiskey, brown sugar, vitamin E and rice bran oil. Comes in one size (available in a 12 ounce glass jar; retail price $32.50). The brown sugar helps remove dead skin and stimulates new cell growth, while the non-greasy bourbon and rice bran oil allow for a squeaky-clean dry-down with no greasy residue. The scrub is paraben and sulfate free. Bourbon Bubbler treatments available at spas now available in your own bathroom.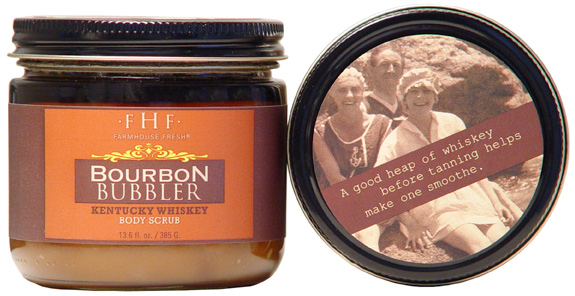 The FarmHouse Fresh Bourbon Bubbler Body Scrub is available online at farmhousefreshgoods.com, in finer gift stores and can be enjoyed at luxury spas and resorts across the country.
During the cold, winter months, skin is exposed to 75% less humidity leaving it dry, itchy and raw. This winter, the secret to escaping these irritating aliments lies deep within the banks of the Dead Sea. AHAVA's Dead Sea Mineral Mud is a rich, nutritious body treatment that instantly invigorates dull, dry skin to reveal a radiant, healthy glow.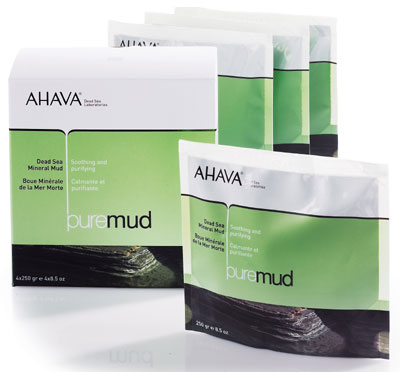 Combat winter woes with a powerful dose of these highly concentrated minerals for a nourished and youthful appearance. AHAVA's Dead Sea Mineral Mud works deep down to clean, purify and restore the skin's natural moisture balance, leaving it smooth and revitalized. Harvested from the lowest elevation on Earth, this rejuvenating mud contains life-enhancing ingredients with proven regenerative properties for guaranteed gorgeous skin.