Bath & Body Works Anti-Bacterial Kitchen Collection is a collection of hand soaps, hand sanitizers and hand lotions specially designed for use in the kitchen. They are designed to give you an anti-bacterial protection with odor-eliminating technology and skin-smoothing benefits infused with fresh fragrance.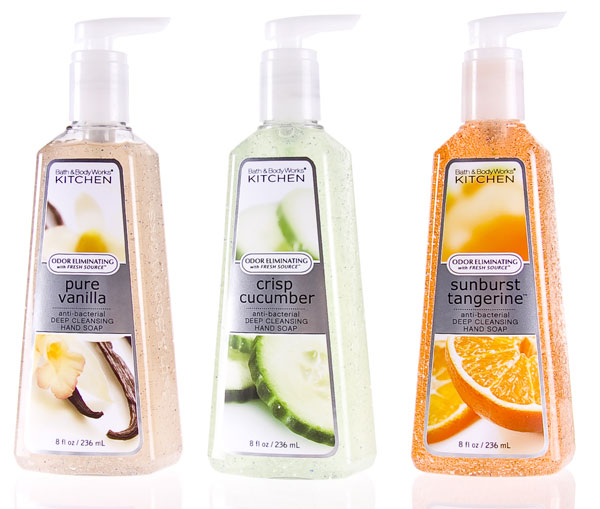 A breeding ground for bacteria and unpleasant odors, the kitchen is a place where clean hands are a must. That is why leading anti-bacterial retailer Bath and Body Works developed cleansing anti-bacterial products that not only kill germs, but also eliminate cooking smells that linger on hands. The Anti-Bacterial Kitchen Collection is formulated with Fresh Source odor eliminating technology, that goes beyond cleansing and germ-fighting to actually rid hands of unsavory odors like garlic and onion – all the while infusing hands with fresh clean fragrances such as crisp citrus, lush fruit and fresh-cut herbs.
The anti-bacterial formulas also protect hands from germs while replenishing kitchen-worn hands with moisturizing honey, coconut milk, and olive fruit extracts. Each of the following odor-fighting, germ-killing essentials is available in Sunburst Tangerine, Crisp Cucumber, and Pure Vanilla fragrances:
Anti-Bacterial Gentle Foaming Hand Soap: Specially designed to fight germs and eliminate odors for healthy, clean hands in the kitchen, this gentle yet powerful formula kills common kitchen bacteria with trusted anti-bacterial agents while Fresh Source odor eliminators get rid of lingering cooking smells. An exclusive blend of moisturizing coconut milk and olive fruit extracts helps to nourish and soften skin, while mango fruit extract leaves hands gently cleansed and conditioned.
Anti-Bacterial Deep Cleansing Hand Soap: Get a powerful deep clean in the kitchen with this bacteria-fighting formula. Developed with Fresh Source and potent germ-killers, the deep cleansing soap employs exfoliating microspheres and cleansing bamboo extract for smooth, soft, ultra-clean hands. A moisturizing blend of honey, coconut milk and olive fruit extracts nourishes and softens.
Anti-Bacterial Hand Gel Sanitizer: While powerful anti-bacterial agents combat germs and Fresh Source eliminates odors, moisturizing Tahitian Palm Milk leaves hands feeling clean and conditioned with this waterless gel sanitizer.
Moisturizing Hand Lotion: Developed to eliminate odors while nourishing kitchen-worn hands, this hydrating formula includes Vitamin E, Macadamia Oil, Oat, Apple and Grape Seed extracts to condition and soften. Fresh Source gets rid of lingering cooking smells as the formula moisturizes, leaving hands hydrated and freshly scented.
WHAT THEY COST: $5.00
WHERE TO FIND: Bath & Body Works, Bath & Body Works stores or www.bathandbodyworks.com. For store locations, call 1-800-756-5005.