All Posts Tagged With: "Bath & Body Works"
Bath & Body Works Anti-Bacterial Kitchen Collection is a collection of hand soaps, hand sanitizers and hand lotions specially designed for use in the kitchen. They are designed to give you an anti-bacterial protection with odor-eliminating technology and skin-smoothing benefits infused with fresh fragrance.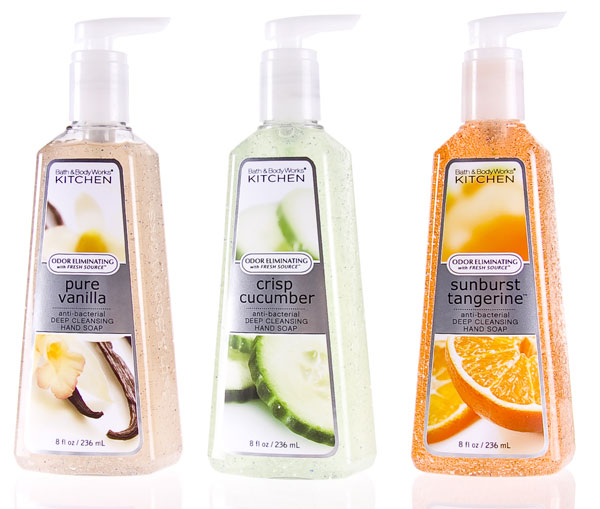 A breeding ground for bacteria and unpleasant odors, the kitchen is a place where clean hands are a must. That is why leading anti-bacterial retailer Bath and Body Works developed cleansing anti-bacterial products that not only kill germs, but also eliminate cooking smells that linger on hands. The Anti-Bacterial Kitchen Collection is formulated with Fresh Source odor eliminating technology, that goes beyond cleansing and germ-fighting to actually rid hands of unsavory odors like garlic and onion – all the while infusing hands with fresh clean fragrances such as crisp citrus, lush fruit and fresh-cut herbs.
Watch Marta Walsh talking about one of latest loves in body care: Suave Naturals Mango Mandarin Body Wash. I moved the body wash away from my shower for this video and this is what I hear from my husband: "…WHERE IS my Mango Mandarin Body Wash…?".
Infused with mango and mandarin extracts, along with skin conditioning Vitamin E, Suave Naturals Mango Mandarin Body Wash moisturizes in the shower and revitalizes your senses with a lively citrus and fruity fragrance bliss. According to Suave: Women prefer this body wash fragrance to Bath & Body Works Mango Mandarin. I must say it does smell really refine and GOOD.
With the holidays rapidly approaching, many still have lots of people on their list to shop for. With so much out there, it's hard to pick the perfect gift! That's where Bath & Body Works comes in. They have a widget that will help you pick out the perfect present for everyone on your list, from your coworker to your big brother with perfect gift tips from experts like Harry Slatkin as well as different deals available on the site.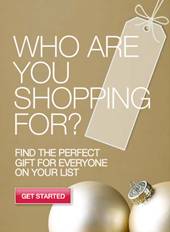 Become a fan of Bath & Body Works on Facebook and check out all of the cool holiday games and gift options as well as the perfect gift finder widget.
Bath & Body Works introduces their latest collection, P.S. I Love You by launching the "Share the Love Campaign" and they want you to share the love with us. This campaign allows you to share your fondest memories with the world.
Tell us about someone or something that brings you joy by providing Bath & Body Works with a snapshot and your story for a chance to win a $500 Bath & Body Works Gift Card.
Just visit this link and start sharing the love with Bath & Body Works!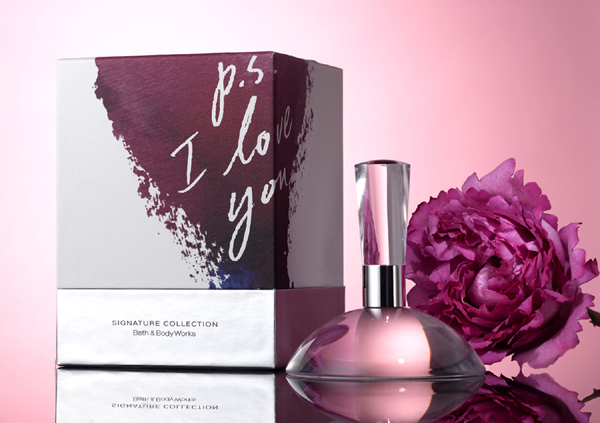 How To Enter To Win Bath & Body Works Fragrance That Fits Your Personality:  
1. Visit the link below to Bath & Body Works' new fragrance widget and see which Bath & Body Works fragrance fits your personality:
2. Leave a comment under this post with your suggested fragrance by the Bath & Body Works' new fragrance widget as your entry form to win it!!!
3. Giveaway expired 8/18/2009
Good Luck:)
Discover your scent identity with the click of a button using Bath & Body Works' new fragrance widget. The intuitive application lets you create a completely customizable fragrance profile in an instant, offering up the perfect scent for any mood and any occasion. Just choose the characteristics that describe you and find your ideal fragrance in an instant—it's the essence of you, captured in a bottle.
Visit the link below and see which Bath & Body Works fragrance fits your personality:
Bath & Body Works Signature Collection Eau de Toilette Black Amethyst
Talking Makeup is excite to introduce to you a brand new line from Bath & Body Works called American Grown. American Grown is a collection of super affordable hand washes and shower gels in big, bold, colorful bottles that are inspired by great American destinations. Formulated with invigorating botanicals grown right here in the U.S., these products are sure to keep you in the patriotic spirit! And this is what Marta calls: "Born in the USA":) I also love the vibrant colorful packaging which can be uplifting!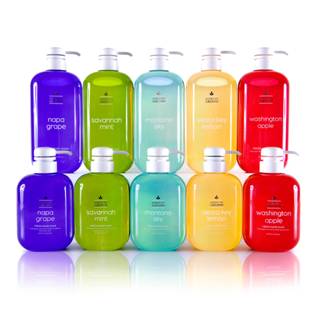 This is a limited edition collection, available from mid-July to September.
Washington Apple: In the fertile valleys of Washington State in America's far west, growers tend orchards that produce the world's most crisp, ripe apples. Formulated with Apple Extract to help nourish skin, Washington Apple instantly evokes your first bite of a shiny red apple, an unmistakably juicy flavor.
In search of a Mother's Day gift that's more meaningful than a blah bouquet? Look no further than Bath & Body Works, your destination for a personalized present that speaks to your mom's unique personality.
While choosing the right scent can be daunting, Bath & Body Works makes it simple to find a fragrance that suits her: The store organizes scents by personality, helping you immediately identify the kind of fragrance that embodies her individuality. And because Bath & Body Works collaborates with the same world-class perfumers to create scents with the same superior ingredients as prestige brands, Bath & Body Works' offers the same premium quality fragrances at an accessible price.
For the chic, modern mom, choose a seductive scent from "The Sexys" collection. Spicy, exotic and sensual, the ultra-feminine scents are ideal for the fashion-forward woman in your life. Go for a Sexy scent with alluring floral notes like Japanese Cherry Blossom or Velvet Tuberose to give the gift a springy touch.
Watch Marta's video blog for today talking about some of her favorite face scrubs.
Subscribe to Talking Makeup's YouTube channel HERE!
Products mentioned in Marta's video blog:
C.O Bigelow Rice & Bamboo Gentle Dermabrasion:
This creamy, skin-refining formula is made with a unique blend of Japanese power ingredients and two of C.O. Bigelow's exclusive complexes to sweep skin clean. It's formulated to visibly improve tone and texture by exfoliating dull surface skin and removing pollutants. Skin is left looking perfectly smooth and radiant.
What Mom doesn't have her favorite Bath & Body Works Signature fragrance? From Sweet Pea to Japanese Cherry Blossom to Black Amethyst, each of the Signature Collection fragrances fits a special personality or mood that describes every mom. To celebrate Mother's Day, Bath & Body Works wants to know "What's Your Mom's Signature," is your mom a Cuddler…warm and nurturing or is she Fresh…vibrant and cheerful!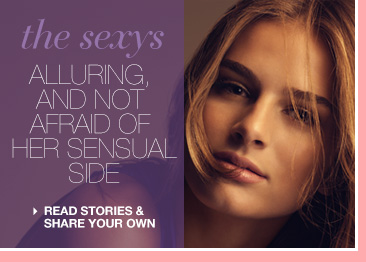 Visit BathandBodyWorks.com/MothersDay and submit a short story along with video or photograph and tell us why your Mom is a Sexy, Romantic, Cuddler or Fresh!