All Posts Tagged With: "Body Cleansers"
Watch Marta Walsh talking about one of latest loves in body care: Suave Naturals Mango Mandarin Body Wash. I moved the body wash away from my shower for this video and this is what I hear from my husband: "…WHERE IS my Mango Mandarin Body Wash…?".
Infused with mango and mandarin extracts, along with skin conditioning Vitamin E, Suave Naturals Mango Mandarin Body Wash moisturizes in the shower and revitalizes your senses with a lively citrus and fruity fragrance bliss. According to Suave: Women prefer this body wash fragrance to Bath & Body Works Mango Mandarin. I must say it does smell really refine and GOOD.
Marta is absolutely in love with the NEW Caress Whipped Souffle Ultra Silkening Body Wash blackberry cream. It smells divine, it's super creamy and very moisturizing. I even us this new Caress body wash as a shaving cream because it's so silky and creamy.
WATCH: Marta Walsh is all about the NEW Caress Whipped Souffle Ultra Silkening Body Wash.
I also love the Caress Whipped Souffle Ultra Silkening Body Wash white peach cream and the NEW Caress Velvet Bliss Silkening Body Wash, Blackberry & Vanilla Essence. All launched this week (week of March 22nd, 2010).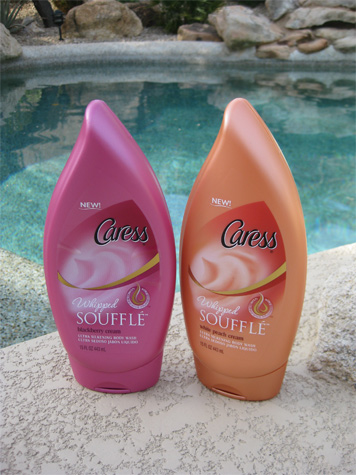 L to R: Caress Whipped Souffle Ultra Silkening Body Wash blackberry cream, Caress Whipped Souffle Ultra Silkening Body Wash white peach cream
NEW from Dial: NutriSkin Body Wash Cherry Seed Oil & Mint and NutriSkin Body Wash Grapeseed Oil & Lemongrass. How delicious these two scents sound? Can't wait to try. I'm a true body wash lover. Probably one of my biggest beauty obsessions.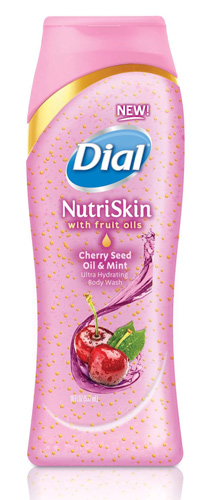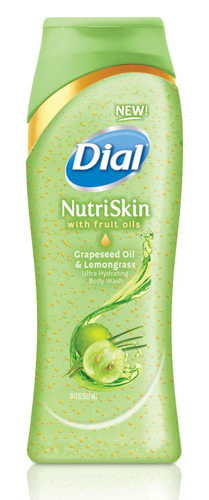 Dial NutriSkin Body Wash features a clean-rinsing formula that's heavy on moisture and light on skin. It's packed with nutritious fruit oils that leave skin soft and revitalized, not greasy or grimy.
Visit dialsoap.com for more details
Best Body Wash: Tried and loved NIVEA Touch of Sparkle Cream Oil body wash, $6.49. The calla scent is amazing and the diamond powder leaves skin soft and shimmering (and you know how much Marta loves shimmer!). I also love NIVEA Touch of Radiance  Cream Oil  body wash for days I like to exfoliate my body. This one has a light lime blossom scent which is super fresh. Men also love it this body wash!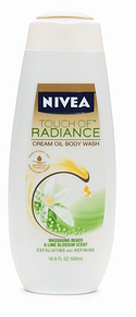 Visit www.nivea.com  for addtional details.
Looking for a last minute Holiday gift? You can't never go wrong with philosophy Party Girl Pomegranate Bubbly Scented Gift Set, $35! The cutest gift ever. A black makeup bag titles: philosophy: life is a party! contains: 4.0 oz Pomegranate Bubbly Exfoliating Shower Gel, 4.0 oz Pomegranate Bubbly Shimmer Body Lotion, and 0.5 oz Pomegranate Bubbly Lip Shine (sheer plum).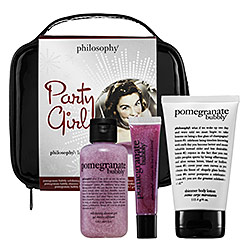 Ring in 2010 with the bubbly that packs a pomegranate punch and guarantees a hangover-free New Year's Day. Whether you give it as a gift or decide to treat yourself, philosophy's Party Girl pomegranate Bubbly Scented Gift Set is the perfect way to get ready or your New Year's Eve celebration. The reusable party pouch comes stocked with an exfoliating shower gel, body lotion and lip shine, which may even help you snag a romantic kiss at midnight.
I can't get over how cute is the NEW Limited Edition philosophy Classic Cookbook. It is THE perfect holiday gift for your beauty obsessed loved ones. They would be very impressed, and of course, love you dearly!:)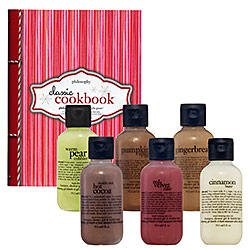 philosophy Classic Cookbook ($35) is a set of six delicious, high-foaming, multipurpose cleansers. This decadent ensemble of three-in-one Shampoo, Shower Gel & Bubble Bath formulas will make you swoon with scents of the decadent treats that come from the crinkled pages of well-loved holiday baking recipe books. This set contains: 6 x 2.0 oz Shampoo, Shower Gel & Bubble Baths in Pumpkin Spice Muffin, Red Velvet Cake, Double Rich Hot Cocoa, Warm Pear Cobbler, Gingerbread, Cinnamon Buns.
This season, give your loved ones the gift of soft, moisturized skin (Marta is all about it:) with St. Ives.
St. Ives Moisturizing Oatmeal & Shea Body Wash offers superb non-drying cleansing for visibly healthy skin. By incorporating two of nature's BEST ingredients, this body wash wraps skin in natural Oatmeal and Shea Butter extracts for the ultimate skin nourishment. ($2.99 for 13.5 fl. oz. bottle)
Looking for stocking stuffer or last-minute gift? Have you thought about a vintage inspired gift that can be found in the aisle of any local drugstore?
For a limited time this holiday season, Yardley of London is offering a Limited Edition Gift set in two time-tested fragrances: Oatmeal & Almond and English Lavender.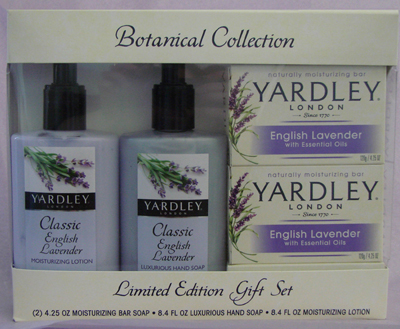 Yardley of London's Botanical Soap Collection Limited Edition Gift Set – $9.99 – Includes two moisturizing bar soaps, one luxurious hand soap and one moisturizing lotion. Available exclusively at Walgreens Drugstores nationwide.
Nothing says fall, Halloween, and holiday season like I Love Candy Corn Shampoo, Shower Gel & Bubble Bath by Philosophy, $16. It smells sweet. And, it's very creamy, just like all the other signature body washes by Philosophy. If you love Philosophy body washes in Crème Brulée and in Vanilla Birthday Cake you would love this! It's a limited edition so don't miss it if you want it:) Calling all candy corn lovers!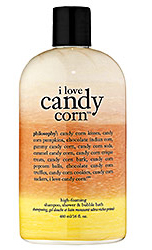 This year, Beauty.com has partnered with CEW's Cancer and Careers initiative. In addition to creating a BCA (Breast Cancer Awareness) store with an assortment of products that benefit different BCA charities, from October 12-18, if you click on www.beauty.com/cancerandcareers , 10% of all purchases made on Beauty.com will be donated to CEW's Cancer and Careers. You can buy ANYTHING sold on the site, not just BCA products (nothing is restricted in any way). This gives you the opportunity to stock up on their favorite brands and products you would normally buy and help give back – so easy.
Darphin Arovita C Energic Firming Cream for BCA: This invigorating, vitamin-enriched Darphin facial cream helps firm skin and fortify its natural resiliency to visibly correct first loss of elasticity of the face and neck. Arovita C Energic Firming Cream moisturizes and renews radiance while helping safeguard the complexion against environmental aggressors. Key Ingredients Include: Artemia salina, Carrot Protein, Noni Extract, Vitamins C and E. Darphin will donate $20 from each sale of Arovita C Energic Firming Cream during the month of October to The Breast Cancer Research Foundation.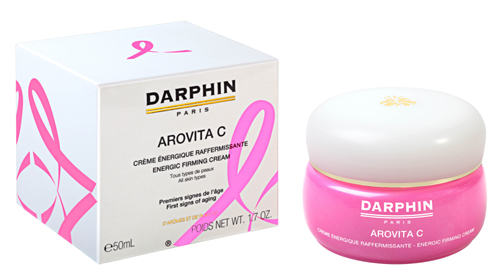 Price: $80, Available at www.darphin.com