All Posts Tagged With: "Gingerbread"
I can't get over how cute is the NEW Limited Edition philosophy Classic Cookbook. It is THE perfect holiday gift for your beauty obsessed loved ones. They would be very impressed, and of course, love you dearly!:)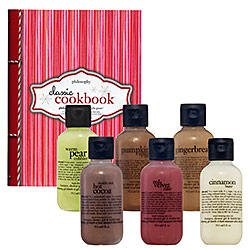 philosophy Classic Cookbook ($35) is a set of six delicious, high-foaming, multipurpose cleansers. This decadent ensemble of three-in-one Shampoo, Shower Gel & Bubble Bath formulas will make you swoon with scents of the decadent treats that come from the crinkled pages of well-loved holiday baking recipe books. This set contains: 6 x 2.0 oz Shampoo, Shower Gel & Bubble Baths in Pumpkin Spice Muffin, Red Velvet Cake, Double Rich Hot Cocoa, Warm Pear Cobbler, Gingerbread, Cinnamon Buns.