All Posts Tagged With: "Darphin Paris"
This Spring, Darphin is introducing Hydraskin Essential face cream, $50. It's a super-moisturizing emulsion featuring ingredients like Butterfly Lavender and Organic Shea Butter.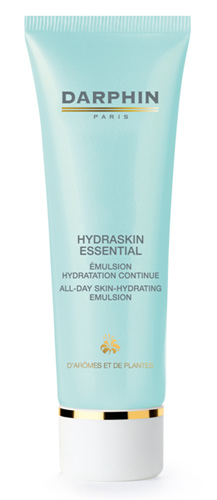 To celebrate the launch, starting TODAY, April 2nd, 2010,  Darphin is inviting you to share your favorite $50 luxury at www.50littleluxuries.com. For every tip shared, a donation will be made to the IDEAL Providence Farms to purchase school supplies for children in Ghana (these are the children of the women harvesting the Organic Shea Butter in Hydraskin Essential as part of Darphin's efforts to support the community.)
Celebs including Demi Moore, Ashton Kutcher, Alyssa Milano and Jordana Brewster took home the new Darphin Aromatic Cleansing Balm at an event to celebrate Laura Day's new book "How to Rule the World from Your Couch".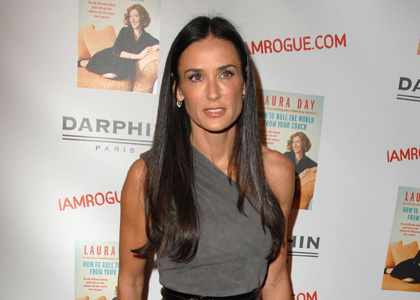 Bestselling author Laura Day has spent three decades helping individuals, organizations, and companies use their innate intuitive abilities to create profound changes in their lives. Her work has helped demystify intuition and demonstrate its practical, verifiable uses in the fields of business, science, medicine and personal growth.
Laura created a special ritual for Darphin Aromatic Cleansing Balm: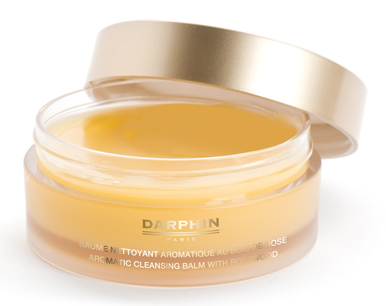 Darphin Aromatic Cleansing Balm Ritual Created By Laura Day 
Ritual is how we break old patterns which create the same undesired results and create new habits, consciously and subconsciously in our lives. When you affirm a New Reality habitually in your life you re-set your subconscious and intuition to look for opportunities for change.
It's Breast Cancer Awareness month aka BCA and the Estée Lauder Companies has many of your favorite beauty products designed especially to raise funds for the Estée Lauder Companies' Breast Cancer Research Fund. Last month during my visit to New York City during Fashion Week Spring 2010 I was given an incredible opportunity to participate in an Estée Lauder special Breast Cancer Awareness event. Listening to Evelyn Lauder's speech and the rest of the Estée Lauder team I can't tell you enough how passionate they are about the Breast Cancer cause!!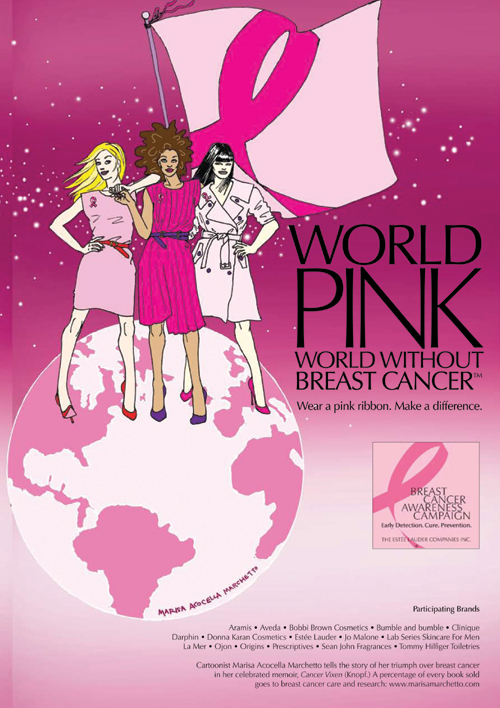 Here are highlights of some of the people involved in the Estée Lauder Breast Cancer Awareness Campaign and And Fundraising, and the beauty products you can purchase where portions of their proceeds go towards the Breast Cancer Research Foundation.
Actress Elizabeth Hurley and Evelyn Lauder: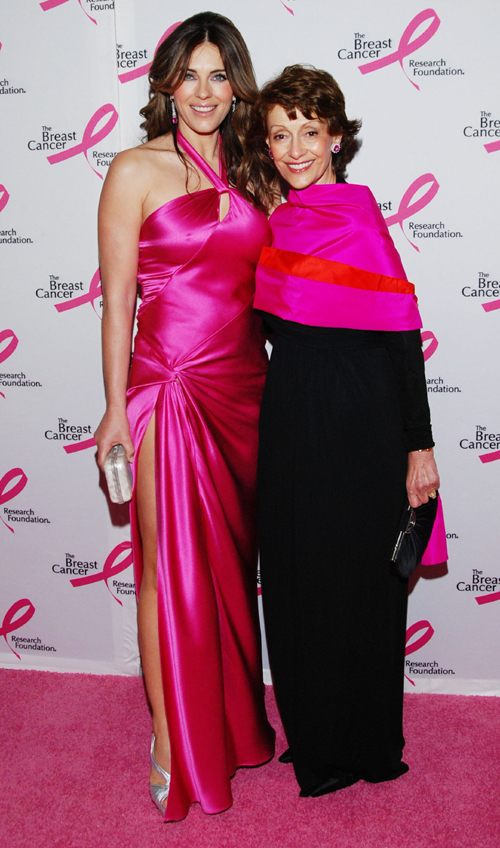 From Left: Steven Plofker, Elizabeth Hurley, Elton John, Evelyn Lauder, and Bobbi Brown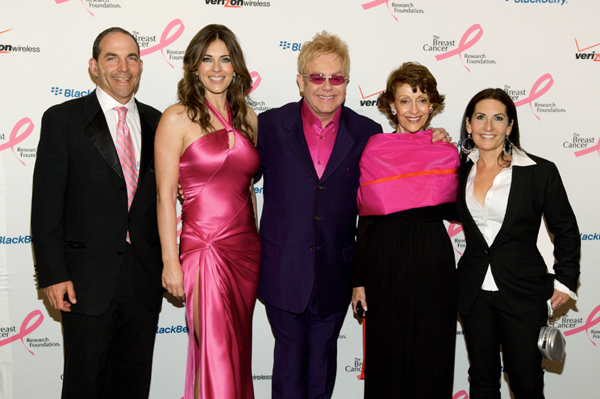 This year, Beauty.com has partnered with CEW's Cancer and Careers initiative. In addition to creating a BCA (Breast Cancer Awareness) store with an assortment of products that benefit different BCA charities, from October 12-18, if you click on www.beauty.com/cancerandcareers , 10% of all purchases made on Beauty.com will be donated to CEW's Cancer and Careers. You can buy ANYTHING sold on the site, not just BCA products (nothing is restricted in any way). This gives you the opportunity to stock up on their favorite brands and products you would normally buy and help give back – so easy.
Darphin Arovita C Energic Firming Cream for BCA: This invigorating, vitamin-enriched Darphin facial cream helps firm skin and fortify its natural resiliency to visibly correct first loss of elasticity of the face and neck. Arovita C Energic Firming Cream moisturizes and renews radiance while helping safeguard the complexion against environmental aggressors. Key Ingredients Include: Artemia salina, Carrot Protein, Noni Extract, Vitamins C and E. Darphin will donate $20 from each sale of Arovita C Energic Firming Cream during the month of October to The Breast Cancer Research Foundation.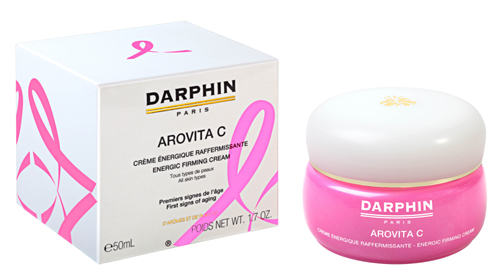 Price: $80, Available at www.darphin.com
Keep your body looking smooth and radiant this summer with NEW Darphin Nourishing Smoothing Body Scrub.
Create a complete multi-sensory experience with this multi-tasker that combines both natural and organic ingredients.
· Scrub: Three exfoliating ingredients – natural cranberry extracts, bamboo particles and silica powder.
· Cleanser: Add water to transform the translucent gel texture into a nourishing milk to revitalize and stimulate cell renewal.
Darphin Launches the NEW Water Cleansers: Darphin Cleansing Foam Gel with Water Lily and Darphin Cleansing Milky Emulsion with Verbena. These are the perfect light cleansers for the hot summer months!
Take any skincare routine from bleak to chic with two NEW two water-activated cleansers from Darphin – Cleansing Foam Gel and Cleansing Milky Emulsion. These cleansers balance the skin's pH and hydro-lipid barrier while softening and protecting even the most delicate of complexions.
Each of these botanical blends feature a delightfully fresh scent, embracing the Darphin core belief that pleasure is a necessary part of any woman's beauty routine. Simply massage on the face using circular movements and relax with the subtle scents.

Darphin Cleansing Foam Gel with Water Lily ($35) – Ideal for all skin types, this aromatic gel cleanser gently removes makeup and impurities while cocooning the skin in foamy freshness.
The new Darphin Paris Age Defying Lip Balm is one of my all time favorite lip balms, simply because it is made with the purest ingredients and it works!
Aromatic, age-defying lip balm in a rich, indulgent, creamy formula, instantly melts onto the lips. Nourishes, smoothes the appearance of lines and renews suppleness. Lips appear softer, smoother, plumper…rejuvenated.
Key Ingredients:Argan Oil, Candelilla Wax, Kokum Butter, Mango Butter, Rice Bran Wax, Rosemary Oil, Organic Sunflower Oil, Organic Virgin Prunus Oil.
Wander how to keep your lips smooth and glossy and your mouth fresh on the go. Pop a Les Anis de Flavigny (or The French Mint-just choose your favorite flavor: rose, anyone?) in your mouth and apply a coat of Darphin Illusion to your lips or you should be speaking, or at least feeling, French in no time (btw Why all things French seem so chic?)
Add a touch of French glamour to your makeup bag for fall with Darphin Lip Gloss in the newest shade for the the season, Illusion. Created in the same haute couture fashion as their legendary skincare products, this Darphin gloss softly enhances the natural color of your lips while nourishing them with vitamin E, wheat protein microspheres, rosemary and soy extracts. 
The opalescent shimmering pink shade is universally flattering, and balances out dark smoky eyes. You can wear it on its own or with your favorite shade of lip liner. SRP: $22. Available at www.darphin.com .
Tired of frantically searching for the nearly impossible to find Darphin cult favorite make-up collection? Available at Darphin.com for the first time, the Darphin Color Collection can be delivered to your doorstep at the click of a button. Here are few items:
Blush Sensation: This velvety-smooth textured blush delivers a tender bloom of naturally youthful color, $40.
Lip Balm: A comforting Darphin lip balm that enhances and nourishes the lips, $22.
Perfect for the upcoming summer months where skin can become irritated by laying out in the sun, spalshing in chlorinated water and living in air-conditioning, Darphin introduces the new Intral Collection-a return to comfort for sensitive skin. This ultra gentle range of products features a mix of aromatic formulas with a delicious cocktail of plant extracts.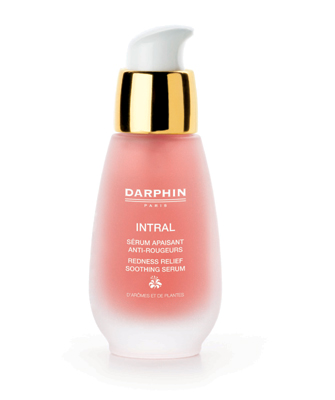 NEW Intral Redness Relief Soothing Serum by Darphin.
The Intral Collection by Darphin has been especially designed for sensitive skin and is tailored-made with triple action to protect the skin, alleviate redness and repair irritated skin. The must-have collection is available at: www.darphin.com includes:
NEW Intral Redness Relief Soothing Serum: This serum soothes and softens the skin with its powerful, fast-acting concentrate that reduces the appearance of redness, $110. 
NEW Intral Soothing Cream: Free of perfume and color, this cream will moisturize, soften and strengthen intolerant skin while helping to protect the skin from external aggressions, $90.
NEW Intral Redness Relief Recovery Cream: This cream visibly reduces the appearance of redness and immediately conceals it with the cream's natural, light green color derived from mica extract, $90. 

NEW Intral Soothing Cream by Darphin.
NEW Intral Redness Relief Recovery Balm: This balm reduces redness while helping to repair and strengthen the skin's natural barrier, it helps sensitive skin to improve its defense against irritant agents and external aggressions, $90.